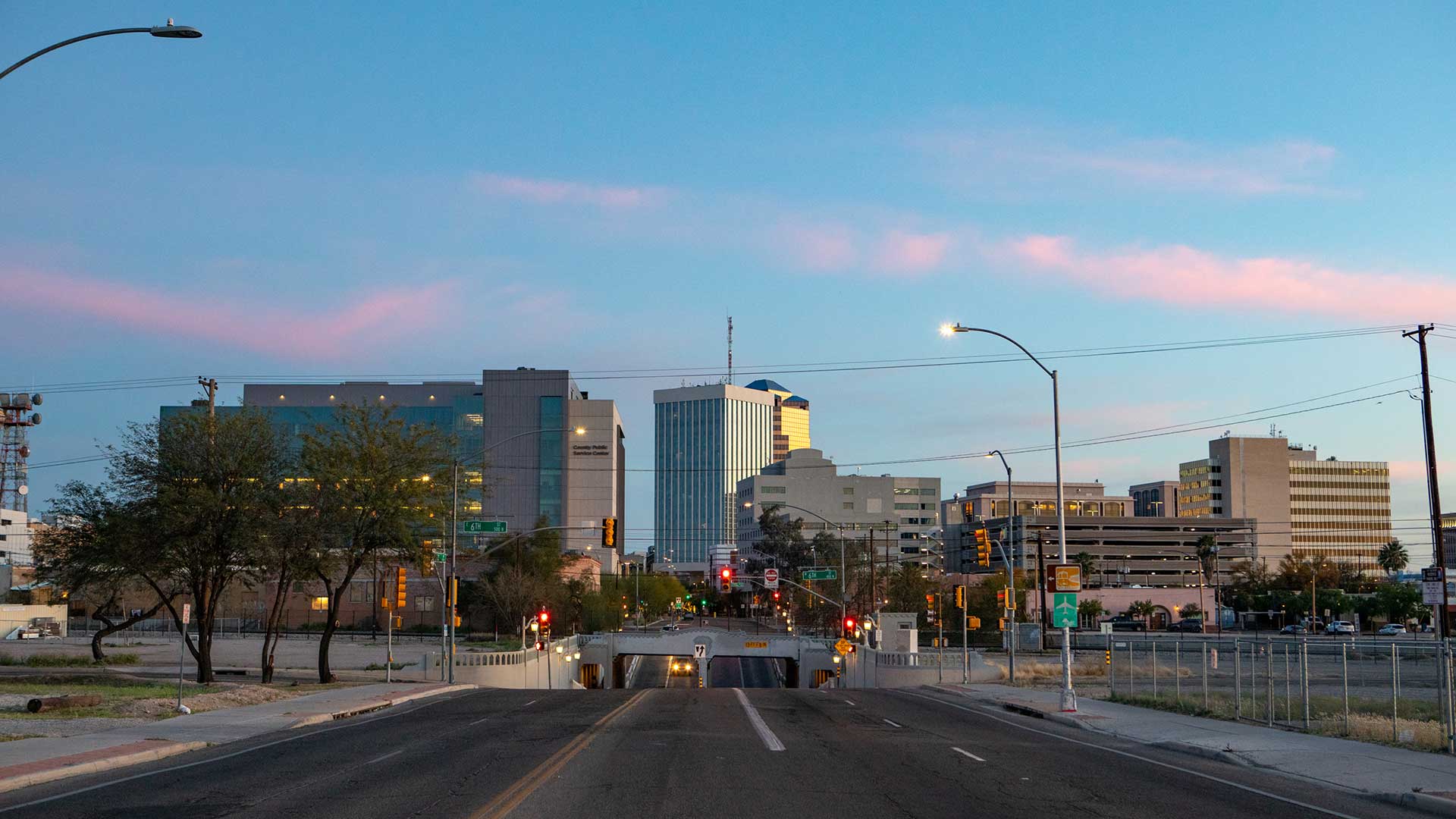 A view of downtown Tucson from Stone Avenue, March 30.
Andrew Brown/AZPM
As people settle into social distancing for the foreseeable future, public institutions like food banks, schools and libraries are finding new ways to deliver their services to the community.
The Community Food Bank of Southern Arizona has seen demand double in the last two weeks as restrictions and social distancing measures have gone into effect with the spread of coronavirus.
Michael McDonald, the food bank's CEO, said that in the last three weeks, they have helped about 18,000 families at just their Country Club Road location.
"And we are seeing family after family, household after household who we've never seen before," McDonald said.
He attributed the increase in demand to more people getting laid off and needing resources. The food bank also has a program to assist people applying for food assistance programs like SNAP (commonly called food stamps) and WIC.
McDonald said the community can help the food bank by volunteering or making an online donation.
---
Listeners of The Buzz submitted their questions about COVID-19 earlier this week. Paula Mandel, the deputy director at the Pima County Health Department, answered some of them.
In regard to local hospitals' preparedness for COVID-19, Mandel said that the department calls hospitals daily to see how many open beds they have.
"What we've heard so far is here in Tucson, in Pima County, we are doing good," Mandel told The Buzz. "Most of the hospitals have plenty of bed capacity. They are doing well with staff capacity. Like the rest of the state and the nation, I think their biggest concern at this time is about personal protective equipment."
She also said that based on tentative projections, it is possible Arizona will experience a surge of coronavirus cases in April or May, but that new pathogens are difficult to track and understand.
Mandel explained that coronavirus tests are still not as widely available as people would like, due to supply and demand.
"All of the supplies that we need in order to make the test kits are back-ordered," Mandel said. "As they become available, they are quickly used."
---
School districts across the state are scrambling to continue teaching students in light of Monday's decision by state leaders to close schools for the rest of the academic year. Gabriel Trujillo is the superintendent of the Tucson Unified School District. He said he agreed with the decision.
"I know that my work force is not the only one that is really, really scared of this virus that is everywhere yet nowhere — in the sense that it can come for anybody, at any time," Trujillo said. "So, I think the closure mitigates some of that."
He said that the district is working to find ways to serve the 15,000 TUSD students who do not have access to the internet or a device needed for remote learning.
"Right now, they find themselves totally cut off from any educational opportunities that we would be able to offer online," he said.
The district has bought thousands of Chromebooks for students and partnered with Cox Communications to provide internet for the remainder of the school year.
Trujillo said he is most worried about students who depend on school as a safe space away from their homes.
---
New guidelines on social distancing for coronavirus are also affecting couples planning their wedding day. The Arizona Superior Court is asking people to delay nonessential proceedings, like applying for a marriage license. Couples are having to decide whether to scale back their weddings or cancel altogether.
Maricopa bride Lauren Reimer was supposed to get married on March 22. But as the situation around COVID-19 began to worsen, more and more family members, including Lauren's grandmother, said they could no longer travel for the wedding.
Six days before their planned nuptials, Lauren and Luis decided to cancel their big day
"It wound up being a no-brainer. We decided that it was something that needed to be done. I would have felt terrible if someone got sick or brought something home with them because of an event that we held. Their health was more important to us than our event."
Wedding venues are, for the most part, reworking dates for couples who were supposed to get married during the Spring Months. Sheila Millette, who runs Kingan Gardens, a wedding venue near downtown Tucson, said that the coronavirus has stopped all business for right now. But she has reworked plans for couples with original dates in April, May, June and even a few with fall dates.
---
With most people stuck at home for the foreseeable future, and with finances strapped, it's a good time to remember one valuable community resource: The Pima County Public Library. Even though physical libraries remain closed, Holly Schaffer, who works with the Pima County Library, said that there are still resources online, like e-books and audio books.
"We have platforms for accessing so many digital books," Schaffer said, with all sorts of genres available.
For people who do not currently have a library card, OverDrive, a digital book lending platform, is currently allowing people to sign up using their phone numbers and gain access to its collection.
Schaeffer said that parents of young children can utilize libraries with kids' books, like Tumblebooks and OverDrive's read-along collection.
Additional online library resources are also available, including learning and language tools, music, movies, magazine subscriptions, and games.

The Buzz
airs Fridays at 8:30 a.m. and 6 p.m. and Saturdays at 3:30 p.m. on NPR 89.1. You can subscribe to our podcast on
iTunes
and NPR One. See more from
The Buzz
.