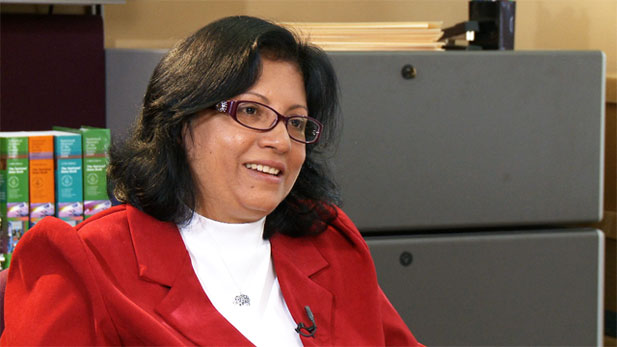 Aruna Murthy, director of economic analysis for the Arizona Department of Administration, says state job creation needs to improve.

AZPM
The pace of job growth in Arizona has finally surpassed the national pace, after lagging it for the last four years. But job creation has slowed considerably in the state, mirroring the national trend, a state economist says.
"We have caught up and surpassed the over-the-year growth in relation to the U.S. as of October 2011," Aruna Murthy said in an interview for Arizona Week. Murthy is the director of economic analysis for the Arizona Department of Administration, and she oversees the monthly state employment report and analysis.
The state's unemployment rate fell to 9 percent in October, down from 9.1 percent the month before. Job growth in Arizona has run at a 1.9 percent pace in the last 12 months, compared with 1.1 percent nationally. It's the first time since October 2007 that the state has outpaced the country in job growth.
Yet, Murthy said, the pace in Arizona and nationally is too slow.
"I think Arizona can be doing way better in terms of gain," she said. "But this is a national scenario that's going on, so Arizona is no exception."
It is important to note, however, that job growth is still occurring and thus the state and the country aren't in danger for now of slipping into a second recession, she said.
"Personally, looking at the numbers for Arizona, I am not concerned about a double-dip recession, as of now," Murthy said. "If I just look at the numbers as of now, as I mentioned, we are doing better than the nation."
One sign of the trend is the number of temporary jobs coming into the economy, an employment agency manager told Arizona Week.
"We see a lot of our clients will utilize us to find their permanent staff, so a lot of times they are starting out on a temporary contract basis, and it's a great way also for our associates to see if it's a good fit for them," said Dawn Neas, regional operations manager for Adecco Group, an international job recruiting and placement business.
Neas said the financial sector, including credit card phone centers and the mortgage and insurance businesses, are among the hottest job growth areas. Others include manufacturing, machine operators and a demand for workers with data-entry skills, she said.
Reporter Michael Chihak further explores the state's employment picture, tonight on Arizona Week. Watch now:
Power struggle over redistricting, the business community driving job growth and economic recovery and interviews with a look at the numbers and prospects for job growth in Arizona.
AZPM