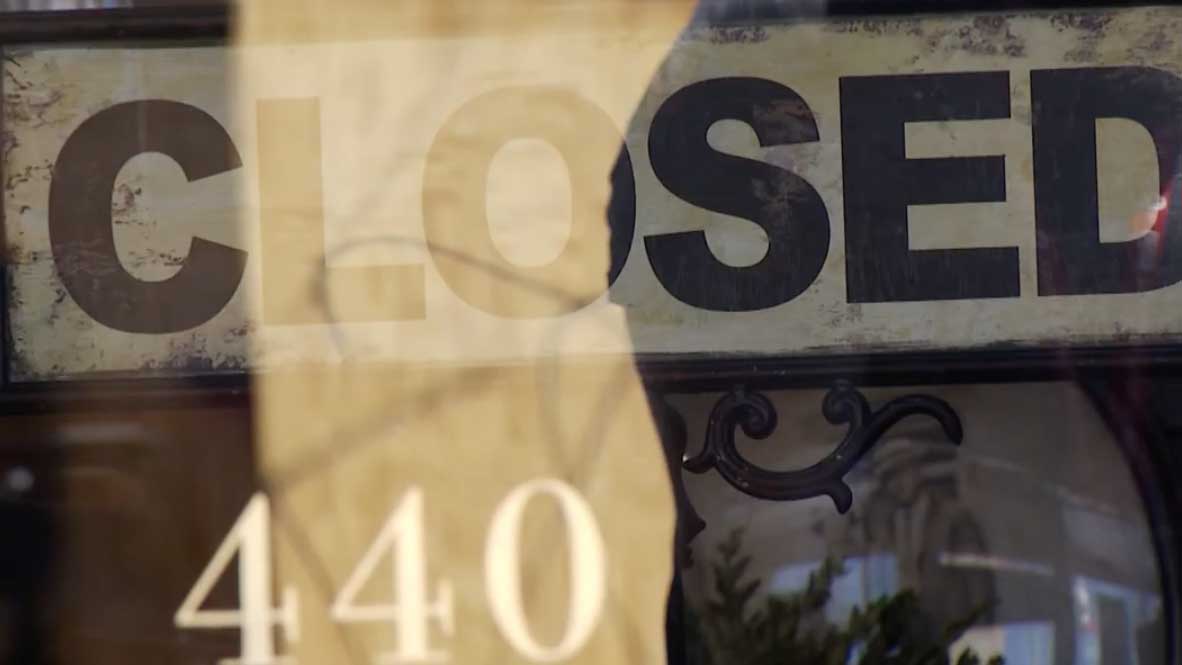 A closed sign at a business on Tucson's Fourth Avenue in March, 2020.
AZPM
The economic impacts of the coronavirus pandemic are starting to hit. Federal, state and local officials have assembled a patchwork of policies to aid people during these challenging economic times.
Direct relief
The CARES Act passed by Congress and signed by the president contained more than $2 trillion to keep Americans financially afloat during the coronavirus pandemic.
Many Americans can expect direct payments from the federal government soon. For most tax-payers, there's nothing you have to do to receive your check, it will simply appear in your account via direct deposit. The Treasury also plans to develop a web portal for individuals to provide their banking information to the IRS online.
The amount people will receive is based on their adjusted gross income reported on their 2019 or 2018 tax return. Individuals who made $75,000 or less will receive $1,200. Married couples who filed jointly and made less than $150,000 will receive $2,400. Anyone who made more than that may still be eligible for smaller payments.
People will also receive an additional $500 for any dependents under the age of 17. Anyone who was claimed as a dependent will not receive their own payment, even those who filed their own taxes.
Those on social security who do not normally file a tax return will also automatically qualify. Individuals must have a valid social security number to qualify.
The payments are expected to go out starting in mid-April. Here's one resource for finding out how much you can expect to receive.
---
Unemployment benefits
Last week, 129,000 Arizona residents filed first-time claims for unemployment, a nearly 46% increase over the week before and more than 3,500% over the same week one month ago.
Those who are out of work, even temporarily, due to the coronavirus pandemic can apply for unemployment benefits through the Arizona Department of Economic Security.
During the coronavirus emergency, the one-week waiting period to file for unemployment benefits has been waived. People who are out of work also do not have to actively seek work during this time, which is normally a requirement to qualify for benefits.
Under the CARES Act, people who would normally not be eligible for unemployment benefits, like gig workers and self-employed workers, may qualify for benefits. The CARES Act also extended the period during which people may receive benefits by 13 weeks.
Due to the high numbers of applicants, people may experience a delayed response from the department. However, people must continue to file weekly in order to qualify for unemployment benefits.
Pima County has set up a one-stop website to help people find many different resources and access to help.
---
Rent assistance
The biggest monthly expense for most Arizonans is housing. With record unemployment, the state and federal governments have unleashed a number of programs aimed at helping people living paycheck to paycheck.
The state launched a $5 million rental assistance fund last week run by the Arizona Department of Housing to help people avoid eviction. According to a department spokesperson, over 5,000 people have already applied. Applicants still need to put 30% of whatever income they have left toward rent and reapply each month.
Gov. Ducey has put a pause on evictions, by delaying eviction enforcement. The order is not a moratorium on evictions. The eviction delay only applies to people who can provide documentation that their loss of income is due to Covid-19. The state Supreme Court put a form on its website to help people work with landlords.
Under the CARES Act, landlords with tenants who can't make rent can get a break on their mortgage payments, provided they don't evict people. However, that only applies to loans backed by Freddie Mac or Fannie May. For the rest, it's up to individual lenders whether to give property owners a break on their payments.
Gov. Ducey has also worked out a deal with the state's largest banks to suspend foreclosures for at least 60 days.
State officials recommend tenants and homeowners contact their landlords or lenders if they will not be able to make a payment.
---
Small business loans
The CARES Act contained trillions of dollars to keep Americans financially afloat during the coronavirus pandemic. Much of the program was aimed at business. One of the most popular programs is the Payroll Protection Plan.
Those are loans from the small business administration that let a business receive up to 2.5 times their annual payroll costs, and the loan is forgivable if 75% or more of it is used to cover the cost of keeping employees on the payroll during the pandemic.
The $359 billion program was immediately overwhelmed when banks began making the loans a week ago. Business owners who want to join the program should look for banks that are still administering loans.
Congress is working on a proposal that would add hundreds of millions of additional dollars to the payroll protection plan.
---
Tribal resources
The CARES Act also includes billions of dollars for the more than 500 federally recognized tribes throughout the United States.
The secretary of the interior will divide up the $8 billion that will go to tribal governments, though how the money will be split is still unclear. For now, tribal governments have to show losses in revenue and additional costs due to the pandemic.
So far, tribes do not know how much money they'll receive or when they will get it, but the Bureau of Indian Affairs says the funds will be dispersed by April 26.
Another $2 billion will go toward emergency funding for the Indian Health Service and other federal Indian programs. IHS will use its share to buy things like much-needed tests, personal protective gear and medical equipment.