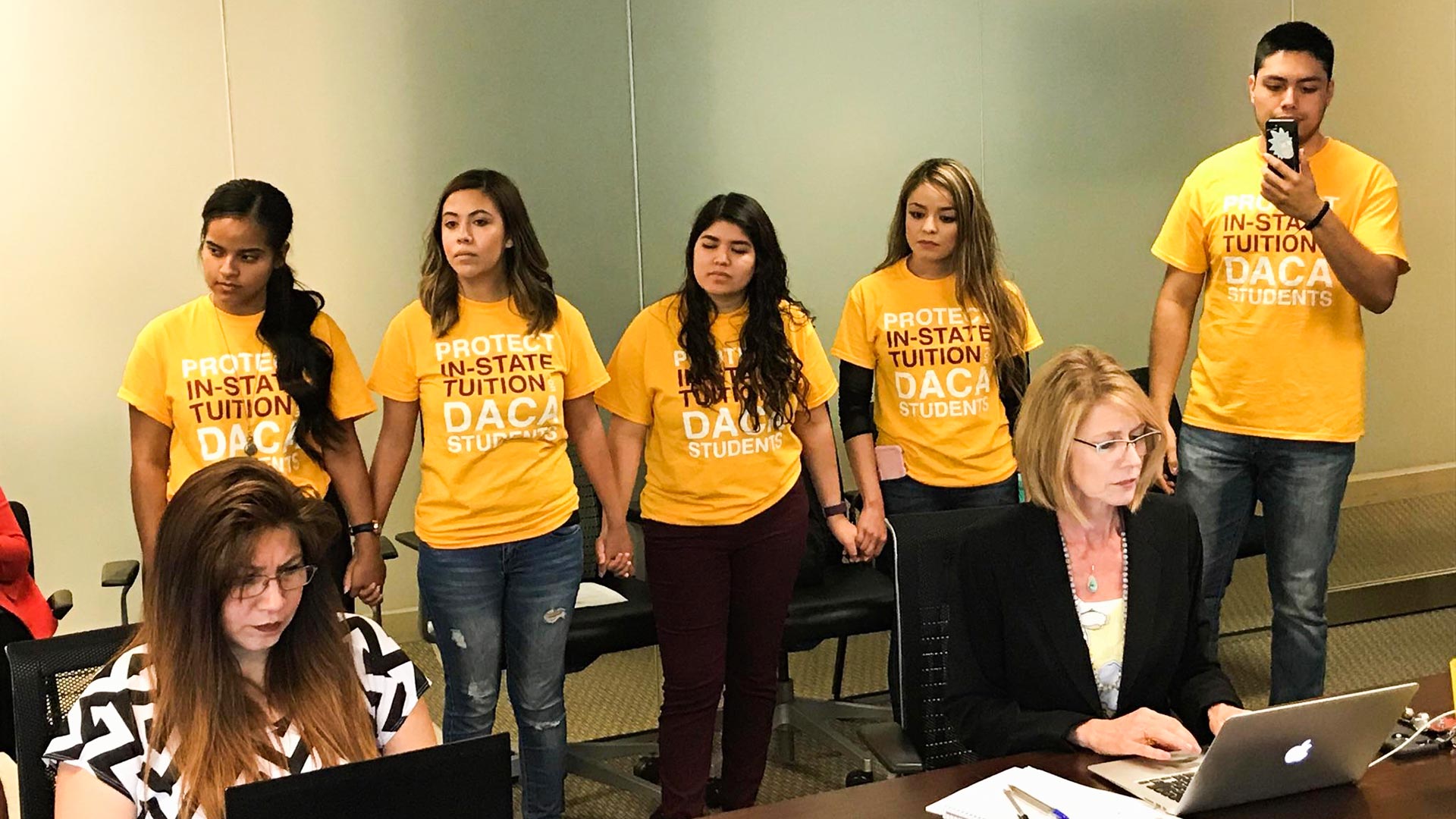 A group stands in support of in-state tuition eligibility for Arizona students with DACA status at a June 29, 2017, Arizona Board of Regents meeting.
Vanessa Barchfield/AZPM
The Arizona Supreme Court heard arguments Thursday in a case that pits the state attorney general against several other officials, both Republicans and Democrats. The central issue involves tuition at state universities.
Attorney General Mark Brnovich sued the state Board of Regents in 2018. Brnovich claims it was illegal for the regents to give a tuition discount to university students who are DACA recipients. Those are undocumented migrants who were brought to the U.S. as children. He claims the tuition discount amounts to a gift to the DACA students that shifts the cost of education onto other students.
Thursday's arguments focused on whether Brnovich can sue the state Board of Regents without having a state law that specifically grants that authority. Attorney Brunn Roysden, representing Brnovich, says the law gives Brnovich "general" authority to do a lot of things.

"When you have a specific statutory scheme, no one quibbles that the specific governs over the general, but having specific statutory schemes does not render general power superfluous," Roysden said.
An attorney for the regents, Joel Nomkin, says the attorney general only has the power granted to him under the constitution and the law. "In the entire history of the state, the attorney general has never had the authority to bring litigation without specific legislative authority, or the direction of the governor," Nomkin said.
Gov. Doug Ducey, along with two of his predecessors, filed a brief against Brnovich in the case. So have the current secretary of state, secretary of public instruction and state treasurer.
The state Supreme Court will likely rule on the case in a few months. If Brnovich wins this round, his tuition lawsuit can go to trial in Superior Court.