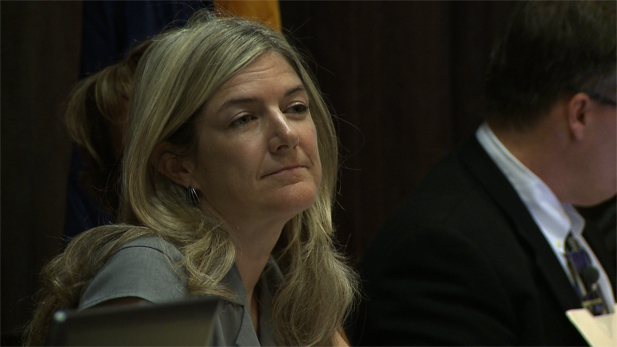 Colleen Mathis, chair of the Independent Redistricting Commission, made self-imposed Christmas deadline for new maps.
Colleen Mathis may be under even more pressure than meets the eye as chair of the Arizona Independent Redistricting Commission, a law professor says.
Mathis, a registered independent voter from Tucson, was removed from the commission last month after Gov. Jan Brewer accused Mathis of gross misconduct and the state Senate concurred. The Senate's 21-6 vote met the two-thirds constitutional requirement for a commissioner's removal.
The commission and Mathis appealed to the state Supreme Court, which overruled Brewer and the Senate majority and reinstated Mathis. Then last week, it reaffirmed that position, rejecting Brewer's request for a stay and for reconsideration.
All of that may have put Mathis in a difficult spot, suggested Paul Bender, dean emeritus of the Sandra Day O'Connor College of Law at Arizona State University.
"It's very hard," Bender said in an interview for Friday's Arizona Week. "Put yourself in Colleen Mathis' position ... The governor and people in the Legislature have said some really bad things about her, charged her with doing things. The people who have charged her with that are all Republicans, because they don't like what she's doing.
"Is it going to be easy for her to remain politically neutral, as she's supposed to be, when one political party has really attacked her?" Bender said. "She has to remain politically neutral, but those attacks make it very difficult to be neutral, because it's a natural reaction when somebody attacks you to not feel good about that and not treat them as well as you might otherwise."
Bender said he assumes Mathis is not reacting negatively to the attacks and will maintain her neutrality.
"My point is that those kinds of attacks by the politicians on members of the commission, either side, are wrong because it makes it harder for the commission to be independent," he said.
Maintaining and securing independence for the commission is of utmost importance, Bender said, adding that the Supreme Court's order reinstating Mathis helped support that effort.
He also suggested that altering the way commissioners are selected to take their appointments out of the hands of politicians would improve the chances for independence.
Currently, two Democrats and two Republicans are selected for the commission, with the Senate president, the House speaker, the Senate minority leader and the House minority leader making one appointment each. The four selected commissioners then choose a fifth member from among a pool of independent voters, and that person serves as chair.
"That's a big political influence on the commission, to have four of the members picked by political leaders in the state. I think that's unfortunate," Bender said.
Reporter Michael Chihak further explores the complexities of Arizona redistricting on Arizona Week. Watch here.