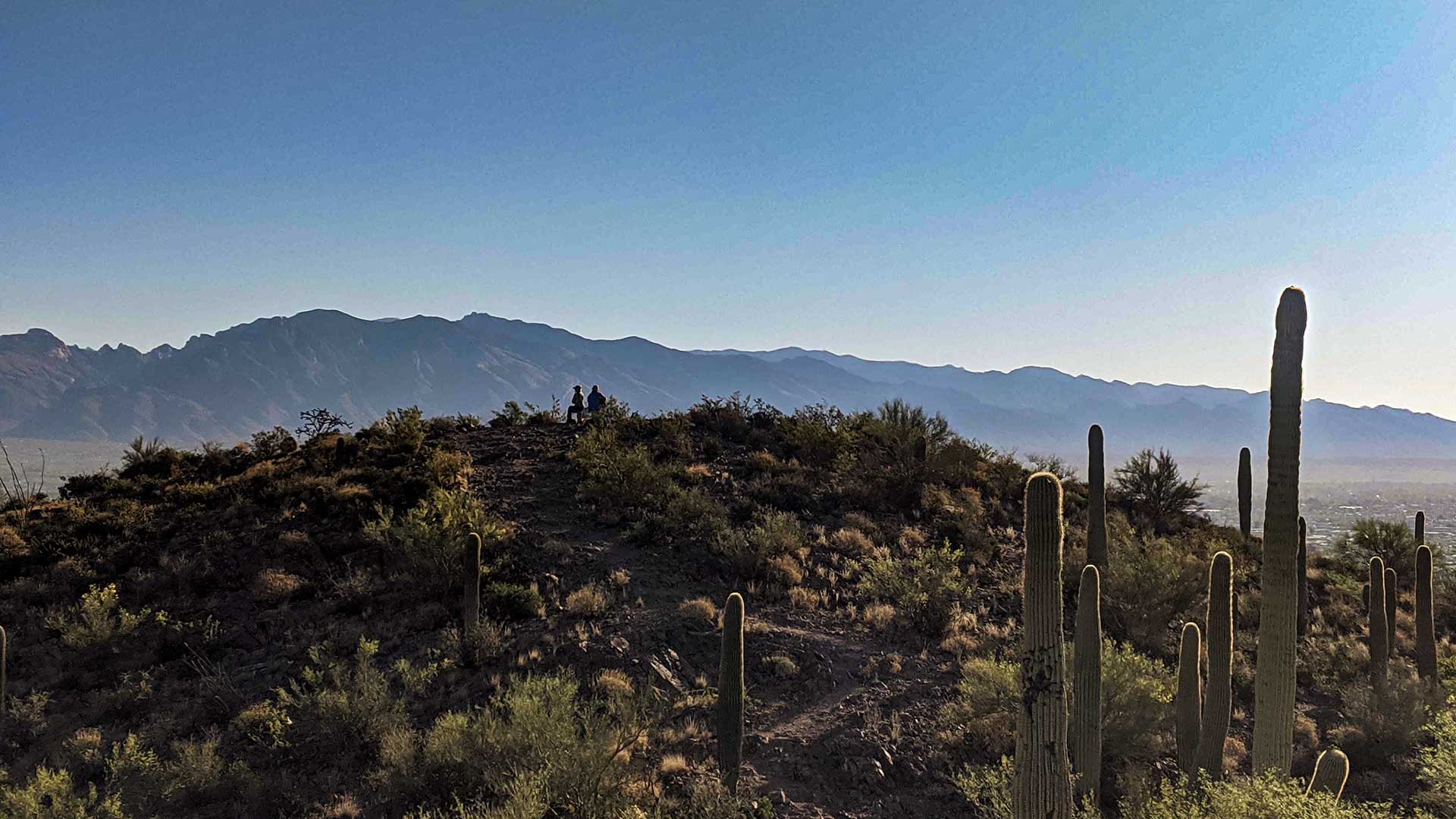 With many activities restricted during the pandemic, many find themselves observing the natural world more intensely.
Nick O'Gara/AZPM
Arizona has been under a stay-at-home order for more than a month. But life continues outside our homes.
While a lot of work has come to a standstill due to the pandemic, construction of a new border wall along the United States-Mexico border has continued. On Wednesday, the Washington Post reported that President Trump wants to paint the new sections of 30-foot steel bollard wall black, which would cost at least an additional $500 million dollars.
Members of Congress, along with conservation and humanitarian groups, have repeatedly asked the president to stop the wall project during the pandemic.
The Center for Biological Diversity is one of the biggest opponents of the president's wall. Laiken Jordahl is borderlands campaigner with the organization.
"Not only has [construction] not stopped, but they are pushing ahead with hundreds of miles of new walls that they have announced in the last two months alone," Jordahl said.
The construction will go through areas noted for their natural beauty, like Organ Pipe National Monument, and cut off paths that wildlife uses to travel. Jordahl said the wall could also cut animals off from water sources, which are scarce in the Sonoran Desert.
The center recently released drone footage of construction impacting the Devil's Highway, a rugged mountain road based on an ancient trail that runs southwest from Ajo. Due to the unforgiving nature of the landscape, few people use this area to enter the county or traffic drugs, Jordahl said.
"It's just heartbreaking how much natural history and how much wildlife habitat will be destroyed for a project that will do nothing to keep us safer," Jordahl said, adding that the real reason behind the border wall construction was to give a political boost to President Trump's re-election campaign.
The center has filed multiple lawsuits to stop wall construction. Those suits are still pending.
U.S. Customs and Border Protection provided a lengthy response to this interview. The agency stated that the locations identified for new border wall construction are selected based on the Border Patrol's operational needs, and that the Tucson Sector is an area of high illegal activity. CBP stated the new border wall system will curtail smuggling activity and improve agent safety.
In response to environmental impacts, CBP stated that the wall projects are contained within a 60-foot-wide strip of land reserved for border enforcement. The agency said it is committed to responsible environmental and natural resource stewardship. It said it includes environmental review and consultation with other agencies, tribes and stakeholders into the planning and execution of the new border wall, including identifying and minimizing impacts to sensitive resources.
---
The wet southern Arizona winter resulted in a beautiful wildflower season this spring. But it also brings higher risk of wildfires this summer.
John Truett is the state fire management officer with the Arizona Department of Forestry and Fire Management. He said the fire season has already started, with new fires nearly every day in some part of the state.
"We're just about on pace right now but with this accelerated heat wave we've had and the record heat, we're going to actually surpass being on average and go ahead of season," Truett said.
Dry conditions and a lack of burns in some areas in recent years could lead to a more active season this year, Truett said.
Truett said prescribed burns have been halted due to coronavirus concerns, since smoke from fires can reach communities and irritate people's respiratory systems, which can worsen coronavirus symptoms.
The pandemic will also affect the ways firefighters organize to combat the fires that do break out. Truett said that they may use more aerial methods to put out fires, to ease the burden on ground crews. However, on-the-ground firefighters will still be necessary, and the best practices for firefighter safety may clash with social distancing guidelines.
"We're going to have to trade off what the potential of spreading the virus is compared to firefighter injuries on the line," Truett said. "So, I'm really concerned about all the mixed messaging we're getting of how our folks are showing up on the fire ground."
---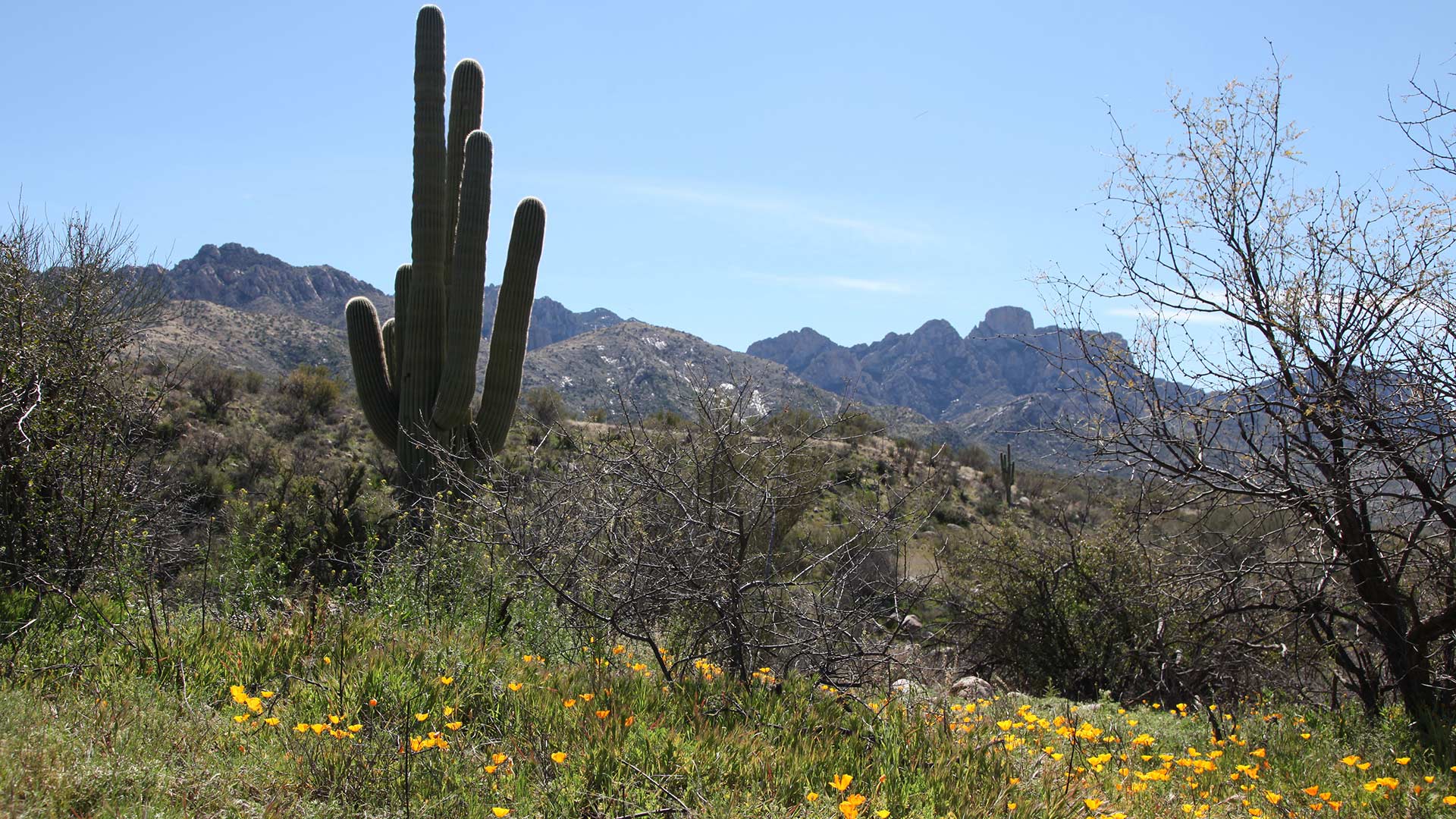 Saguaros, flowers, mountains and other features embellish Catalina State Park, March 4, 2019.
Tony Paniagua/AZPM
Gov. Doug Ducey will allow restaurants to resume dine-in service starting Monday, as part of a gradual reopening of the economy. But with gyms, pools and playgrounds still closed and cabin fever running high, many people continue to go outdoors to stay active.
Mark Hart is spokesman for the Arizona Game and Fish Department in Tucson. He said the combination of more visitors and less working staff on federal lands has led to a buildup of uncollected trash. That becomes an issue when wild animals start wandering into new locations to forage for discarded human food.
The issue becomes more serious when wild animals become dependent on trash or other leftovers. That can lead animals, like bears and mountain lions, to travel from their natural habitats into neighborhoods. High temperatures may also make it hard for animals to find resources, so they travel farther in search of them.
To help lower the risk of wandering wildlife, hikers are encouraged not to leave behind any trash, even in trash cans. Instead, people should take their trash with them and discard it at home.
Even though the great outdoors offers plenty of room to move around in, Hart said maintaining proper social distancing guidelines is necessary in nature too.
"We want people outdoors," Hart said. "We realize this has really been a long haul for a lot of people, but you can't just discard CDC guidelines. And you have to be aware of the impacts to the environment that are being caused by this situation, particularly on federal lands."
---
AZPM listeners have shared their positive stories during these challenging times. This week several people said they have been enjoying nature more. Sheryl said she's spending quiet time identifying bird calls and listening to bobcat wails. Beth has been visiting her horse in Sonoita, to catch the sun and get some pony hugs — "the only ones we're allowed" right now. Teresa in Wittman said during this time of isolation she's been embracing the simple things in life: watching quails, hawks, roadrunners and owls, as well as the sunsets and Venus in the sky at night.
Anecdotally, birds and other wildlife may be enjoying having less humans out and about, according to Jonathan Lutz, executive director of Tucson Audubon.
"Birds are more than likely using spaces that are high-density human population areas than ever before, simply because we're not occupying those spaces in the way that we have," Lutz said. Lutz also said that birds were probably facing less danger from moving vehicles, like cars and planes, due to the nationwide decrease in travel.
With many people stuck at home, possibly without work, some have had more time to take in their surroundings, which may be why birds seem more prevalent.
"The remarkable thing about this time is that people are relatively isolated and they're more intensely observing the things that are around them, and that includes birds," Lutz said.

The Buzz
airs Fridays at 8:30 a.m. and 6 p.m. and Saturdays at 3:30 p.m. on NPR 89.1. You can subscribe to our podcast on
iTunes
and NPR One. See more from
The Buzz
.