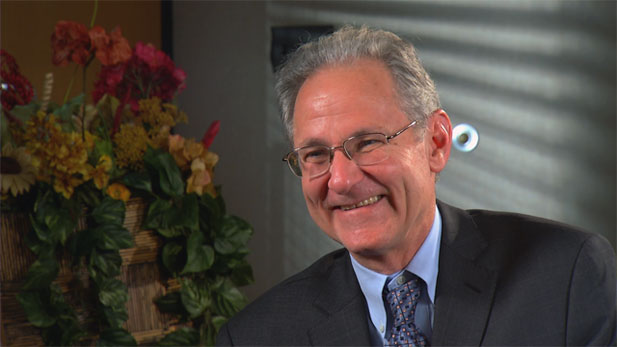 Tucson Mayor, Jonathan Rothschild (D) discusses his recent election and what it means for the future of Tucson. (PHOTO: AZPM)
The newly elected mayors of Phoenix and Tucson say they will work together and with other Arizona municipal officials to help one another find solutions.
Phoenix Mayor-elect Greg Stanton, who will take office Jan. 3, and Tucson Mayor Jonathan Rothschild, who was inaugurated Monday, said in separate interviews for Friday's Arizona Week that they already have been cooperating, first on their campaigns and soon on common issues involving education and economic development.
"The similarities (between Tucson and Phoenix) are probably a lot more than people know," Rothschild said. " ... We face a lot of issues having to deal with cities being at the bottom of the governmental food chain. If the federal government isn't doing what it needs to do, and state government isn't doing what it needs to do, cities have to make it work."
He said he and Stanton will approach businesses and other allies to together ask the state Legislature for better funding for education and health care.
"If that stuff's not there, if that stuff's not working, it's the cities that have to clean it up with police and fire and social work," Rothschild said.
Stanton said he sees cooperation coming as people recognize the need for Arizona to pull together to solve its problems.
"One thing I have learned is that Phoenix, to succeed, has to be a significant regional player and a significant statewide player," Stanton said. "I personally as mayor of Phoenix need to have good personal relationships with the other leaders in the communities. We are going to sink or swim as a state, not as an individual city."
He said his friendship with Rothschild will help lead to partnerships on economic development and transportation. He also said recognizing the University of Arizona has created a big footprint in downtown Phoenix will be a foundation for inter-city cooperation.
"Of course, it's home base is in Tucson, but it is now a statewide university," Stanton said. "The fact that the U of A has invested so much in terms of medical education in Phoenix does nothing but benefit the home base back in Tucson."
Rothschild said it is important to know that Tucson and Phoenix both have faced serious budget cuts, with Tucson trimming its municipal work force by 20 percent and Phoenix by 28 percent.
Reporter Michael Chihak further explores the philosophies and agendas of the newly elected mayors of Tucson and Phoenix tonight on Arizona Week. Watch now:
Rivalry: Phoenix vs. Tucson, or is it? Not if you listen to the two newly elected Mayors of these two cities cooperate and they plan to do it more. Interviews with both democrats, Phoenix Mayor Greg Stanton, and Tucson Mayor Jonathan Rothschild and how it feels they are still campaigning. (VIDEO: AZPM)