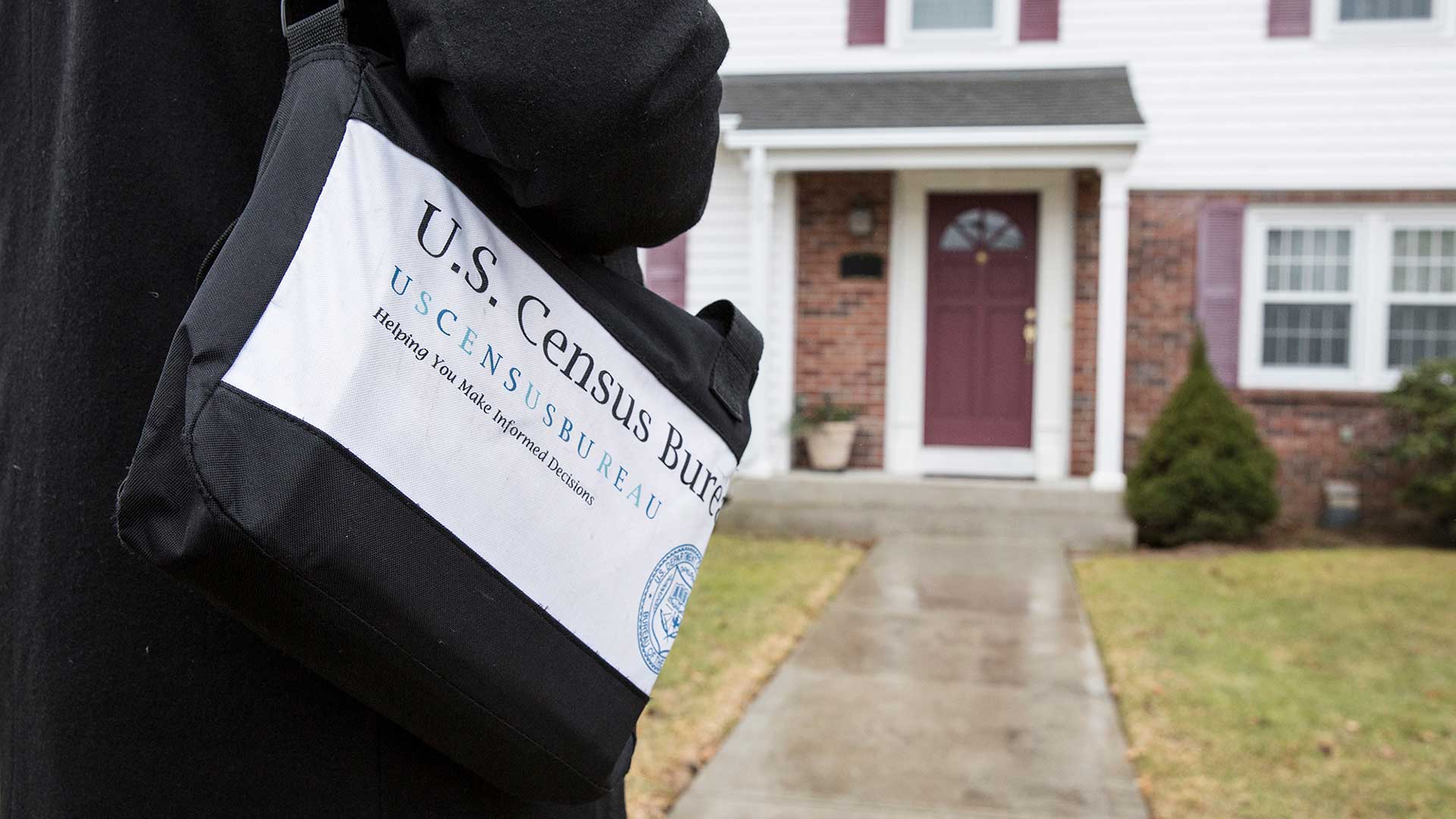 Census Day is April 1, and the snapshot of where Americans live impacts billions of dollars of funding each year.
Courtesy Census Bureau
Every 10 years the government sets out to count every person living in the United States. This time, the pandemic is complicating matters.
Even before the coronavirus hit, experts warned the 2020 census was in trouble. They said fear caused by a failed White House proposal to add a question about citizenship, coupled with distrust of government, could result in an undercount.
Lizette Escobedo does census outreach for the National Association of Latino Elected and Appointed Officials, a nonprofit that works to increase Latino participation in American politics.
While a U.S. Supreme Court decision last June ended the attempt to put a citizenship question on the census, a survey done in February by Escobedo's organization found as many as half of Latinos still believe there is a citizenship question.
Three quarters were concerned the Trump administration would use the census data against Latinos or immigrants. An undercount of Latinos could lead to them being underrepresented in government.
"It would also mean less resources for our communities for things like education, health care, making sure we have good transportation infrastructure, making sure we have housing," Escobedo said.
The federal government uses census data to determine how to spend its money. Every person missed by the census could cost the state $3,000 every year, according to the Arizona Complete Count Committee, a division of the governor's office.
Alec Thompson is the director of the Complete Count Committee. With 56% of Arizona households responding as of Wednesday, the state is only slightly behind the national average. But response rates are not equal around the state. The Census Bureau has had to delay delivering forms to many tribal communities due to the coronavirus pandemic.
"You have a county like Apache, which is mostly tribal sovereign nation where there hasn't been any ability to actually respond, so they're at like 3%," Thompson said.
American Indians and Alaska Natives living on reservations were undercounted by almost 5% in the last census — among the highest of any group.
Gabriella Cázares-Kelly is a member of the Tohono O'odham Nation and a candidate for Pima County Recorder.
"There's also a thing that happens, which I like to refer to as 'statistical genocide.' It's where we no longer exist on paper, and I think that it provides those who are in decision-making spaces the opportunity to shortchange our communities," Cázares-Kelly said.
Cázares-Kelly said when it comes to Tohono O'odham living within the Nation, people may not speak English or have a physical address since many roads don't have names and houses don't have numbers. And people may be worried to claim loved ones sleeping on their couches.
Beth Morrison said that is a widespread fear for people who don't have a steady home. She's the CEO of Our Family Services, a nonprofit in Tucson that assists people experiencing homelessness in Southern Arizona.
"There may be a family that's doubled up in housing, and they're afraid that if they report eight people staying in a two-bedroom apartment, that Department of Child Safety might remove the children — that they'll be kicked out of the apartment," Morrison said.
She said caseworkers have to build enough trust with clients before they broach the topic of the census.
Another group that can be hard to accurately count is university students. Every decade the University of Arizona leads an effort to have all their students counted as Tucson residents.
Julie Katsel is the senior director of local government and community relations for the UA. She works with the Census Bureau to ensure UA students are accurately counted. According to Katsel, the university was originally going to launch its main census outreach effort in the second half of the spring semester.
"After students did not return from spring break, we had to pivot to an entirely electronic and digital outreach campaign," Katsel said.
Katsel said students filling out the census should report the residence where, under normal circumstances, they spend the majority of their time. For most UA students, that means using a Tucson address.
There is still plenty of time for people to complete the census online.
---
Census data is used for all kinds of things, including how many House representatives a state gets to send to Washington, based on its population. Arizona gained a new congressional seat after the 2010 census. The state is expected to gain another after the 2020 census, meaning more representation in Congress, and more attention from national political parties.
Yurij Rudensky works at the nonpartisan law and policy institute the Brennan Center for Justice.
"Census data is the backbone of all redistricting, and so it's incredibly important to have an accurate and complete count, particularly in the communities that tend to be harder to count," Rudensky said.
Congressional districts are drawn based on population count. Redistricting often brings with it accusations of gerrymandering.
Rudensky said gerrymandering can come in many forms, including partisan gerrymandering, which intentionally gives one party a strong hold on an area.
Arizona has an independent redistricting commission, as opposed to a commission handled by state legislators. While all redistricting usually faces legal challenges, Rudensky said in his experience independent commissions tend to hold up better when scrutinized.
---
AZPM reporter Jake Steinberg has been covering the census and says so far, Arizona's self-response rate is slightly behind the national average, though Pima County leads the state in response rate. Efforts to reach out to members of rural communities for an accurate count have been delayed, as in-person census workers will not be going from house to house until August.
"So you're really seeing the entire process getting pushed back. And that's going to really come to a head because the census has a legal deadline of Dec. 31 to deliver the apportionment counts to the president," Steinberg said.
The Census Bureau has asked for the deadline to present the results to the president to be delayed until April 2021.

The Buzz
airs Fridays at 8:30 a.m. and 6 p.m. and Saturdays at 3:30 p.m. on NPR 89.1. You can subscribe to our podcast on
iTunes
and NPR One. See more from
The Buzz
.