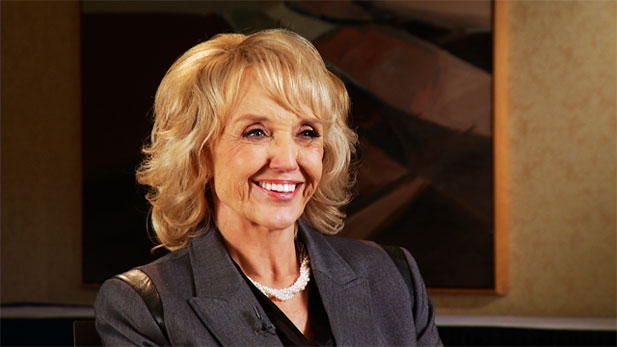 PHOTO: AZPM
Gov. Jan Brewer Monday vetoed Rio Nuevo legislation that Tucson businesses wanted to help with downtown redevelopment.
Gov. Jan Brewer anticipates state budget surpluses totaling nearly $2 billion over the next 18 months, and that will allow some added state spending in needed areas after several years of deep budget cuts.
Brewer released her budget proposals Friday and spoke with Arizona Week about them. She said the unanticipated surplus will allow the state to pay down some debt, add funding for critical needs and to set some aside for the future.
"I think that it's important that now that we have a surplus in our budget, that we look at the things that maybe we have neglected over the years," Brewer said in her interview with Arizona Week.
Among "neglected" services and programs: school building upgrades and maintenance, behavioral health care coverage cut from AHCCCS/Medicaid and beginning a project to upgrade the state's financial computer system.
Hear AZPM's in-depth audio report on Brewer's budget proposal:
Most of the anticipated $650 million surplus for the rest of this fiscal year, about $392 million, should be saved, Brewer proposed, in anticipation of another recession, expiration of the 1-cent education sales tax in 2014 and implementation of the federal Affordable Care Act. She said the health care plan alone could cost the state $1 billion a year.
She said she doesn't anticipate adding much money back into the K-12, community college and university operating budgets, except to accommodate special needs, funding formula adjustments and enrollment growth.
"I think that my education plan that will be spelled out in the budget is the right way to go," Brewer said. "And that doesn't necessarily mean more money, because thanks to proposition 100, those dollars are still coming in."
Proposition 100 is the 1-cent sales tax that the governor championed last year and that voters approved by a wide margin. She said she will keep her promise to Arizonans to end the tax "on my watch".
Brewer budget 2012-13: View at Google Docs | Download File
Reporter Michael Chihak explored other topics with the governor, including educational reform and redistricting. See the interview here: