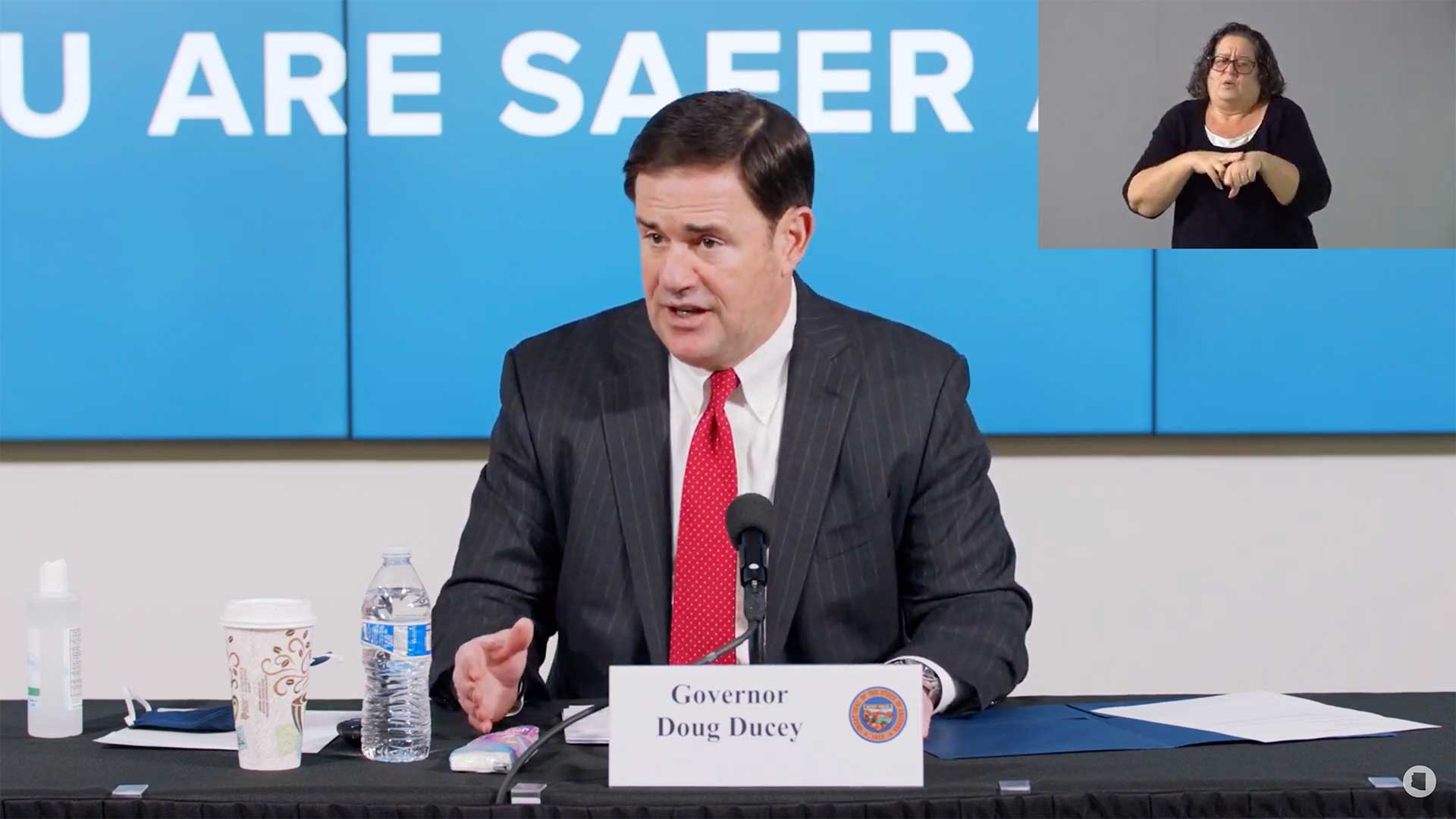 Gov. Doug Ducey at July 30 update on Arizona's response to the COVID-19 pandemic.
Office of the Arizona Governor/YouTube
As part of federal coronavirus relief funds, the government has been adding $600 a week in unemployment benefits. If Congress doesn't renew that aid by Friday, Arizonans' checks would drop to $240, the cap on Arizona's unemployment benefit. It's the second-lowest rate in the country.
Economists say a loss of that benefit could mean dire consequences for state's economy, including a significant economic slowdown in the third and fourth quarters.
Gov. Doug Ducey says it's not up to Arizona to address the impending drop in unemployment benefits that will come if Congress doesn't renew that aid.
In a Thursday briefing, the governor pushed back against questions about what the state might do to soften that financial blow, saying, "Arizona is doing its part," and calling on cooperation and action from Congress. Arizona's part, according to the briefing, included a letter to the state's congressional delegation asking for some sort of supplemental benefit for displaced workers.
The White House suggested Thursday that Congress could pass an extension by the end of the week and leave the rest of the new COVID-19 relief until later. Sen. Martha McSally urged her colleagues, on the floor of the Senate, to extend the $600 payments by another week while they negotiated a final bill.
Congressional leaders rejected that plan.

The relief bill proposed by Senate Republicans would reduce the federal payment to $200 a week. Democrats immediately rejected that proposal.
---
Arizona Department of Health Director Cara Christ said the backlog for testing partner Sonora Quest Labs was still backlogged by 29,000, down significantly from the previous week. Ducey said the private lab needs to "step up its game." Christ said the backlog was due to several factors, including national shortage in the reagent, or the test kits used to run the test.
In last week's briefing, Ducey and Superintendent of Public Instruction Kathy Hoffman offered schools the promise of flexibility as well as "data-driven benchmarks" to make their own decisions about when to return to traditional in-person learning, while also saying districts needed to offer on-site services for kids who need a place to go. Ducey also announced more federal funding to offset the costs of opening amid a pandemic, but said it would be tied to whether or not schools offered on-site services by Aug. 17.
Earlier this week Pima County officials released a statement urging schools to stay closed, recommending that they wait at least until Labor Day, and possibly later, to reopen for face-to-face classes. The advice came in a letter from County Administrator Chuck Huckelberry to school superintendents Wednesday. It contradicted Ducey's order that schools reopen at least some of their facilities on the official start date.
The same week, Tucson Unified School District, the second largest in the state, said it was applying to have waived the requirement to open its campuses to students by Aug. 17.
Many of the state's COVID-19 numbers have shown leveling or downward trends compared to weeks before, when Arizona rode a deadly wave of surging case and hospitalization numbers that pushed the limits of state capacity following a lifting of the stay-at-home order in mid-May.
Ducey said the statewide positive percent test rate was 11% this week, more than double the rate the World Health Organization considers safe for reopening. The state reported a sobering 172 new deaths on Thursday. The Arizona Department of Health Services again tweeted that they use a system of death-certificate surveillance, this time accounting for 78 of those deaths, presumably by way of explaining such a high fatality report.