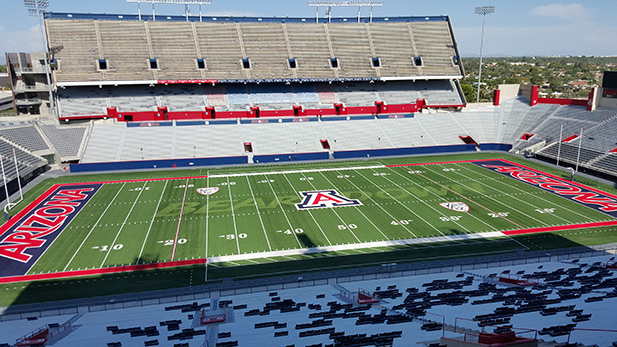 Arizona stadium, home field for the University of Arizona Wildcats football team.

AZPM Staff
The PAC-12, which includes the University of Arizona, has announced that it has cancelled fall sports due to the continuing spread of the novel coronavirus. The decision includes football, which is a big moneymaker for the schools.
The presidents and chancellors of the member universities unanimously voted for the cancellation. Pac-12 Commissioner Larry Scott said the decision was a difficult one, but it was the only way to keep student athletes safe.
"We came to the conclusion, reluctantly, that there is no indication that things are likely to change in terms of the criterion that influenced this in the next few weeks," he said.
Scott said it was important that the student athletes not be penalized for the lost season. The PAC-12 is hoping to convince the NCAA to give fall-sport athletes an additional year of eligibility.
"The student athletes are going to continue to receive their scholarship and support from their universities," he added. "Each campus athletics director, athletics department with coaches will decide exactly what that, that looks like. But we are deeply committed to support our student athletes."
Basketball and other winter sports can begin to practice in the fall but no games will be played before January 2021.