Following the death of former University of Arizona basketball coach Lute Olson, fans and community members set flowers and messages at the feet of his statue outside McKale Center.
AC Swedbergh/AZPM
He could have been a farmer. Robert Luther Olson was born to a farm family in North Dakota in 1934. Fate intervened, and by the time he died Thursday at age 85, "Lute" Olson was one of the most celebrated coaches in college basketball, a name synonymous with the Arizona program.
If working the land had been Olson's destiny, that destiny changed when he was just 6 years old, as he reflected in an interview with Arizona Illustrated in 2006.

"Things happened so suddenly at that point, with my father's a massive stroke and actually was dead on the spot, and then my oldest brother was away at school at Mayville State College and he had to come home to take over the farm," Olson said.
Within a year of his father's death, his older brother was killed in a farm accident, and their mother moved the rest of the family to the city.
"I was at the age where I didn't realize what what all is going on but when I look back on the strength that my mother had to have with, you know, one son 6 and another son 10 ... not one time that I ever hear any complaints about her life," Olson said.
In high school, Olson played football, baseball and basketball. After college in Minnesota, he spent more than a decade coaching high school basketball, eventually moving to college sports, spending nine years at the University of Iowa, where he took the Hawkeyes to the NCAA Final Four in 1980. In 1983, Arizona called with a job offer.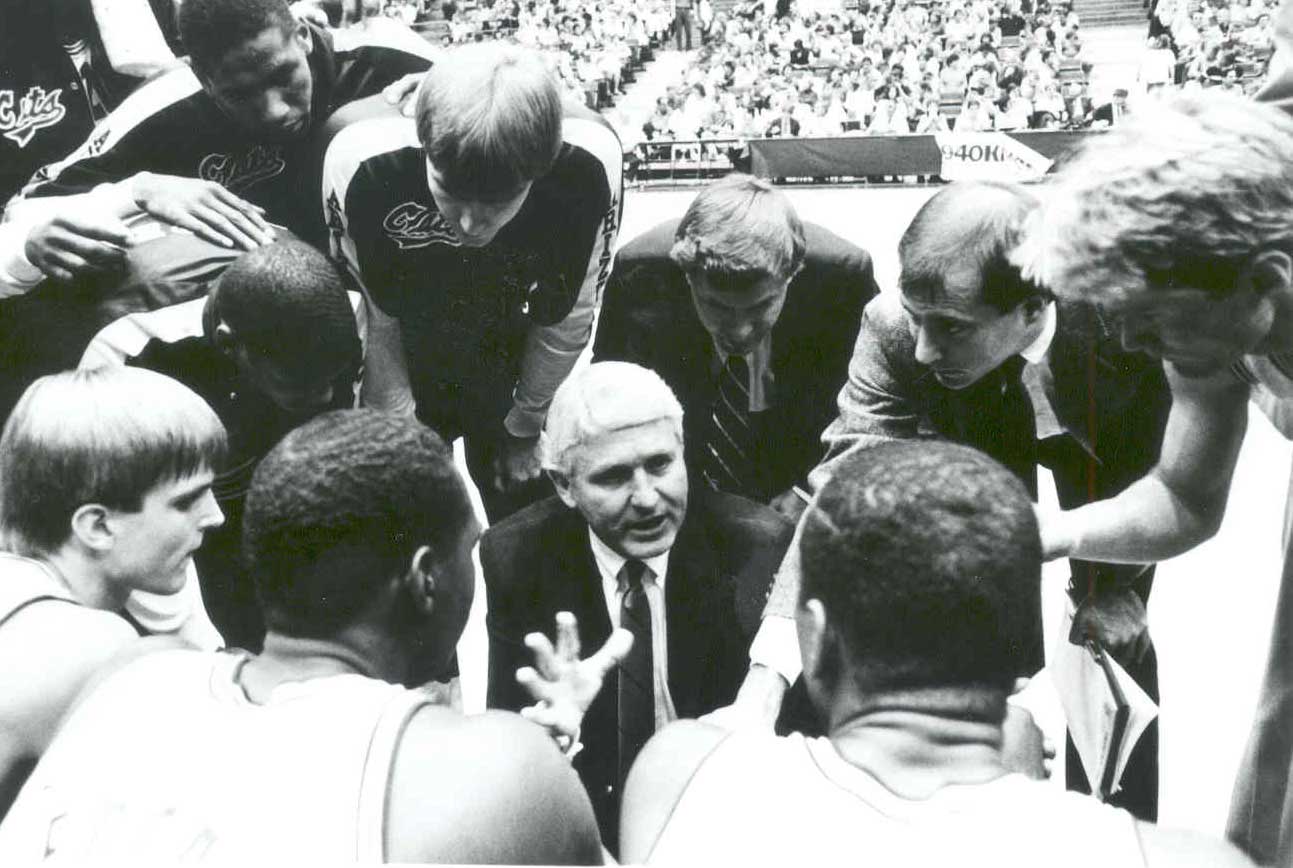 VIEW LARGER Lute Olson coaching.

Courtesy of Arizona Athletics
For the UA, it was a chance to redeem a basketball program that had hit bottom, with only four wins the entire season. For Lute Olson, it was a new challenge, as he described in his first Tucson news conference.
"It is not going to be a case of waving a wand and suddenly it's going to happen. It's going to take a great deal of time and effort to get it going but the challenge is really, to me at this point, is very exciting thing," Olson said.
In 2006, Olson said he didn't think kids had changed over the years so much as their environment had changed. Many came from households where both parents worked, or there was only one parent, so there was less exposure to discipline. When they got onto Lute Olson's team, that changed.

"I really think that kids want discipline. I think they want direction. i think they want leadership to be extended, and when they come in as freshmen it's a shock to them, because it's my way or the highway and they understand that right away. And that first year is hardly ever do we get through one year with kids that they don't think about transferring," Olson said.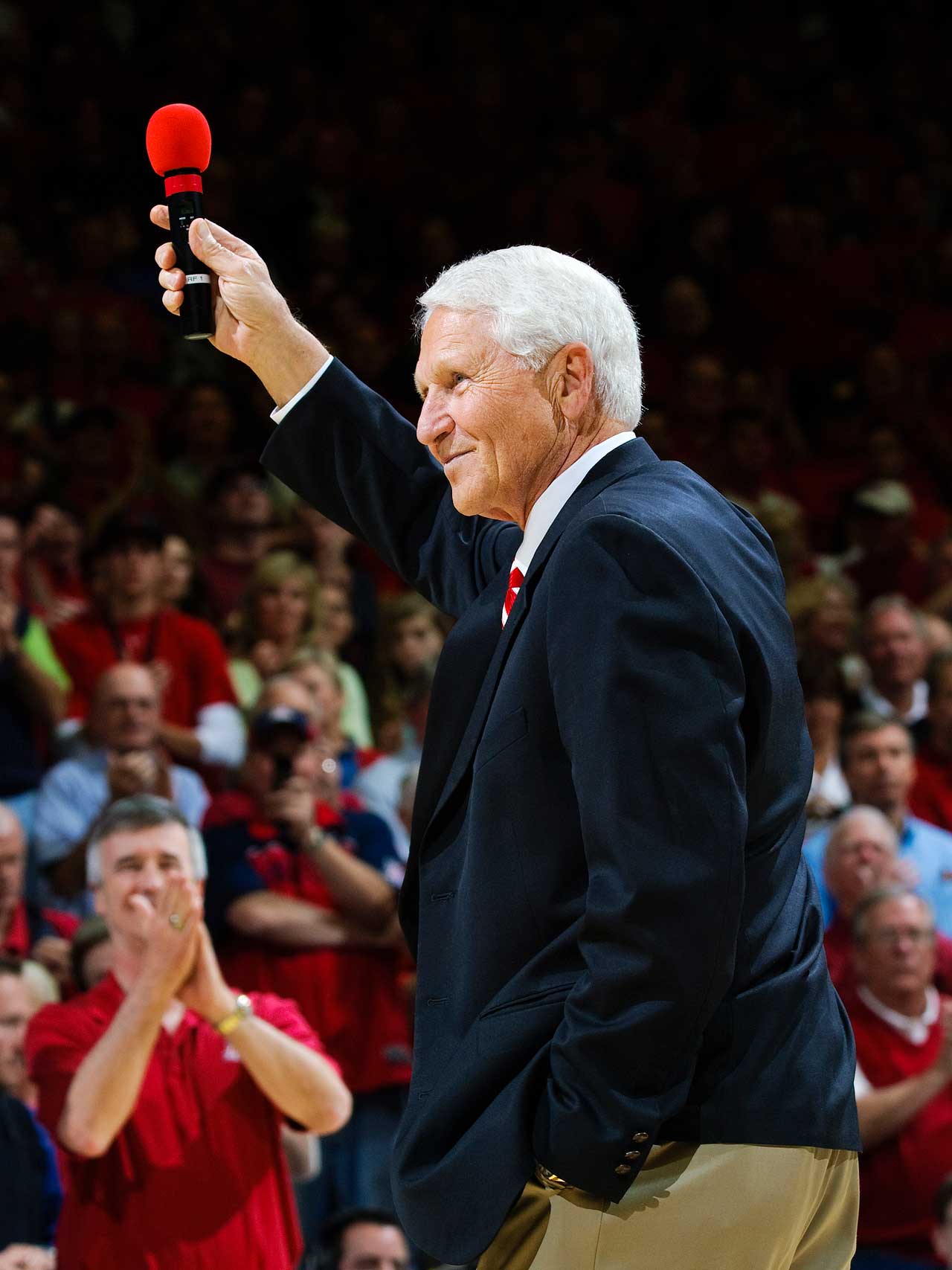 VIEW LARGER Lute Olson in March 2009.

Courtesy of Arizona Athletics
By his second year as head coach, Olson's Wildcats were winning more games than they were losing, and earned an invitation to the NCAA tournament. Many of his star players went on to play in the NBA. Some, like Steve Kerr, Josh Pastner and Damon Stoudamire, became head coaches at the college or professional level.

Olson's teams kept going to the NCAA year after year, and finally reached the mountaintop in 1997, when they won the NCAA finals against the University of Kentucky Wildcats. Moments after the final buzzer, Bobbi Olson told a television interviewer how calm her husband was through it all. "He's just so relaxed it's wonderful. I think this team just relaxes him. It's the greatest win we've ever had."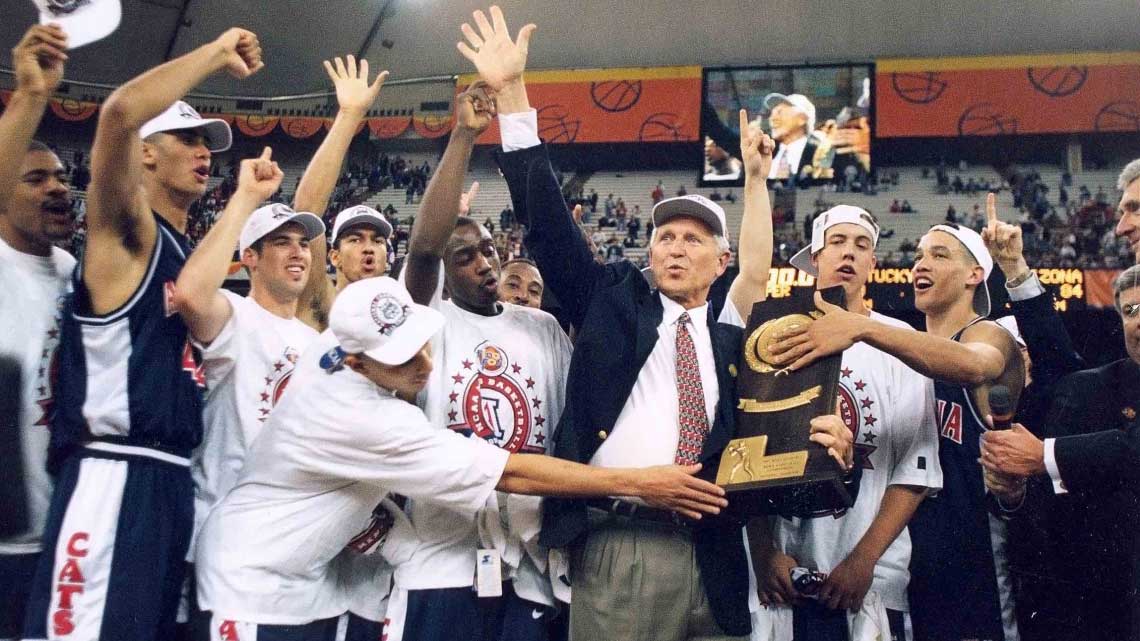 VIEW LARGER Coach Lute Olson and the 1997 championship basketball team.

Courtesy of Arizona Athletics
For Olson another twist of fate was just around the corner, as his wife of more than 40 years was diagnosed with ovarian cancer a few years later. Bobbi Olson died on New Year's day 2001.

Lute Olson kept on coaching the Wildcats until a taking leave of absence and then retiring in 2008. It was later determined he'd suffered an undiagnosed stroke. Olson was a fixture in the stands at UA basketball games until last year, when he had another small stroke.

In the final analysis, maybe Olson became a farmer after all. Every fall, he took in a bunch of seedlings from high schools around the country, nurtured them with lots of practice and discipline, and reliably produced a crop of winners, year after year after year.
"I'm thankful for all the blessings I've had," Olson said, toward the end of his career.