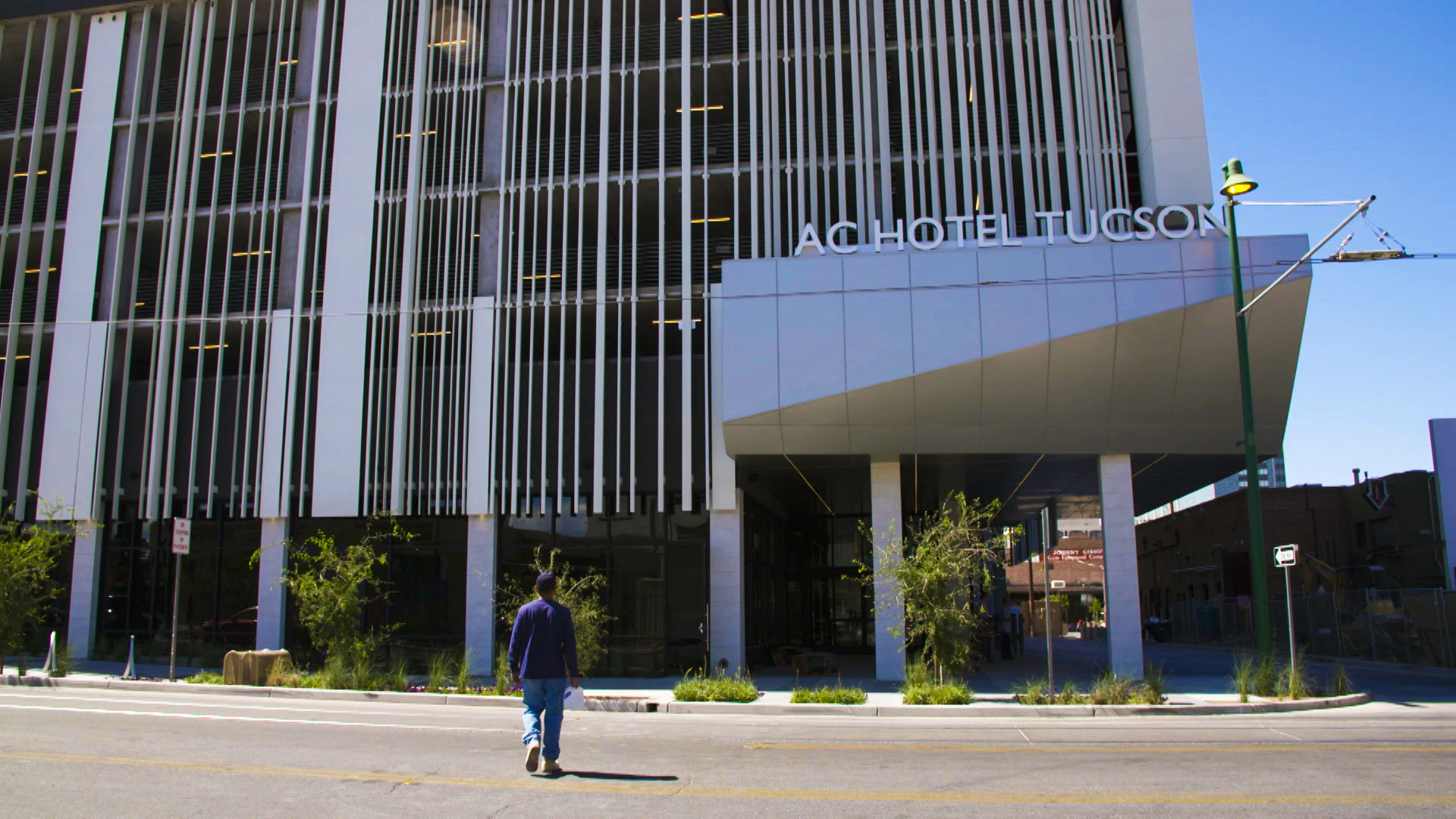 The exterior of the AC Marriott Hotel in downtown Tucson. The hotel is one of many downtown that have taken advantage of the GPLET tax incentive.
AZPM
A tax incentive that has attracted praise for revitalizing downtown Tucson and scorn for a perceived increase in housing costs isn't going away, but it is due for some changes.
The Tucson mayor and council voted 5-1 Tuesday to extend for ten years the Central Business District, in which developers can take advantage of the government property lease excise tax, or GPLET. The vote also kickstarted a process for making changes to the tax incentive, responding to community concerns about gentrification.
In a series of virtual public meetings over the next two months, community members will have the opportunity to comment on new elements to the GPLET process, including requiring developers to create affordable housing or new local jobs.
The GPLET lets a developer off the hook for up to eight years of property tax payments in exchange for improving the value of a property by at least 100%. State law bars the city from entering into a GPLET agreement unless an economic analysis determines the city would make more in sales taxes in the eight years than it would lose in property taxes.
The incentive has typically gone to companies seeking to redevelop vacant lots or derelict buildings. According to a city report, 90% of the city's 25 GPLET agreements have gone to local developers, spurring $300 million in capital investment.
R+R Develop owner Randi Dormon said the incentive is often necessary for local developers to secure financing for a project because land and construction costs downtown are high. R+R received a GPLET to develop the Trinity, a mixed-use office and residential project on East University Boulevard.
"After the eight years, we'll be paying the property taxes on a multi-million dollar development instead of a parking lot," she said.
The GPLET has drawn backlash from residents in the downtown periphery who say those projects don't serve the community.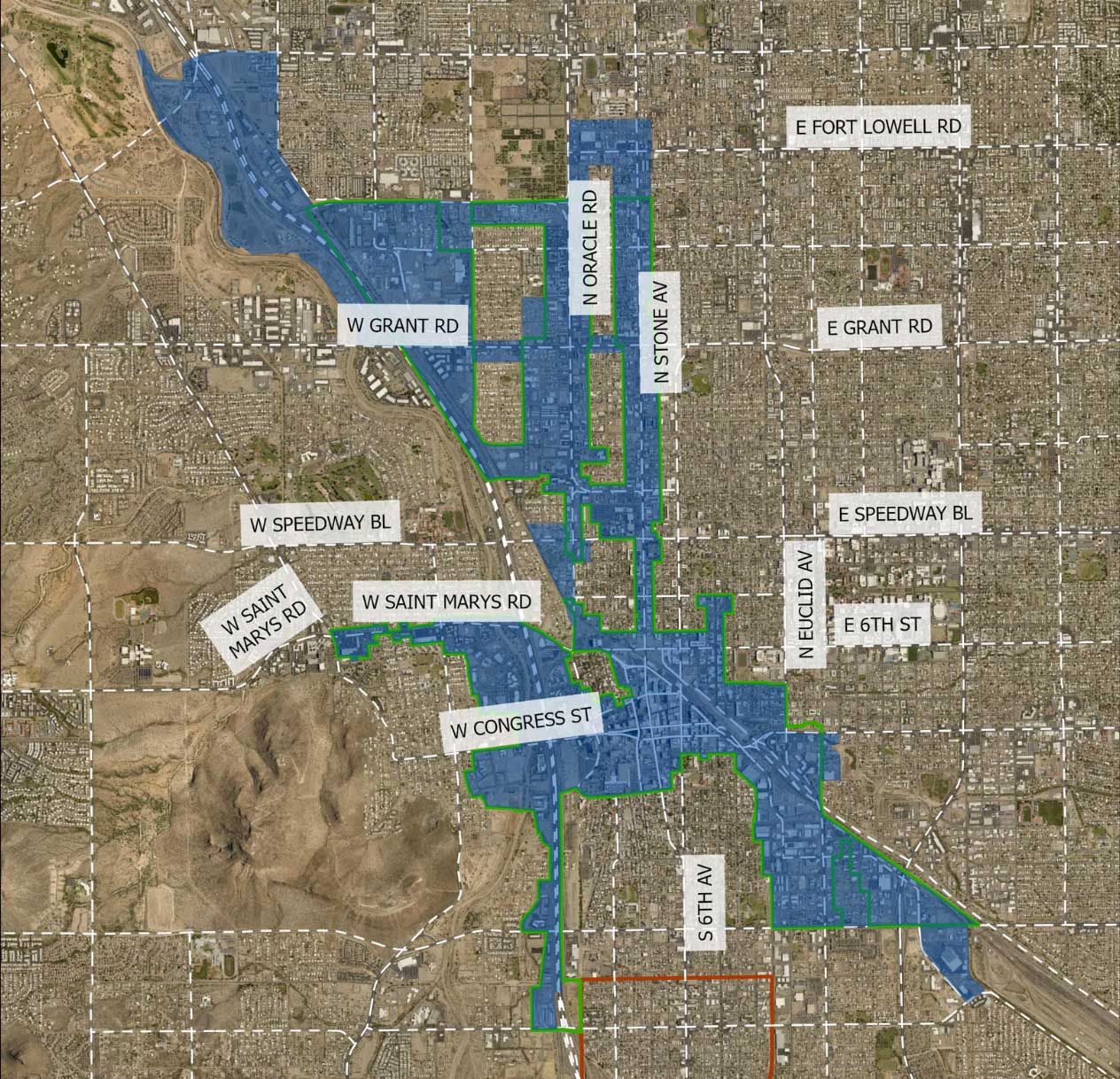 VIEW LARGER The proposed central business district in blue with the current district boundaries in green.

City of Tucson
Dunbar Spring resident Karen Greene said many GPLETs have gone to student apartments, hotels and luxury apartment buildings. "Many of these projects have brought about gentrification and displacement in the neighborhood surrounding downtown," she said.
The mayor and council directed city staff to launch a series of virtual meetings to draft a policy that guides how the city should use the GPLET.
Mayor Regina Romero has said she wants to see the incentive geared toward promoting dense transit-oriented projects — a pattern of development promoted by urban planners as being less dependent on fossil fuels.
Vice Mayor Paul Cunningham said gentrification is a real issue, but he's confident GPLET projects pay off for the community in the long run. With the city facing an uncertain economic outlook, he said it wouldn't be wise to ditch the incentive.
"Even though we don't need to use the GPLET, we probably need to have it," he said.
Tucson Metro Chamber Vice President Michael Guymon said many companies are looking a tax incentive when relocating. Without tax incentives, he said Tucson would have less to offer.
"We wish we didn't have to resort to them, but if we don't, we'll lose out to other communities," he said.