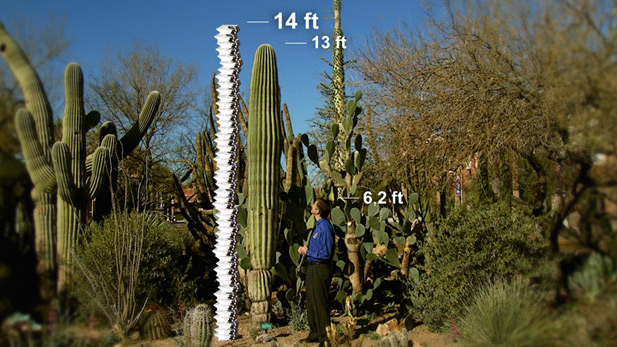 President Obama's 4th quarter 2011 campaign finance report would stack to 14 feet if printed out. (PHOTO: AZPM)
By Christopher Conover and Andrea Kelly
Arizona Public Media
Arizonans gave nearly $2.2 million to candidates for U.S. president, House and Senate in the last three months of 2011.
Residents of the state gave more than $957,798 in support of presidential campaigns in the last quarter of 2011, months before candidates turn their attention to Arizona's Feb. 28 presidential primary election.
U.S. Senate candidates in Arizona raised a total of $1.1 million, of which $640,000 came from Arizona donors.
Candidates in four of Arizona's nine 2012 congressional districts raised a collective $947,737. About 37 percent of that came from people or political committees outside of Arizona, the rest from Arizona donors.
The newest federal campaign finance reports show fund-raising and spending for candidates for federal office in the last quarter of 2011, covering October through December. They are the most recent campaign funding records available.
Candidates for president, vice president, the U.S. House of Representatives and the U.S. Senate must file reports every quarter about where their campaign money comes from, and how they spend it. Those reports will be more frequent when election day nears in August and November.
Presidential fund-raising in Arizona
Pundits may debate whether Arizona is poised to be an influential state in the 2012 presidential race, but reports show candidates for the highest elected office in the country are accepting plenty of money from people who live here.
Fund-raising reports show varied levels of support from Arizonans for the candidates still in the race for president.
The biggest Republican presidential fund-raiser in Arizona was Mitt Romney, who collected $303,000 from Arizonans in the last three months of 2011. He got the most Arizona donations, at 557, and averaged the highest amount per donation: $544. Like the other Republican presidential candidates, Romney's Arizona money was less than 1 percent of his total fund-raising receipts for the quarter, which came to $24 million. His report was 9,945 pages.
There were some notable donors on Romney's Arizona list, including Pinal County Sheriff Paul Babeu, who is running for Congress. Maricopa County Supervisor Don Stapley, and Mesa City Councilman Christopher Glover also gave to Romney.
Next on the list was Ron Paul, whose campaign raised nearly $128,000 from Arizona residents. His total fund-raising was $13 million last quarter.
Paul's Arizona money came from more than 500 donations, which were disclosed in a 10,118-page report. As with all presidential reports reviewed, many individual donors gave money more than one time during the quarter. The average Arizona donation to Paul's campaign came to $249.
Newt Gingrich raised $9.8 million in the fourth quarter of 2011, as reported in a 5,183-page report. More than $94,000 of that was from 396 donations in Arizona. The average donation amount from Arizona was $238.
Of the presidential candidates, Rick Santorum raised the smallest amount of money from Arizonans in the last quarter of 2011, his election committee finance records show. Santorum was widely thought to have lost momentum in early primary and caucus states, but this week he had what some have called a resurgence — winning three caucuses Feb. 7.
Santorum's 792-page campaign finance report shows he raised $4,100 from 25 donations in Arizona, a small portion of the $920,000 he raised from all donors. The total amount Santorum raised from Arizonans, and the $164 average amount per Arizona donation, was the lowest of all the presidential candidates Arizona Public Media included in a review.
President Obama's reelection campaign had the most donors from Arizona. With 2,273 Arizona donations, his committee raised $429,000 from Arizonans. That's an average of $189 per donation His report was the longest, at 43,700 pages.
Like the other presidential candidates, his Arizona funds were a small proportion of the nearly $40 million Obama's campaign brought in during the last quarter of last year.
Plenty of Obama's donations come in small increments, if $5, $10, or $20, but many of those small donations come from people who donate multiple times in the quarter.
Arizona U.S. Senate Candidates
That contrasts with some of Arizona's Senate candidates, who garnered larger donations less frequently. Campaign donation limits cap an individual donation to a federal candidate at $2,500 per election. Some donors give $2,500 for a primary, and $2,500 for a general election in lump sums. Other donors give in smaller increments several times.
Candidates for Arizona's open U.S. Senate seat raised $640,259 from Arizonans, which is 57 percent of the total $1.1 million they brought in from donors across the country.
Republican U.S. Rep. Jeff Flake raised the most, at $607,000. He got $222,504 of that from individuals in Arizona, $218,252, the rest from political action committees. Flake has $2.6 million to spend.
His primary opponent is Republican Wil Cardon, who raised $106,807, of which Arizonans gave $60,307. Cardon also put $450,000 of his own money into the campaign. So far, he's put $1.2 million into his own campaign. With his own money and his fund-raising, he has $1.2 million on hand to spend.
Another candidate who put personal cash into the Senate campaign is Democrat Don Bivens. He raised $236,634. Nearly $145,000 of that was from Arizona donors, and Bivens gave himself $160,000.
His primary opponent is Democrat Richard Carmona, who raised the second-most of the Arizona candidates for U.S. Senate. Carmona brought in $550,009. He got $212,564 from Arizona donors.
Bivens and Carmona each have about a half million dollars on hand, with Carmona taking a slight lead with $543,521 to Bivens' $504,105
The person they are all vying to replace is Republican U.S. Sen. Jon Kyl. His campaign committee is still filing reports, as is required by federal laws, even though he's not running for reelection. He has $470,000 cash on hand, and is returning donations he receives.
Arizona U.S. House Candidates
While Congressional candidates are elected from a district within a state, there are no rules prohibiting candidates from taking money from donors in other districts, or even other states.
It's to be expected that many of the donations for those running for the U.S. Senate or House of Representatives would be from their potential constituents, or people who knew them before they began to campaign.
Arizona Public Media's review of congressional candidate fundraising shows that's true, but in some cases a significant amount of a candidate's financial backing comes from supporters in other states.
Candidates in 2012 congressional districts 1, 2, 3 and 4 collectively raised $947,737. About 37 percent of that came from people or political committees outside of Arizona who cannot vote for those candidates. Every 10 years the congressional maps are redrawn based on population figures from updated census figures.
The new districts for the 2012 races: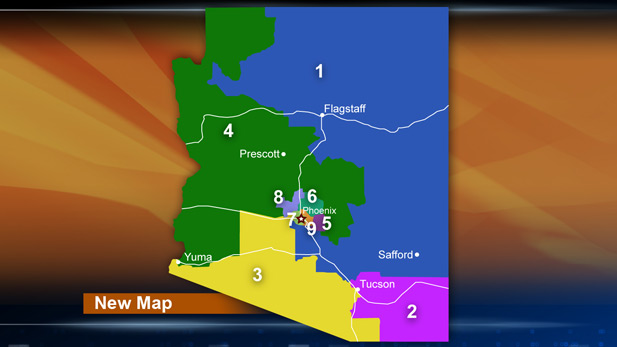 Arizona congressional districts, approved in 2012.
CD1
Of the four congressional districts Arizona Public Media reviewed, just one candidate for congress showed no donations from outside of the state. Jonathan Paton, who is running as a Republican in the new district 1, reported no fund-raising in the last three months of 2011. He wasn't actively campaigning at the time, but announced his candidacy in January, 2012.
Paton maintained an active campaign committee with the Federal Elections Commission after he lost a congressional bid in 2010. His report shows his campaign committee has $$12,225 in debt still to pay back from that campaign.
So far, he's the only Republican in the race for CD1, but two Democrats are vying for election in the primary.
Ann Kirkpatrick represented much of the district for one term lasting through 2009 and 2010. She lost to Paul Gosar in 2010. Kirkpatrick raised $202,783 in the third quarter of 2011. Of that, 41 percent came from people and committees outside the state.
Kirkpatrick's campaign received 85 donations from people who live in other states, totaling nearly $30,000, and nearly $53,000 from political action committees based in other states. Kirkpatrick frequently brings in donations from Democratic committees such as the Democratic Congressional Campaign Committee, and Emily's List and Act Blue.
Kirkpatrick has $$465,739 left to spend.
Wenona Benally Baldenegro is facing Kirkpatrick in a primary. Baldenegro raised far less than Kirkpatrick, with $25,811, and has $6,430 on hand. Baldenegro's outside-Arizona donations are about 51 percent of her total fund-raising and include donations from Native American Tribes in other states.
CD2 and CD8
There are several candidates in the race to replace former-Rep. Gabrielle Giffords, who resigned from office last month to focus on her recovery from the brain injury sustained in the Jan. 8, 2011 shooting in Tucson.
The candidates include Democrat Ron Barber, plus Republicans Frank Antenori, Jesse Kelly, John Lervold, Martha McSally and Dave Sitton.
None of those candidates filed reports for the last quarter of 2011, because each of them did not declare their candidacy for the office until January, after the deadline for the most recent reporting period. The next reports are due in April.
The special primary election is scheduled for April 17, and the general election is scheduled for June 12. Many of the candidates say they plan to seek election in CD2 in the fall election, as well.
Giffords' campaign is still active. She has always kept it active between election years, and her campaign staff continued fund-raising as she recovered from a gunshot wound to the head she suffered in 2011.
Giffords' campaign raised $147,476.
For more information on Giffords' previous reports, view AZPM's second-quarter 2011 campaign finance report.
Giffords For Congress campaign committee raised $41,625 from donors outside the state. Many of those donations came from New York, which is where U.S. Sen. Kristen Gillibrand lives, a friend and Congressional colleague of Giffords. Another $44,195 came from political committees in other states. Combined, those outside donations make up 58 percent of Giffords' campaign fund-raising in the last quarter of 2011.
Giffords resigned from office last month and said she is not seeking reelection this year. The $927,445 she has in her campaign account can be used in a few ways. She can keep the money as long as the campaign continues to file quarterly reports on its intake and spending activity. If she keeps the money, she can use it later in another federal election if she runs for office again.
Giffords could also give the money to other candidates or committees, as long as she follows campaign contribution rules. She can give an unlimited amount of money to a state or local party, such as the Arizona Democratic Party or the Pima County Democratic Party, and then the party can distribute it as it wishes.
CD3
Incumbent Democrat U.S. Rep. Raúl Grijalva has held the current CD7 district for five terms. Much of the district will be in what is the new CD3 starting with the fall 2012 election cycle.
Gabriela Saucedo Mercer, a Republican running in the new district 3, had the smallest amount of outside funding of the district 3 candidates last quarter.
Mercer's records show she also raised the least overall for the last reporting period. She got just 6 percent, or $1,500, of her total $24,716 from two donations outside the state.
In contrast, Grijalva raised $115,225 and got 65 percent of it from a few individuals and several political action committees outside the state.
Grijalva's campaign finance reports consistently show he receives money from political committees, which can give up to $5,000 per election to a federal candidate. That's higher than the individual limitation of $2,500.
Grijalva regularly receives money from union and Democratic political committees and the most recent quarter was no exception.
For more information on donations to candidates from Political Action Committees, view the third-quarter 2011 AZPM campaign finance story, focusing on PAC activity in Arizona races.
Democrat David Crowe is challenging Grijalva in the primary. Crowe was running for U.S. Senate in Arizona in 2011 before he switched to the congressional race in January. As such, AZPM reviewed his Senate campaign committee fund-raising. He can transfer the money for use in his congressional race.
Crowe raised $57,876, and his campaign finance report shows he spent it all ,and has $0 on hand. Twenty six percent of those donations came from outside of Arizona, all from individuals and no political committees outside the state.
CD4
The Congressional candidate with the highest percentage of fourth-quarter 2011 fundraising from out-of-state was Rep. Paul Gosar, a Republican representing the current Congressional District 1. Gosar is running for another term this year, but is seeking election in the new district 4.
A full 70 percent of Gosar's fundraising last quarter came from people or groups outside of Arizona. That's $77,529 of the $110,546 he raised in the same time. Gosar has $256,044 on hand for his race
Republican Paul Babeu is also running for the seat. He's Sheriff of Pinal County and he raised the most of all the congressional candidates in the state. He brought in $263,302 in the last three months of 2011. He got 22 percent of his donations from outside Arizona. Babeu has $240,664 left to spend.
Republican State Sen. Ron Gould is also running for the seat, but he entered the race after the Dec. 31 reporting deadline for campaign finances.
READ THE FINANCE REPORTS:
PRESIDENTIAL CANDIDATES
Mitt Romney's campaign finance reports
Barack Obama's campaign finance reports
Ron Paul's campaign finance reports
Rick Santorum's campaign finance reports
SENATE CANDIDATES
Don Bivens' campaign finance reports
Wil Cardon's campaign finance reportss
Richard Carmona's campaign finance reports
Jeff Flake's campaign finance reports
CONGRESSIONAL CANDIDATES
CD1
Wenona Benally Baldenegro's campaign finance reports
Ann Kirkpatrick's campaign finance reports
Jonathan Paton's campaign finance reports
CD2/CD8
Gabrielle Giffords' campaign finance reports
CD3
David Crowe's campaign finance reports
Raúl Grijalva's campaign finance reports
Gabriela Saucedo Mercer's campaign finance reports
CD4
Paul Babeu's campaign finance reports
Paul Gosar's campaign finance reports
Christopher Conover and Andrea Kelly discuss the campaign finance reports and their findings with Arizona Week host Michael Chihak, watch here:
Micheal Chihak talks about Campaign Finances with Arizona Public Medias Political Reporters Christopher Conover (left) and Andrea Kelly (middle) on Arizona Week. (VIDEO: AZPM)