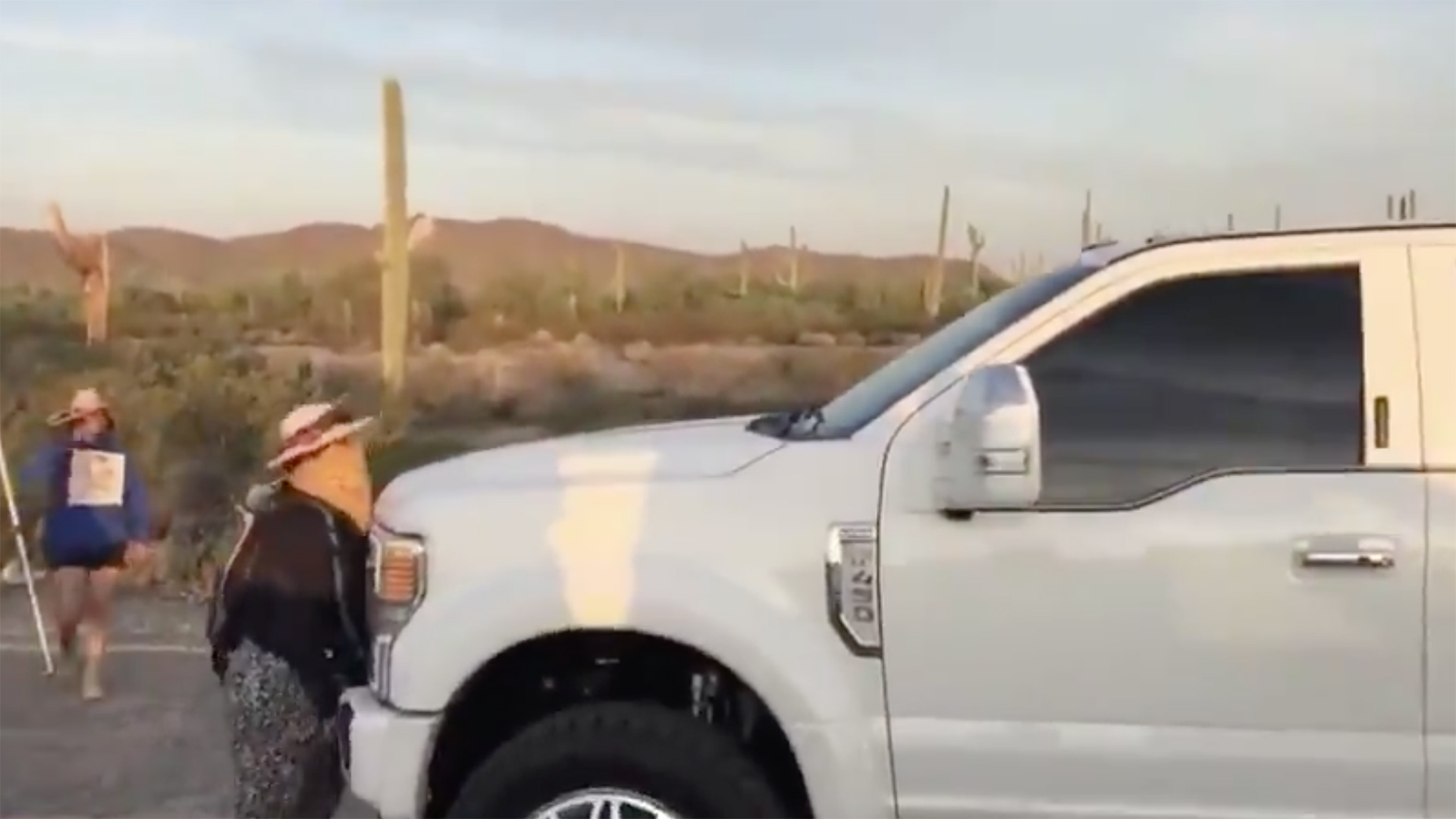 An O'odham demonstrator stands in front of a pickup truck trying to break through a highway blockade the morning of Oct. 5, 2020.
O'odham Anti-Border Collective
Organ Pipe Cactus National Monument was the site of more demonstrations against the border wall, this time on the highway leading to the international border.
Early Monday morning, demonstrators blocked traffic along a stretch Highway 85, about a mile north of the Lukeville Port of Entry.
Cars and trucks coming from both sides of the highway were stopped, including a handful of construction vehicles. In a video shared by the group, demonstrators can be heard chanting and singing as cars are forced to a stop.
Speaking while walking with the camera, one O'odham demonstrator said the action had briefly blocked construction from taking place. Piles of steel bollard wall panels lay stacked behind her.
"We're here to send a message to all Indigenous nations across the border," she said. "The fires have been lit and this is enough."
More footage from the scene shows pick up trucks forcing their way past as demonstrators try to physically stop them.
O'odham tribal members have set up a blockade at a border wall construction site putting their lives at risk to protect sacred sites in Organ Pipe Cactus National Monument. Without care for life this vehicle pushes against these brave land defenders. pic.twitter.com/FPDnOa0Qpw

— Russ McSpadden (@PeccaryNotPig) October 5, 2020
The blockade lasted a few hours before the group dispersed. It's the latest in a series mounted against wall construction on ancestral Indigenous land.
Last week, National Park Service officials closed roads to Quitobaquito Springs, a cherished freshwater source sacred to many tribes. It's a thoroughfare used by ceremonial salt runners from the Tohono O'odham Nation and is a historic homestead to the Hia-Ced O'odham — a tribe not federally recognized.
Quitobaquito has become a flashpoint for direct confrontations against the wall as construction closes in. The closure prompted more questions about how and if tribes can still access the site for ceremonial purposes.
Park service officials announced routes had been closed a day after representatives from more than a dozen tribes joined O'odham leaders for a cross-border ceremony at the spring. At the highway blockade, an O'odham organizer who was filming said the move spurred demonstrators to action.
"The next day, they (the park service) issued a notice saying that was no longer going to be allowed other than special permit," she said. "Our response to that is that we don't need a special permit to pray."
A Customs and Border Protection spokesperson said Border Patrol agents were not sent to the scene on Monday.