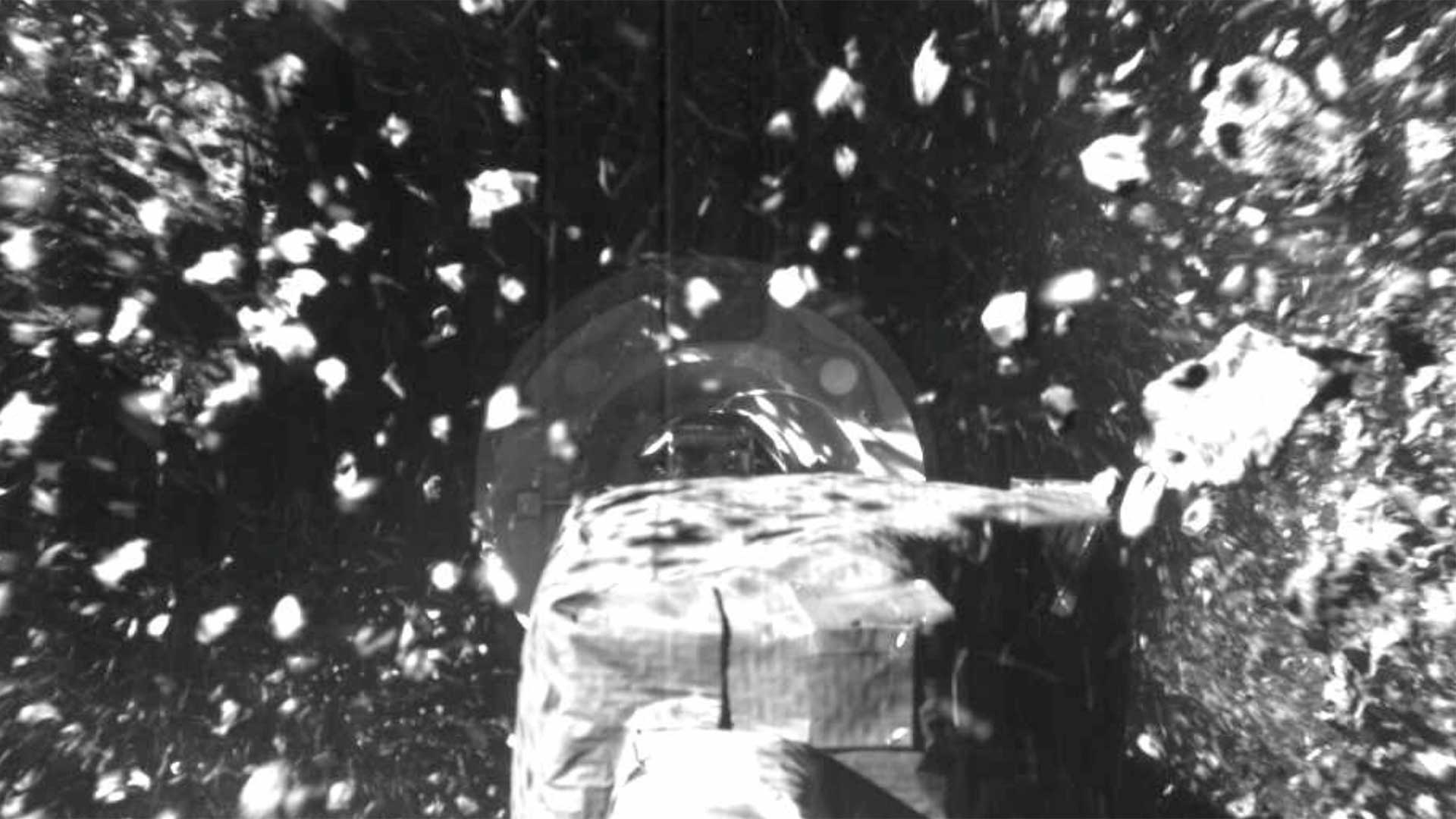 Still image from Oct. 20 video of the OSIRIS-REx sample collection event, with rocks flying around the arm of TAGSAM after it makes contact with the surface of asteroid Bennu.
NASA/Goddard/University of Arizona
The first pictures beamed back to Earth from asteroid Bennu showed exactly what the OSIRIS-REx team was hoping to see after its sample collection event: surface material moving around the collection unit.
The pictures showed the craft's sampling arm touching the surface of Bennu, crushing rocks and then rocks flying up as nitrogen gas was pushed out of the craft to capture material.
"We really did make kind of a mess on the surface of the asteroid, but it is a good mess. It is the kind of mess we were hoping for. Lots of material has been mobilized," said Dante Lauretta, University of Arizona principal investigator for OSIRIS-REx.
"Maybe one more time - it's just so cool. I must have watched it about a hundred times last night." - @OSIRISREx principal investigator Dante Lauretta of @UArizonaLPL reveals the first images from the spacecraft's TAG of asteroid Bennu yesterday. #ToBennuAndBack pic.twitter.com/DqTtOA2pwg

— NASA (@NASA) October 21, 2020
Lauretta said some of the best news that the team received was the fact that the sampling arm, known as the TAGSAM, pushed down into the surface of the asteroid to stir up particulate matter known as regolith.
"Some of the best test results occurred when TAGSAM gets down underneath the surface just a little bit and is able to fire the nitrogen gas with regolith all around it," said Laruetta.
This weekend, OSIRIS-REx will perform a maneuver which will tell scientists how much material was collected in the 6 seconds the craft was in contact with the surface of Bennu.
The goal is at least 60 grams of material.
If enough material has been collected, the team will prepare the craft for its multiyear, 200-million-mile journey back to Earth.
The OSIRIS-REx team will make another sample attempt in January at a different site on the asteroid if enough material was not collected.
The spacecraft will return the samples to Earth in 2023.