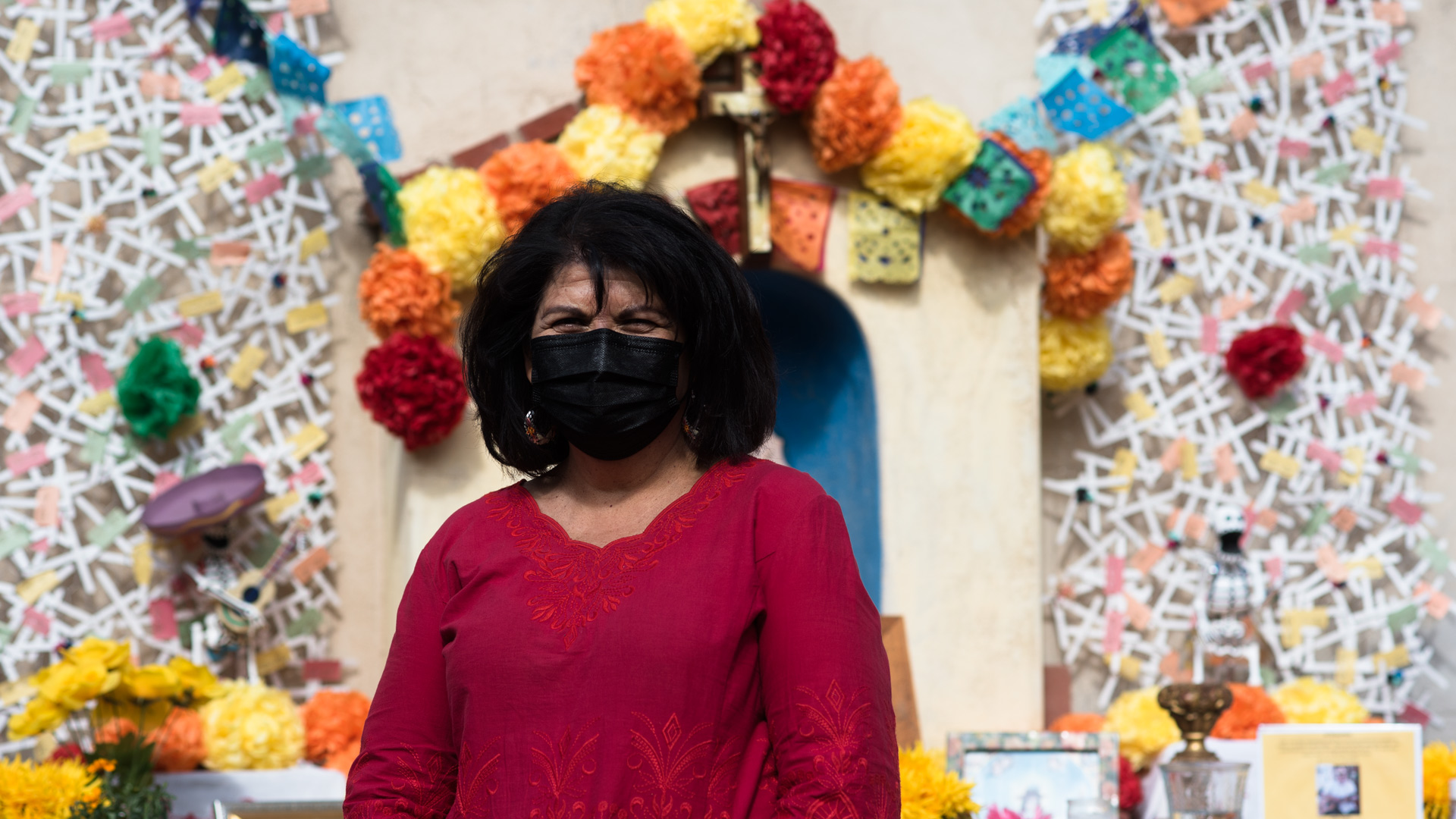 Betty Villegas stands in front of the Dia de los Muertos shrine at the Sosa Carillo house in barrio libre.
Alisa Reznick/AZPM
As the election arrives, communities across Arizona are still celebrating Dia de los Muertos — or Day of the Dead.
Nestled in the courtyard of Sosa Carrio house in downtown Tucson, one holiday altar aims to honor those who lost their lives to COVID-19.
The flat-roofed adobe was built in the 1870s and is one of the few buildings to survive a 1960s urban renewal program that razed most of the barrio libre area.

This is the second year that a Dia de los Muertos site was set up at the home, this year organized by Mayor Regina Romero's office and the Mexican American Heritage Museum.
Miriam Cruz with the mayor's office said the site will remain open until Tuesday afternoon and serves as a place of calm.
"We hope that people will take the time to reflect, reflect on everything we have gone through in the last year and in the last months. Especially as it relates to COVID, the lives that were needlessly lost," she said.
Cruz said Romero's office is also encouraging people to get tested for the disease at free sites across Pima County, particularly amid large, often maskless, rallies ahead of the presidential election.
On Monday, The colorful altar was full of marigolds, family photos and exactly 639 tiny crosses — one to represent every person who has died of COVID-19 in Pima County. Almost six thousand people have died statewide.
Betty Villegas heads Los Descendientes Del Presidio De Tucson, the community group that helped organize the event.
"Six-hundred-and-thirty-nine people, people with families, with loved ones, that are no longer with us," she said. "You talk about data, you talk about numbers but it's a person."
Villegas said the event was also meant to honor Richard Elias, a longtime Pima County Supervisor who died suddenly in March. Villegas took over the district seat in his absence.
"We knew from the beginning that it had to center around Richard and of course the community," she said.
Villegas said the altar will remain open to the public until 3 p.m. Tuesday and asks those who wish to visit to call ahead to cut down on crowding. Reservations can be made by texting or calling 520-775-2270.