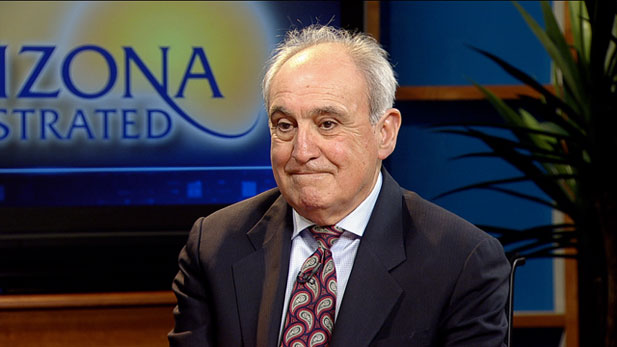 Roy Flores, former chancellor of Pima Community College.

AZPM
Pima Community College will pay two chancellor salaries of $288,000 each for the next 16 months.
The governing board appointed Suzanne Miles as interim chancellor while the college begins a national search to fill the position permanently.
Listen here
Miles will fill in for Roy Flores, who went on medical leave earlier this year because of recurring heart issues. Flores said in January he would step down as chancellor at the end of the calendar year for medical reasons.
But after the governing board voted 3-2 against his recommendation to appoint Miles as his permanent replacement, Flores withdrew his retirement offer.
The college will continue to pay Flores' $288,000 salary until June 2013, which is a year earlier than when his contract would have expired. Miles will receive the same salary as interim chancellor.
Upon Flores' return to the college after his medical leave he "shall perform any and all duties and/or special projects as reasonably assigned to him by the governing board," according to his amended contract.
Flores and the governing board "agree that work-related contact will not be initiated by Flores but instead will only be initiated by a college administrator or board member," the contract says.
Miles says she has not decided to apply for the permanent position when the national search opens.