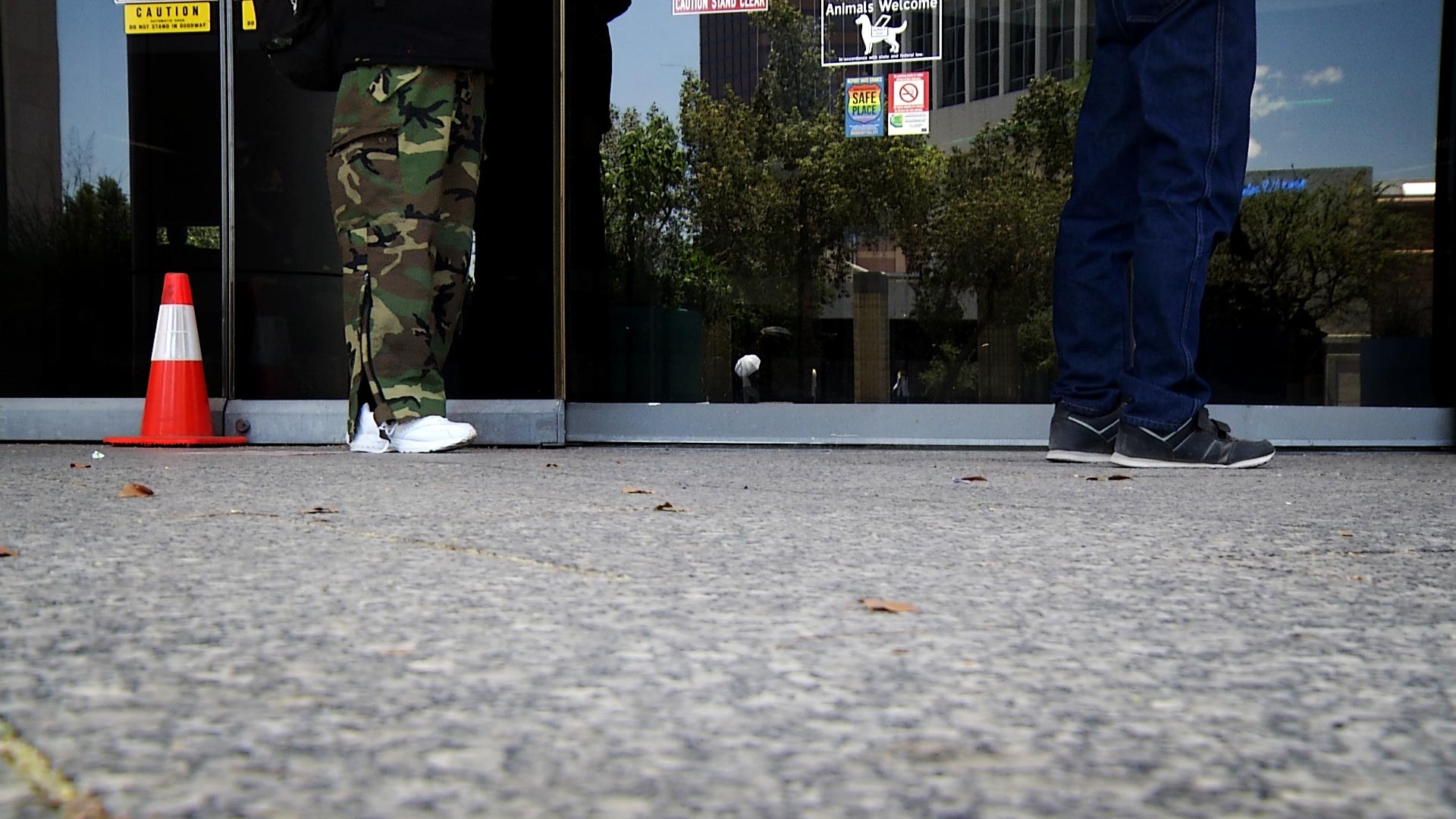 Patrons at the Pima County Public Library's downtown Tucson branch use social distancing while waiting in line to use the library's computers on May 29, 2020.
Nate Huffman/AZPM Staff
Arizona's daily COVID-19 case count rose to 3,434 on Tuesday, on par with the rapid increase the state saw in June and the highest it has been since mid-July. Three out of five days last week, case counts were more than 2,000 a day. When case counts were last at this level, Arizona was in the midst of the worst outbreak in the nation.
At that time, Gov. Doug Ducey ordered gyms, bars and theaters closed for a month in order to drive the numbers down. Cases have risen about 70% from the average two weeks ago and, despite warnings from epidemiologists, the governor has yet to issue any new restrictions.
During a press briefing Monday focused on how cases are impacting Arizona's schools, state health director Dr. Cara Christ responded to a reporter question about the rising cases and lack of state action.
"We continue to monitor the data on a daily basis. There have been things that have been implemented as we've moved into moderate," Christ said. "Most of the state currently is in a moderate benchmark, but we are discussing mitigation strategies for when counties do move back into substantial."
Will Humble, the former head of the Arizona Department of Health Services, said the state needs a statewide mask mandate.
"Utah did that just over the weekend, ruby red state put in a face-covering mandate. They see how important that is. They are looking at the data and they recognize that all it's going to cost is some political capital on the part of the governor and the return is that they are going to save lives," Humble said.
In the last month, a handful of Arizona municipalities have repealed mask requirements, though Sierra Vista just reinstated its own last week.
Humble said Arizona also needs to crack down on bars and restaurants that are not following COVID health guidelines.
He said if establishments are allowed to get away with flaunting the rules, others will follow suit in order to increase their bottom line.
During the height of the last surge, Ducey held weekly press conferences. He hasn't held a COVID press conference since Oct. 29. Prior to that, he went a month without updating the public on the virus spread.
When asked why the governor wasn't at the press conference yesterday, Christ and state school superintendent Kathy Hoffman said the focus was on schools and public health.