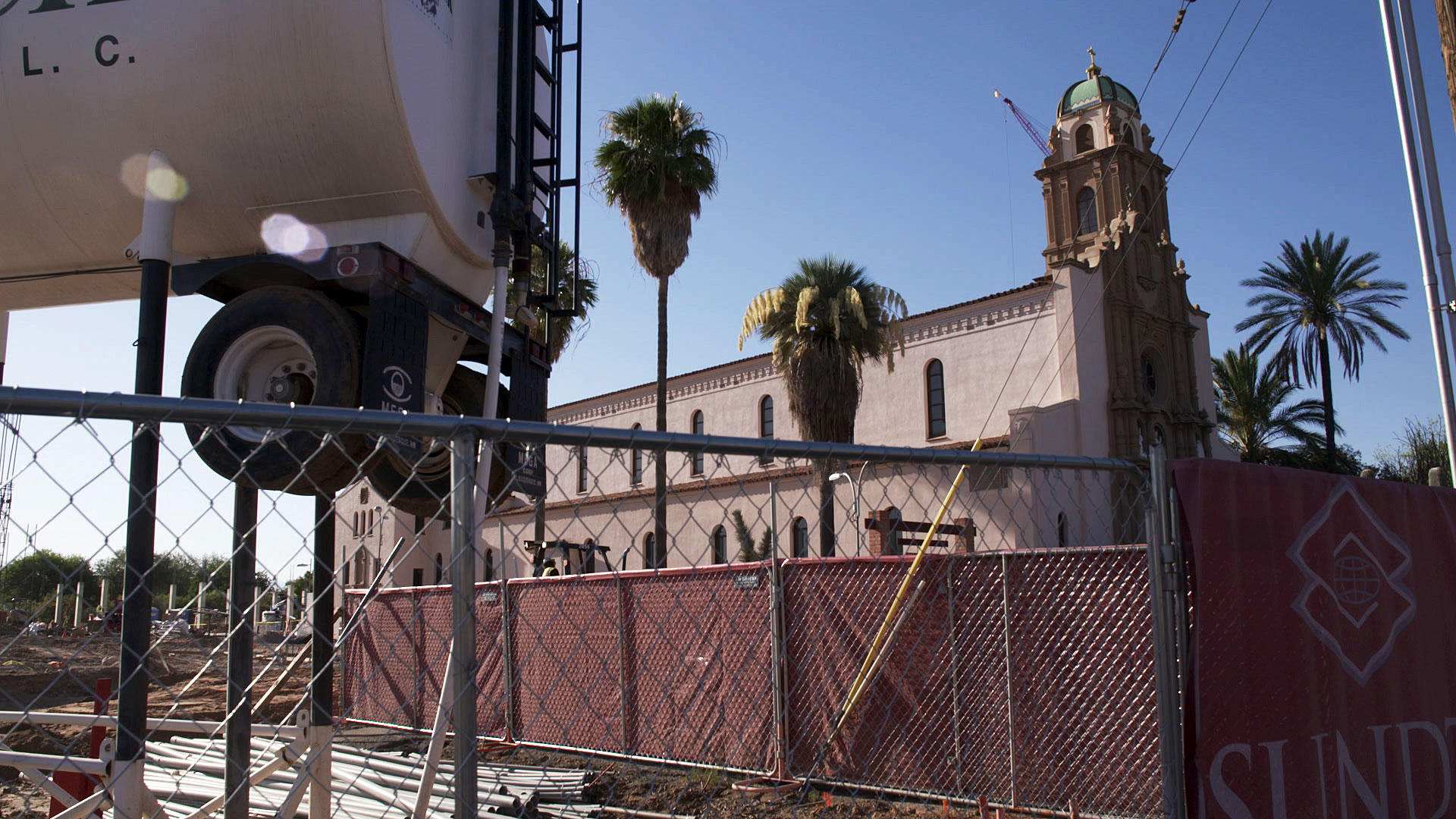 A construction site at Tucson's historic Benedictine Monastery on June 11, 2020.
AZPM Staff
Last summer, The Buzz held a live show on gentrification and neighborhood change. There were so many questions from the audience members that we decided to spend the next two weeks exploring some of the most commonly asked questions, as well as taking a look at ongoing city development plans.
One of the panel members at the show last summer was Corky Poster. He's an architect and principal planner at Poster Mirto McDonald, a firm specializing in historic preservation, community architecture and urban planning.
"Zoning is an effort for cities to control the location of various land uses within a city, and then the requirements for those land uses within each of the created zones," Poster said. Most of Tucson's zoning was created in 1948, though it has had adjustments and modifications since then.
Zoning generally moves in one direction — toward more density — which typically favors the developers who own that property and benefit financially from its increased value, Poster said.
Developers generally have an advantage over citizens when it comes to influencing the planning and design process due to more money, knowledge and experience, Poster said. That can make combating gentrification or displacement an unfair game.
"Part of the solution then is to make sure that those who are being victimized by gentrification have access to better knowledge and better capital so they can compete on an equal footing with the developers," Poster said.
Zoning is increasingly at the heart of conversations around housing affordability and environmental sustainability.
The discussion often centers around single-family homes. To some, they represent the American ideal of homeownership. But in some cities, they're seen as a barrier to those social goals.
Demion Clinco is the head of the Tucson Historic Preservation Foundation. He said density is more efficient than sprawl.
"By creating infill, you're not building new infrastructure that has to be maintained in perpetuity," Clinco said.
Tucson is cheaper than most cities, but affordable housing is becoming harder to find. Rent in Tucson's single family homes has jumped over 7% this year.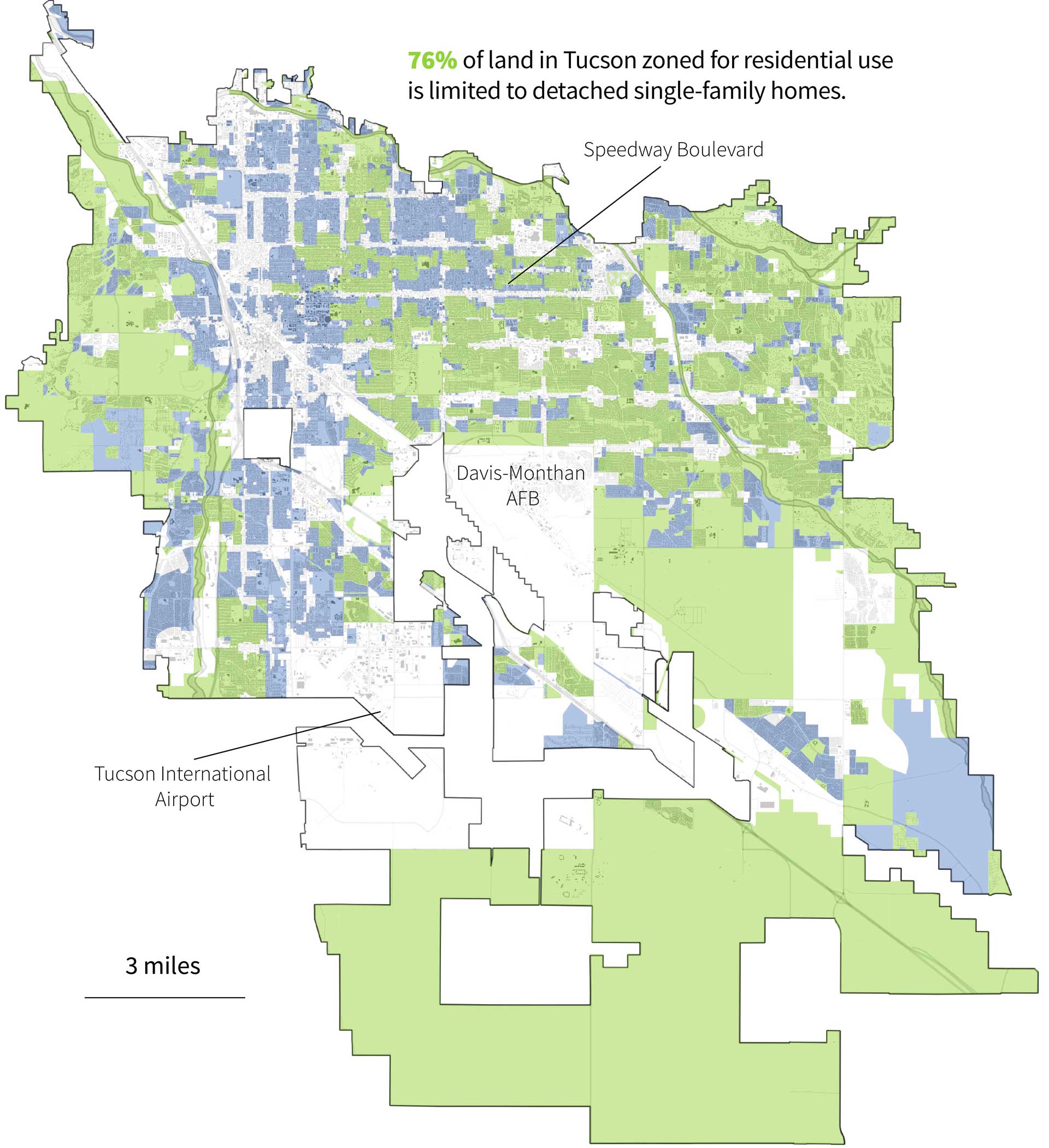 VIEW LARGER Some parks, schools and open space are zoned single-family residential. Residential areas zoned for anything other than single-family homes appear as blue. Nonresidential districts and mixed-use zones appear in white. Some mixed-use zones, such as downtown, may contain housing.

Credit: Jake Steinberg, Source: City of Tucson (Nov. 13, 2020)
Clinco said Tucson ended up with a lopsided housing environment because nearly all of the city as we know it today took shape after World War II, when air conditioning and government-backed mortgages promoted growth and sprawl. People who bought homes at the edge of town soon found themselves in the middle of it.
In recent years, the trends that pushed Tucson outward have reversed. Young people want to live in places that are more urban and walkable.
But proposals to densify Tucson have drawn strong objections from some residents. Some of that was seen in the proposal to build market-rate apartments in the former Benedictine Monastery on Country Club. But the vast majority of dense projects proposed in Tucson are geared toward students. The latest example: a 140-foot student-housing tower on the corner of Campbell and 6th Avenues.
Despite increasing the supply of housing, student apartments don't do much to keep Tucson affordable. Clinco said that's because the current zoning incentivizes outside ownership, and that's really attractive to the finance industry.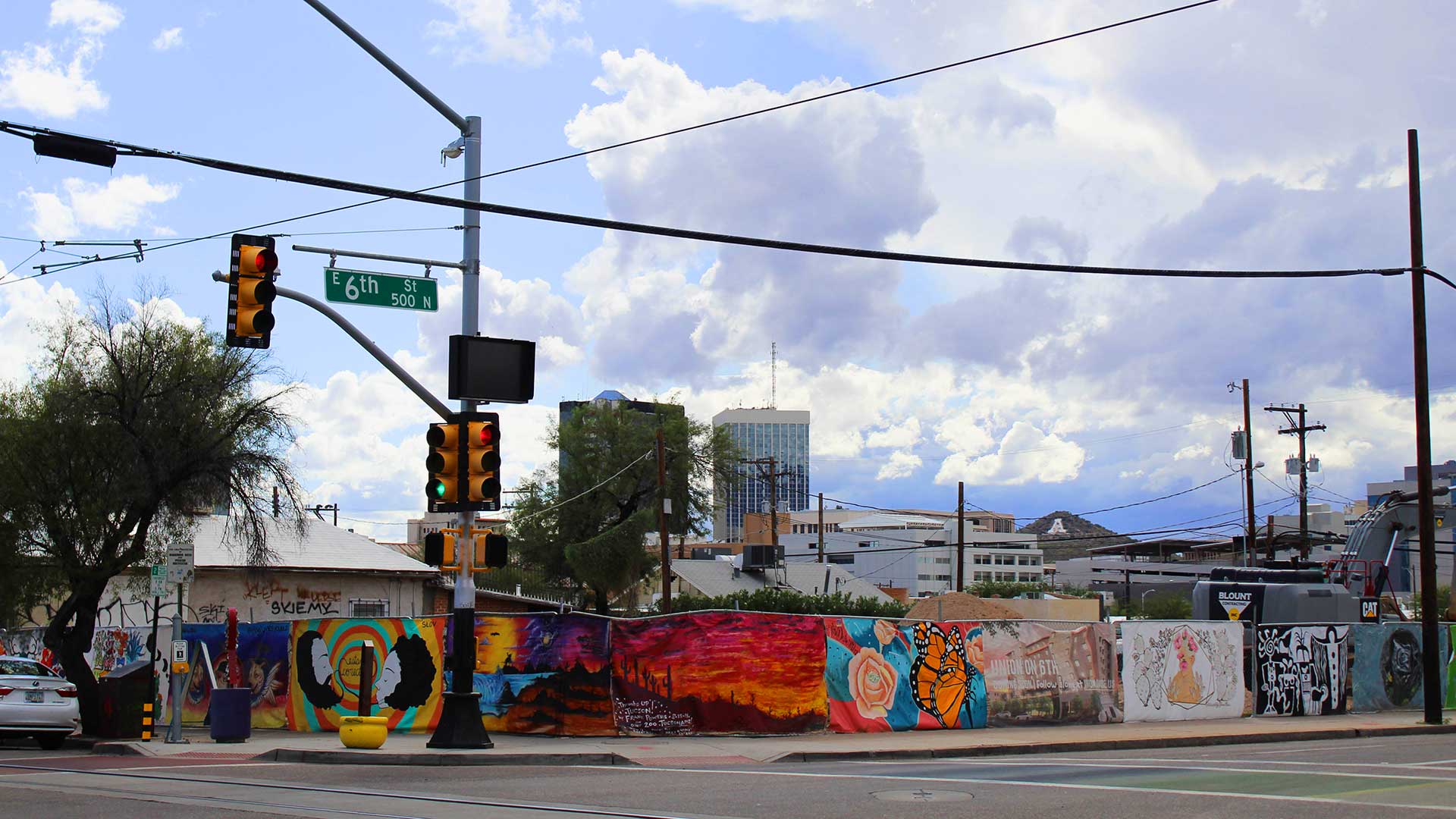 VIEW LARGER A construction site on Fourth Avenue, formerly the Flycatcher Bar, makes way for more student housing, September 2019.

Meredith O'Neil/AZPM
When it comes to zoning, the city's hands are largely tied. Arizona state law bars local government from preventing a developer from maximizing the value of their property. But the city is trying to correct that economic effect.
"Affordable housing is difficult in terms of, on the developer side, it really doesn't pay for itself," said Ann Chanecka, the deputy director of housing and community development for Tucson.
Chanecka said the city has begun asking developers what it would take to build affordable housing on city-owned parcels. She also points to the new commission on equitable housing and development, which will pursue new strategies to incentivize affordability.
Koren Manning is the planning administrator for the city of Tucson. She said that maintaining and increasing affordable housing is one of the city's top priorities.
"Tucson is actually fairly affordable [in] our housing, compared to a lot of other cities," Manning said. "But that's because we have lower wages, we have fewer high-wage jobs here, fewer jobs in general, a smaller economy than a lot of other cities."
The trick is to encourage economic growth and opportunity, while keeping housing prices reasonable, Manning said.
To achieve this, the city is pursuing multiple housing goals, including encouraging density in central and downtown Tucson where transit options are more easily available.
"At the same time that we're promoting infill in the city, there's also huge demand for more single-family residential development at the edges of our city and we also are promoting that through policies and development plans," Manning said.
Manning said that there are ways for citizens to be involved with the planning process, including submitting comments on specific projects or participating in the creation of neighborhood plans, which sets a foundation for what type of development is appropriate for the future.

The Buzz
airs Fridays at 8:30 a.m. and 6 p.m. and Saturdays at 3:30 p.m. on NPR 89.1. You can subscribe to our podcast on
iTunes
and NPR One. See more from
The Buzz
.