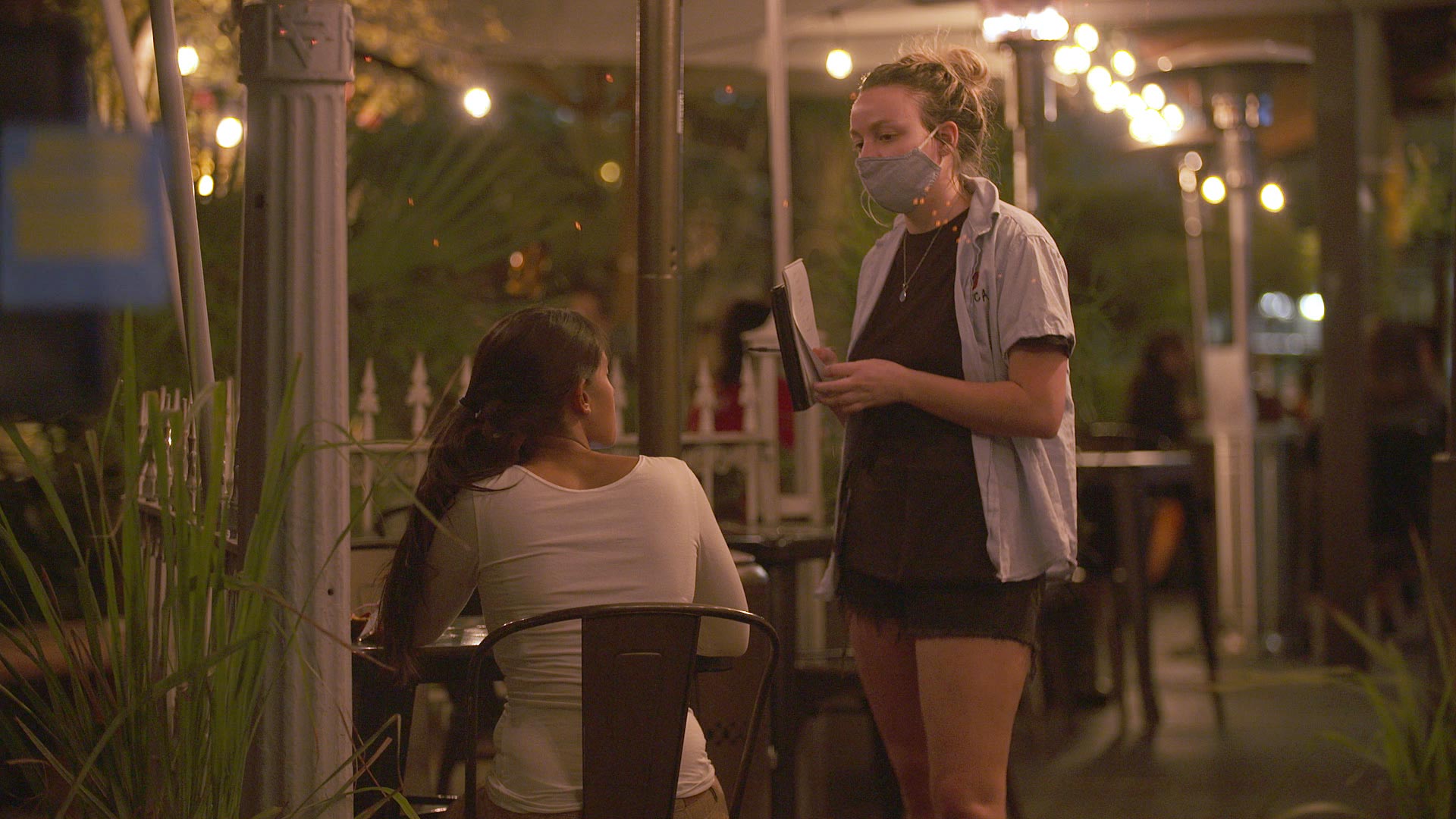 A server at Boca Taco on 4th Avenue speaks to a customer at a table outdoors on Nov. 23, 2020.
Andrea Corona/AZPM Staff
It has been a year of loss for Tucson's restaurant community, with institutions like Café Poca Cosa closing their doors because of the COVID-19 pandemic. But even with vaccines on the horizon, COVID-19 cases are surging in Arizona, leaving more restaurateurs struggling to survive as federal pandemic relief remains in limbo.
The annual arrival of snowbirds typically heralds the start to Tucson's booming restaurant season. But traffic at Tucson International Airport is down 50% during what is usually its busiest time of year. With the University of Arizona offering most classes online this semester, students haven't been out as much either.
"We're not seeing those students to the numbers as we were downtown," said Carriage House owner Janos Wilder. He said it's for the better since it's not the time for large gatherings.
Wilder has been in the Tucson culinary community for four decades. He closed his restaurant Downtown Kitchen + Cocktails in October, but he said the closure wasn't directly related to the pandemic.
He said he expects the local restaurant industry to recover because people keep moving to Tucson and many new housing units are planned or under construction. The effects of the pandemic on business are only temporary, he said.
"But even in a very temporary way, the pressure on businesses to pay their bills, to keep people employed, to pay rent, insurance, all of our fixed costs, it doesn't go away," he said.
The pandemic has claimed restaurants old and new, with full service dine-in restaurants and spots downtown particularly hard hit. South-side staple El Indio closed its doors last month. Elvira's, an upscale Mexican restaurant downtown closed in October along with mainstay Café Poca Cosa.
Wilder said he expects the way we dine in the pandemic to last long after the last person is inoculated.
"The identity, the way that restaurants function is going to change, and there's going to be a lot less full service in the way that they do business," he said.
Major fast food chains like Burger King and El Pollo Loco have announced new restaurant designs that do away with the dining rooms entirely, making room for more drive-through space. Tucson's own Eegee's recently revealed a new restaurant with a similar design opening in January at "The Landing" shopping center on Irvington Road.
Eating outdoors has been proven to be less risky, and that's advantaged some restaurants with patio space over others.
Last week, Gov. Doug Ducey gave restaurateurs something they've been wanting — the ability to expand their outside dining areas — along with over $1 million to pay for outdoor seating, allowing up to $10,000 per restaurant.
Arizona Restaurant Association board member Josh Jacobsen said it will make the biggest difference for alcohol sales.
"So as long as you're within 60 feet of the building, you could potentially set up in the parking lot or across the sidewalk where previously you could not. It cuts a lot of the red tape of being able to do that. And when you're a Mexican food restaurant, people want to have a margarita with their chips and salsa," he said.
But the order isn't likely to be a lifeline. Even though Tucson restaurants can offer outdoor seating year round, with COVID-19 cases surging, there simply aren't as many patrons who want it.
So who would open a restaurant in the middle of a pandemic?
Nick Kreutz and his business partner said it actually seemed like the perfect time for their new Italian restaurant, Locale.
"Despite what's going on, we thought it would be a good idea to open a new restaurant in a beautiful space that can accommodate social distancing well," he said. "[It's] a little surge of energy for Tucson when we feel like it needs it most.
Opening this late has its advantages. Kreutz said he was able to build the dining room and patio with the county's 50% occupancy limit in mind. He won't have to adapt his menu for takeout and delivery like other full service restaurants.
You know, you take a salad and a lasagna and freshly baked bread and olive oil and you can pick it up here, take it home, and it's almost as good as dining in, and there are certainly things that travel well and things that do not.
Locale served its first meal last Friday, offering a rare beam of light in an otherwise gloomy business environment.