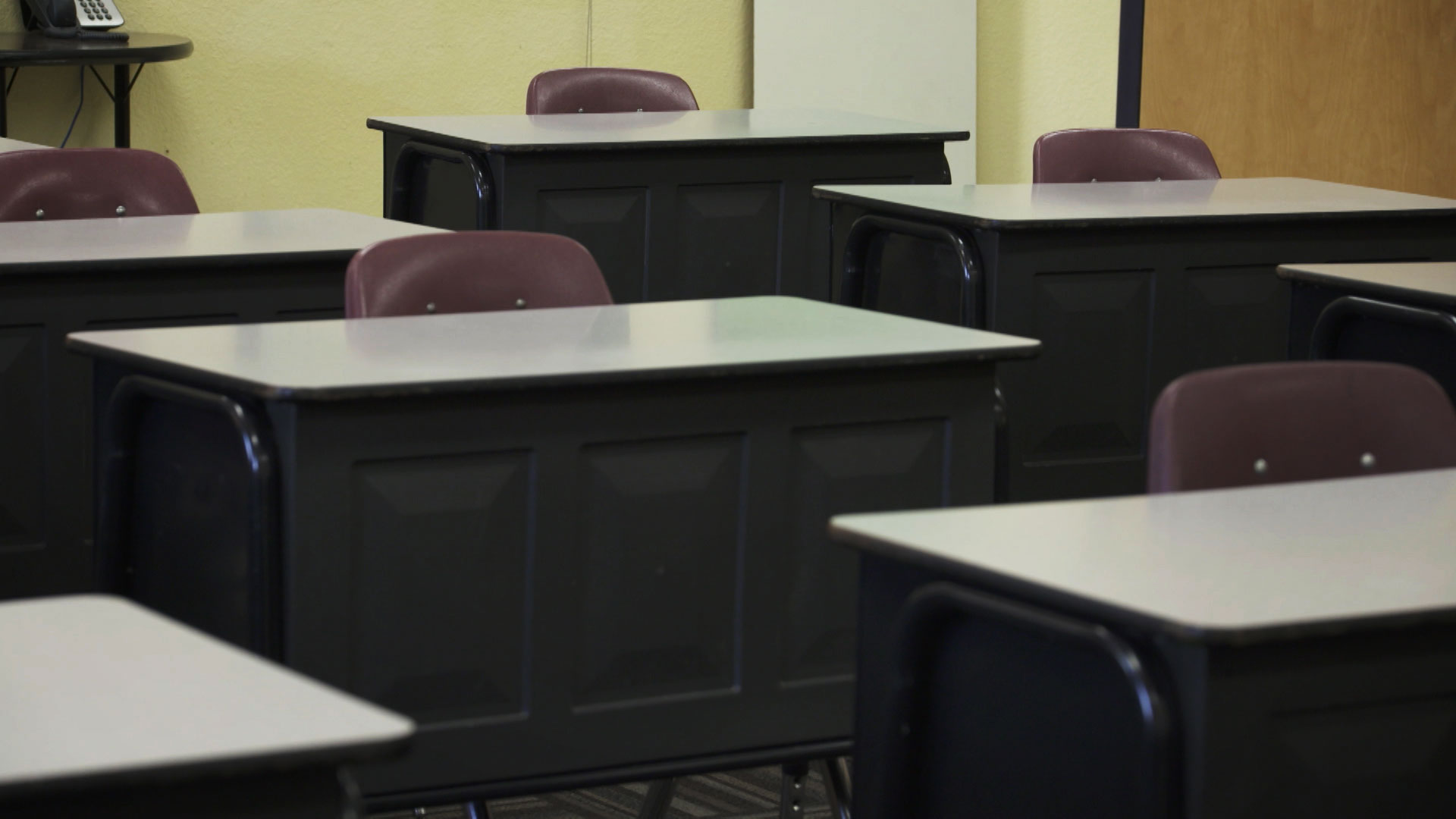 A row of empty desks inside a classroom at Mesquite Elementary on August 10, 2020. Students began the school year with at-home learning.
Robert Lindberg/AZPM Staff
The COVID-19 situation in Arizona continues to grow more dire. This week, the state broke its record for the most cases reported in a day, a record that had been set just one week prior.
In Pima County, five out of the nine COVID-19 metrics that the health department tracks were in the red zone as of Dec. 11. That includes the number of overall cases in the county, how many COVID tests come back positive and how much room local hospitals have.
Given this, some districts in Southern Arizona have chosen to return to remote learning for the end of the fall semester, including Sunnyside, Flowing Wells and Sahuarita. Tucson Unified School District, the largest in Southern Arizona, delayed its hybrid plan and will not begin hybrid learning until local virus transmission is under control.
As many parents know, online school is not without its difficulties. Access to devices, internet and study spaces make up some of the most pressing issues.
That's taken a toll on student academic success. This week, TUSD reported a startling increase in failing grades this school year compared to last.
TUSD Superintendent Gabriel Trujillo said that the district will avoid making assumptions about what the cause of this issue is and will seek to better understand it through conversations with teachers, parents and students.
Districts nationwide have reported a similar trend. An article from the education news organization Chalkbeat reports that teachers are struggling to fairly assess students' academic performance given the challenges of remote learning and kids' waning motivation.
---
TUSD sees increase in failing grades, mirroring a nationwide trend
AZPM
The Tucson Unified School District experienced an increase in failing grades cross grades 6-12, district Superintendent Gabriel Trujillo announced at the Tuesday night meeting of the governing board.
Failing grades for those students increased by 49%, from 6,424 total last year to 9,587 total this year. Sixth grade saw the largest rise in failing grades, at 71%.
The district, the largest in Tucson, serves over 40,000 students.
Trujillo also announced that TUSD will begin next semester online, doubling down on a previous promise not to enter a hybrid-learning model until Pima County is in a state of moderate transmission or better.
---
Schools confront 'off the rails' numbers of failing grades
AP
The first report cards of the new school year are arriving with a lot more Fs than usual, and it's not just parents who are getting distressed.
School districts from coast to coast have reported the number of students failing classes has risen by as many as two or three times — a sign of the struggles many students are having with distance learning, particularly English language learners, those with disabilities and other disadvantaged students.
Educators see a number of factors at play: Students learning from home skip assignments — or school altogether. Internet access is limited or inconsistent, making it difficult to complete and upload assignments.
---
Flowing Wells and Sahuarita switch to remote learning
Arizona Daily Star
Both Flowing Wells Unified School District and Sahuarita Unified School District switched to fully online schooling for the rest of the semester. The districts cited public health concerns like rising COVID-19 cases and hospital availability, the Arizona Daily Star reports
The districts will remain in remote learning at the beginning of next semester with the goal of returning to a hybrid model in mid-January.
---
Local health officials push for remote learning
Arizona Daily Star
Officials from the Pima County Department of Health urged local schools to think about stopping in-person learning as the COVID-19 situation in Pima County intensifies, the Arizona Daily Star reports.
Five out of nine of the pandemic metrics the county monitors are in the red. Local health officials suspect they will remain that way in the foreseeable future. Transmission rates in schools remain relatively low.
---
Sahuarita school district employee dies of COVID-19
Arizona Daily Star
A Sahuarita Unified School District campus monitor died of COVID-19 on Dec. 10 after being hospitalized nine days before, the Arizona Daily Star reports.
He had worked with the district since 2011. It is unknown if he contracted the virus on campus.
---
UA to require COVID-19 testing for returning students
AZPM
Students returning to the University of Arizona campus in January for the spring semester will be required to have a weekly COVID-19 test.
"Required weekly, COVID testing for all students residing in our dorms as well as all students attending in-person classes on the main campus," said University of Arizona President Robert Robbins.
The students will be required to show a negative test for COVID-19 once a week. The rule will also apply to faculty, staff, and campus visitors.
---
UA receives gift to promote medical knowledge of other cultures
AZPM
A donor with a love for mushrooms has funded a new University of Arizona medical scholarship to promote the integration of different medical traditions in modern medicine.
Paul Stamets, who is an advocate for the medical benefits of mushrooms, donated $50,000 to the UA Andrew Weil Center for Integrative Medicine. The center pairs a mainstream medical system that seemingly depends on pills and surgeries with alternative forms of healing, like prayer, herbs or acupuncture.
Ann Marie Chiasson is a part of the center and the doctor directing the fellowship receiving the gift. She said the fellowship introduces clinicians to evidence-backed practices that help with specific diseases, especially those with chronic pain.
---
Arizona students' college attendance increases, still behind nationally
Arizona Daily Star
More Arizona high school graduates are enrolling in college than in previous years, but the state still falls short of many others in the nation, the Arizona Daily Star reports.
A recent report from the Arizona Board of Regents found that despite enrollment numbers, a significantly smaller number of Arizonans actually obtained a college degree within six years of high school graduation.
---
Mexican Students Can Resume In-Person Classes In January In States Where COVID-19 Spread Is Low
Fronteras Desk
Students across Mexico have been out of the classroom for most of the year amid the coronavirus pandemic. But the country's education secretary says in-person classes are starting up again in January for states with low levels of coronavirus spread.
Since August, school has been at home for most Mexican students, with classes broadcast on TV.
Starting in January, though, Education Secretary Esteban Moctezuma Barragan says Mexican schools can start reopening — but only in states designated as "green" on a federal coronavirus risk scale.
"And let something be very clear, the return to in-person will be when the traffic light is on green," he said Wednesday.
As of this week, only three of Mexico's 32 states would qualify to go back to in-person classes — those are Campeche, Chiapas and Veracruz.