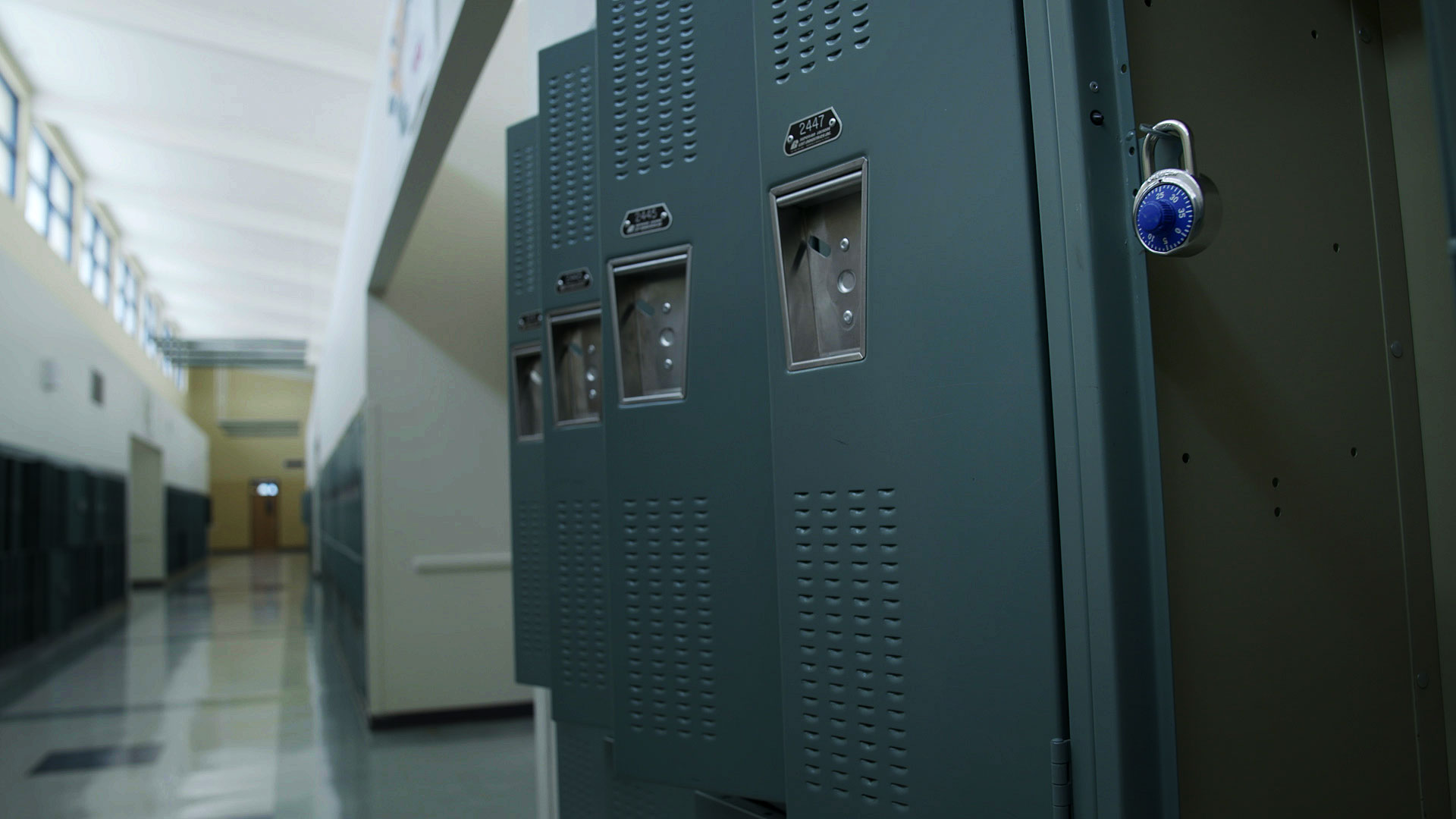 A row of empty lockers in a hallway at Marana Middle School.
AZPM Staff
As the fall semester draws to a close, Arizona K-12 schools face an onslaught of troubling news.
With COVID-19 transmission high in much of Arizona, many schools in Pima County are choosing to remain in remote learning even after the holiday break, the Arizona Daily Star found. Tucson Unified School District, the largest in Southern Arizona, did not start hybrid classes at all this semester, out of COVID-19 concerns.
The effects of the lack of in-person schooling this year will be felt by districts, teachers and students for a while.
This week, the Arizona Department of Education released projected funding losses due to distance learning. The state funds distance learning students at 5% less than it funds fulltime, in-person students.
Districts in Pima County are expected to lose millions due to this. TUSD is in a particularly precarious situation financially, partially due to a significant decline in student enrollment, the Arizona Republic reported.
On the grading side of school life, the news remains bleak. Across the nation, schools saw a sharp increase in failing grades this semester, including in Tucson-area schools. While there are a number of contributing causes, the Arizona Daily Star found that trouble with remote learning and tough financial circumstances are frequently cited issues.
The vaccine could be the light at the end of the tunnel. Vaccine distribution began in Arizona this week. Teachers and child care workers are near the top of the priority list for the vaccine, KGUN reports. However, with Arizona, along with many other states, receiving fewer doses than promised, it could be a while until enough teachers are vaccinated to make an impact.
---
Most Pima County schools to remain remote after winter break
Arizona Daily Star
Many school districts in Pima County, including Amphitheater, Vail, Flowing Wells, Sahuarita, and Tucson Unified, will proceed with only remote instruction for the majority of their students, the Arizona Daily Star reports.
These decisions come as local health officials warn that COVID-19 transmission is high in Pima County, though transmission rates inside of schools is relatively low.
---
Arizona public schools face millions in funding losses
Arizona Republic
The Arizona Department of Education projects a difference of $266 million in funding for Arizona public and charter schools this year, the Arizona Republic reports.
Remote learning earns schools 5% less in funding than in-person learning, leading to the gap. Statewide, schools also saw a decrease in enrollment which hurts funding as well.
Tucson Unified School District, which has remained in remote learning since March, will lose about $11.9 million in funding. Sunnyside will lose about $4.1 million and Amphitheater will lose about $3.1 million.
---
Districts across Tucson see rise in failing grades
Arizona Daily Star
More students in school districts across Tucson received failing grades compared to past years, the Arizona Daily Star reports. That trend is particularly pronounced in middle and high schools.
The Arizona Daily Star conducted an informal survey of 74 Tucson-area educators and found that regardless of instruction method, whether in-person or hybrid, more students were failing, often due to not turning in assignments.
---
UA project assists tribal college students in STEAM majors
AZPM
The University of Arizona has been awarded a four-year grant to encourage and support Diné College students to transfer to the university to pursue degrees in science, technology, engineering, agriculture and math majors.
The Advancing Postsecondary Attainment and Research in STEAM for Tribal Students project aims to increase the number of Native American students in science, technology, engineering, agriculture and math (STEAM) majors at the UA through mentorship and other forms of institutional assistance. (The "A" in STEAM is commonly used elsewhere to refer to "arts.")
These are the fields where some communities in tribal lands could use more experts. During the pandemic the lack of running water, electricity, food, access to health care or communication infrastructure have made national news.
---
Arizona universities end semester with low virus numbers
Arizona Republic
The state's three public universities ended their fall semesters with relatively low numbers of positive COVID-19 cases, the Arizona Republic reports.
Schools like the University of Arizona and Arizona State University, which saw spikes in cases among students and staff earlier this semester, close out the year with overall COVID-19 positivity rates below 5%.
---
ASU cancels spring break
Arizona Republic
Arizona State University announced via email that there will be no spring break this year, the Arizona Republic reports. This decision is an attempt to suppress the transmission of COVID-19.
Earlier this year, the University of Arizona announced it would not have a spring break. Instead, UA distributed five "reading days" throughout the spring semester. Northern Arizona University also will not have a spring break this year.
---
ASU to begin construction of multi-purpose arena in January
AP
TEMPE — Arizona State University plans next month to start construction of a multi-purpose arena that will be the home venue for several Sun Devils sports teams and also be available for concerts, conferences and youth competitions.
The Athletics Department said the facility to be located on the Tempe campus will be home for the men's ice hockey, wrestling and women's gymnastics.
Afamily.com reports that completion is scheduled for December, 2022.
The 5,000-seat facility will have 20 luxury suites, two group sites and a large club lounge. There will be a social deck on the east side of the 300-level and a 942-seat student section on the west side.