Jesse Kelly is a familiar name for voters in Congressional District 8.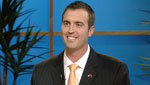 It was less than two years ago that Kelly ran for the same office, losing to Gabrielle Giffords by about 4,000 votes.
As a manager in his family's construction business, Kelly says he sees the economy and jobs as the big issues in the CD8 race.
Two years ago, his main issue was the newly passed federal health care law, and he calls that an ongoing major talking point for this year's special election race.