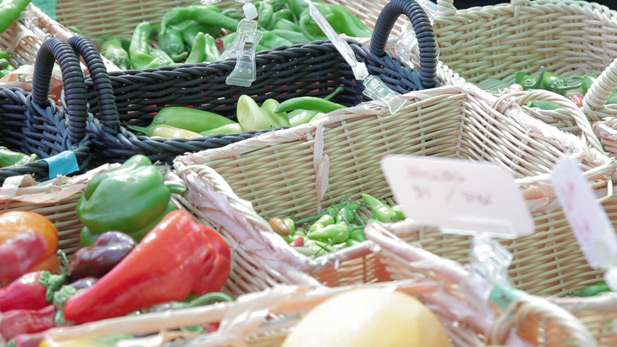 AZPM Staff
Older adults and some frontline workers in Arizona are now getting the COVID-19 vaccine. Arizonans working in other essential positions like farm work still have a while to wait, but those communities have already been hit hard by the virus.
In Cochise County, farming is a bedrock industry. U.S. Department of Agriculture's latest count showed more than a thousand farms countywide.
Linda Cifuentes is a capacity coordinator for Southeast Arizona Area Health Education Center, a rural health network serving border communities. She first started hearing about problems with COVID-19 at farms this spring.
"Issues getting people to wear their masks, or use any form of protection, social distancing, which is usually hard to do in greenhouse settings, and people not being required to do these things," she said.
Cifuentes' organization works with a handful of community health workers who live in Winchester Heights, a tight-knit community of farmworkers in Cochise County. They told her working during the pandemic can be risky. They said that's particularly true in marijuana and hemp farms, where workers spend more time in indoor greenhouses, often in close quarters.
Last spring, Cifuentes reached out to Cochise County health officials for help.
"It was kind of a difficult process because they didn't really have jurisdiction to require that or enforce the farm to do that because the farm is considered to be under the state's supervision," she said.
Meanwhile, the state doesn't have those requirements for the farming industry, either. Cifuentes said county officials visited the farms to hand out masks and face shields, and remind employers of federal health guidelines for the pandemic.
Still, she kept hearing about more cases. Then, in June, a community health worker died from complications of the disease after weeks in the hospital. Cifuentes remembers being part of her training.
"Her and her family were the first people to live in Winchester Heights. They were the first home there, and they had been largely involved in all of the organizing that had ever happened there," she said.
The woman was in her 60s and working at Green Thumb, a marijuana farm close by. All told, Cifuentes said she knows of at least three farmworkers who have died from the virus. The latest was a 35-year-old man who worked at Serasa Farm, a hemp operation in Willcox.
Former and current employees who spoke on the condition of anonymity said the farm has often lacked running water or soap in its bathrooms. They said safety protocols are not enforced.
Maricella, who asked that only her first name be used, worked at the farm for a few months last fall. She said many workers are afraid to come forward because they're undocumented.
"They are afraid to put a complaint, to lose their job," she said.
Arizona health officials have said immigration status won't play a role in vaccinations. But undocumented people aren't eligible for unemployment, even special COVID-19 relief. And Maricella said since there's no paid sick leave at the farm, people come to work even when they don't feel well.
"All lot of people if they're not getting paid, I mean, of course they don't want to say that they're sick," she said.
Steevi Boerner is the farm's operations manager. She said she's scaled back to only 15 employees in the wake of the pandemic.
"And you know, our greenhouse is 100,000 square feet so we do spread out, we do make sure our employees do the social distancing at all times," she said.
Boerner said masks, soap and hand sanitizer are available at the farm. And she's trying to organize vaccines for her workers as soon as possible. But Cochise County Health Department director Alicia Thompson said, she's not sure when that will be since supplies are already limited — even for those currently prioritized.
"We do not have enough vaccines for everyone who wants to be vaccinated, who's 75 and older, who wants to be vaccinated," she said.
Thompson says her office doesn't track how many farmworkers have contracted COVID-19 or died from the disease. That makes it hard to understand the true impact the virus has had on farm communities, especially among those without legal immigration status.
A December report by the advocacy group FWD.us found more than five million essential workers nationwide are undocumented. Angelica Salas is the executive director of Coalition for Humane Immigrant Rights of Los Angeles. She said farm workers across the country have long faced issues with pay and healthcare equity, and the pandemic has only made things worse.

"They have to work in these very difficult jobs, and they are just incredibly incredibly vulnerable. We call them essential workers, but then we don't provide the care that they need," she said.