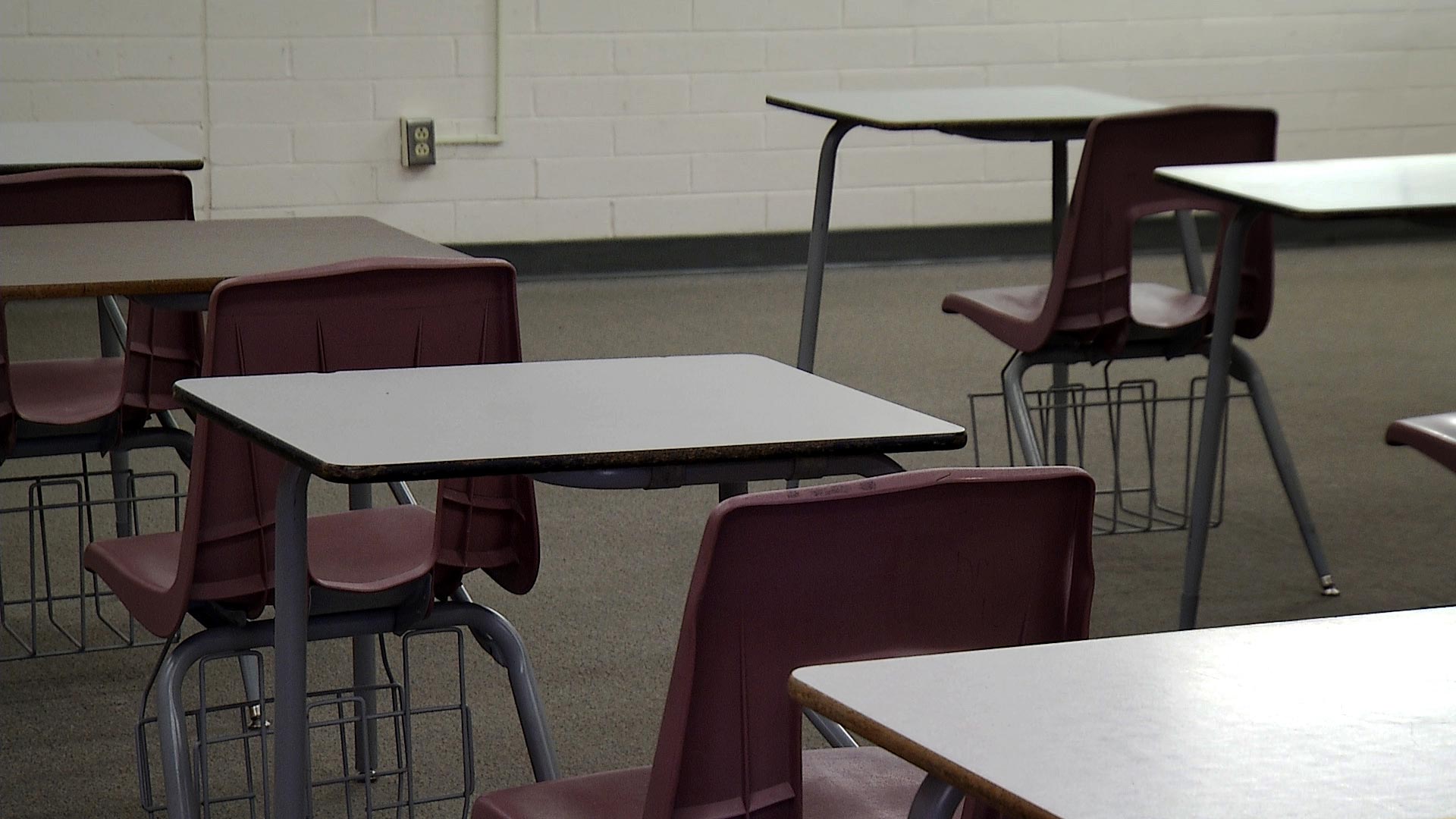 An empty classroom at Gridley Middle School in Tucson. November 2020.
AZPM Staff
With the campaign to vaccinate educators well underway and Arizona's COVID-19 metrics improving, the question of in-class learning looms. However, health officials say safety measures need to continue in the foreseeable future.
So far, bout one-third of Pima County educators have received the first dose of the COVID-19 vaccine, according to the Arizona Daily Star. Local health officials expect to vaccinate another third in the coming weeks.
Statewide, COVID-19 metrics have improved recently, with decreases in the rates of virus cases and deaths, the Associated Press reports. However, health officials cautioned the public that mitigation efforts, like social distancing and mask wearing, remain essential. The state still has one of the highest rates of infection in the nation.
When it comes to educating students in-person, the Centers for Disease Control and Prevention advise that transmission within classrooms is relatively low when precautions are taken. Community support is also crucial. A "normal-looking" school day is still far off.
As of Jan. 28, the state health department still recommends that all counties remain in remote learning models. This week, the Sunnyside Unified School District postponed reopening schools until March at the earliest.
There is also the question of when school-age children will receive the vaccine. Dr. Anthony Fauci said that while the vaccines are not yet approved for use on kids under the age of 16, testing is underway for children as young as nine and he hopes that kids can start receiving the vaccine by the summer, the Associated Press reports.
---
About one-third of educational staff vaccinated in Tucson
Arizona Daily Star
Nearly 7,000 K-12 teachers and educational staff have received the first dose of the COVID-19 vaccine already, the Arizona Daily Star reports. That's about one-third of the county's educational staff.
The Pima County Health Department estimates that another 7,000 educators can be vaccinated by early February. Teachers and staff can register online for vaccine appointments.
---
Sunnyside postpones school reopenings until March
KVOA
Officials from the Sunnyside Unified School District announced that on-campus, hybrid classes will not return until March 1 at the earliest, KVOA reports.
In a statement to families, superintendent Steve Holmes cited Pima County's high rate of COVID-19 transmission as the reason for the decision.
---
More vaccinations, safety measures needs to reopen schools, educators say
Arizona Republic
Even with vaccinations for teachers underway, educators want better safety measures before students return to classrooms en masse, the Arizona Republic reports.
Counties can only vaccinate educators so fast, given a limited supply. And educators say they need support from the community if school reopenings are going to succeed.
---
State to reform teacher discipline loophole
Arizona Republic
Legislation passed by the Arizona House and Senate would close a loophole and allow state officials to investigate any school employee accused of misconduct, the Arizona Republic reports.
Current laws allow education officials to investigate and discipline certified educators. However, that excludes some staff members and non-certified educators, particularly at charter schools.
Gov. Doug Ducey still needs to review the legislation and decide whether or not to sign it into law.
---
Arizona schools vie for a new garden
Arizona Daily Star
A contest hosted by grocery store chains will grant two Arizona schools a learning garden, the Arizona Daily Star reports. The learning garden in set up to teach students about agriculture and cooking.
All schools within a 10-mile radius of a Bashas' or Food City are eligible for the contest. Residents can nominate the schools they find most deserving.
---
UA increasing rate of vaccine rollout
AZPM
The University of Arizona's walk up and drive through COVID-19 vaccination sites will each serve about 400 people a day in the coming days, according to university officials.
The site at the university is run by Pima County, not the university -- a fact officials want university faculty and staff, as well as the public, to remember.
"We don't have discretion. People have called the president, people have called me and said hey I need to get it, we don't have the discretion to do that. There is a system that we are following that is fair to all," said Dr. Richard Carmona, former U.S. Surgeon General and the head of the UA COVID response.
Right now, the campus vaccinations sites are largely serving K-12 educators and public school staff.
---
UA scientists testing drones for Mars...in Iceland
AZPM
University of Arizona space scientists are using a $3.1 million grant from NASA to test interplanetary drone aircraft in Iceland.
The team is working on a concept design for RAVEN, or Rover Aerial Vehicle Exploration Networks, to fly above volcanic terrain on Mars. UA planetary science professor Christopher Hamilton says the Icelandic highlands work well for these tests because they are barren and sandy, like the surface of Mars.
A small drone is expected to test the basic technology on Mars next month. The Ingenuity Mars Helicopter is currently housed aboard NASA's Perseverance rover scheduled to land on the Martian surface Feb. 18.
---
Latest honor for Sidney Poitier: A film school in his name
AP
NEW YORK — At 93, screen legend Sidney Poitier has achieved a new career milestone: Arizona State University has unveiled The Sidney Poitier New American Film School.
University president Michael M. Crow says the decision to name the school after Poitier, the first Black winner of a lead acting Oscar, is about much more than an emphasis on diversity. He says it's about the filmmaker's creative energy and drive and the way he advanced his life.
The university says it has invested millions of dollars in technology to create what's intended to be one of the largest, most accessible and most diverse film schools.