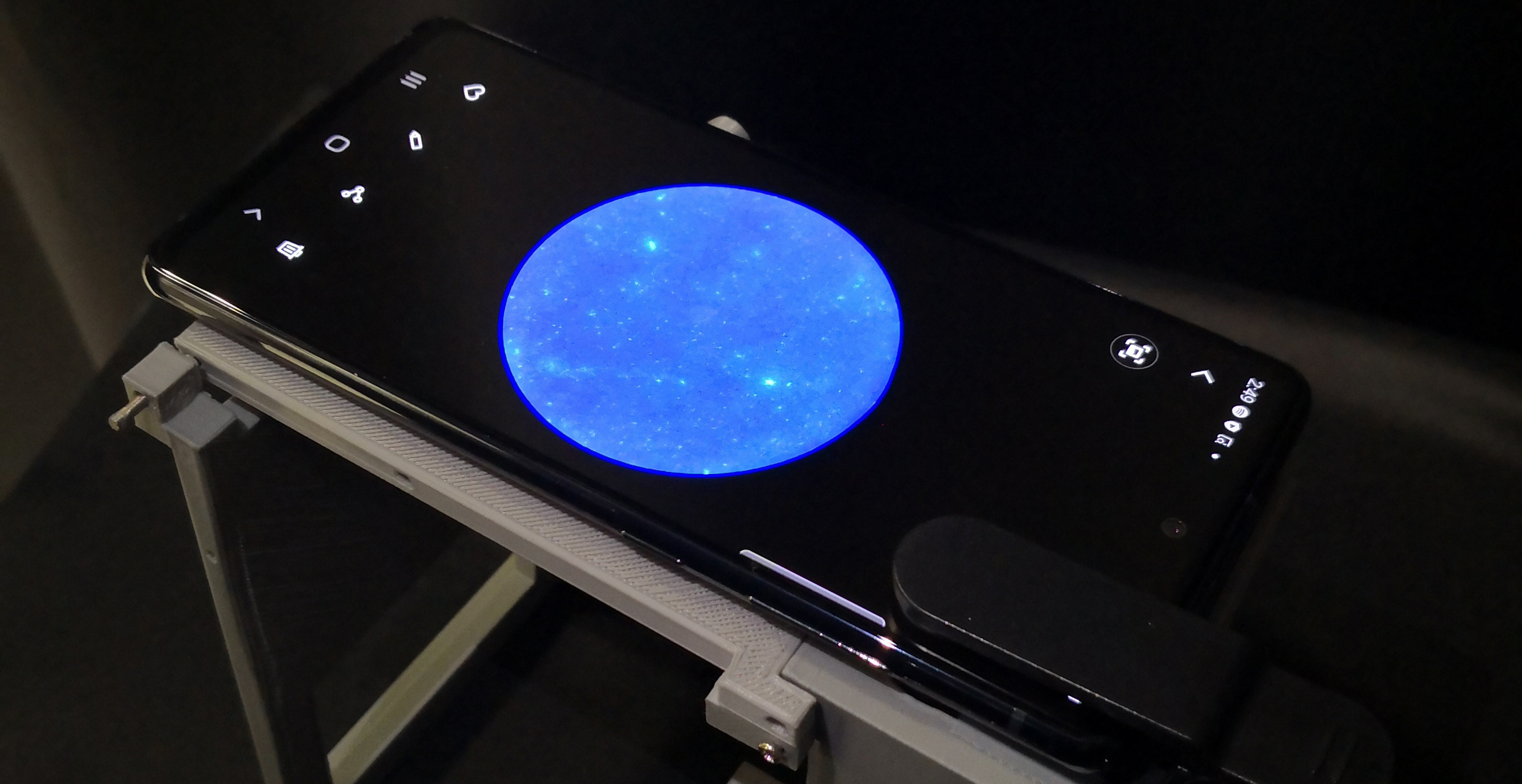 A microscopic image of the sample being captured through the phone using Professor Jeong-Yeol Yoon's smartphone-based COVID-19 test.
Courtesy of the University of Arizona
University of Arizona researchers have created a new way to detect COVID-19 in saliva samples, by re-engineering a 2019 norovirus testing method that uses smartphones.
The process starts with a participant gargling a saline solution, like in the UA swish and gargle test. The liquid is then mixed with antibodies with fluorescent beads that adhere to COVID-19 pathogens. A small sample is placed in the rigged columns of a wax microfluidic paper then observed as it moves. As the antibodies find the COVID-19 pathogens, they form clumps that can be photographed and later counted.
For now, it's UA Biomedical Engineering Professor Jeong-Yeol Yoon and his team who are counting the bead clumps using a microscope attached to a phone's camera lens.
He expects when there are high concentrations in a sample, the accuracy is similar to rapid and polymerase chain reaction (PCR) testing.
"But our real benefit is when your concentration is — the virus amount — is low, like in the early phase or medium phase of infection, then the other methods accuracy will significantly drop down, but we believe we can still maintain 90%," Yoon said.
According to a press release, results can be ready in 10 minutes.
Yoon said one day he hopes the test will be available at drug stores at an estimated $40, but he said some people have raised alarms that the public can't be trusted to interpret their own results.
"Remember: looking at the history — this thing has already happened. When the first glucose meter came out on the market, and then many conservative people were against the idea — how can the individual patient withdraw their own blood?" Yoon said.
He said the testing method isn't approved yet, but he's submitted it to the university's institutional review board.

If approved, students can opt in to have some of their swish and gargle test sample used in the new test's clinical trial.
Another method in development is to use an app that takes a small video of the sample moving across the microfluidic paper. The app then interrupts the flow pattern and reports if the user has COVID-19 and at what concentration.