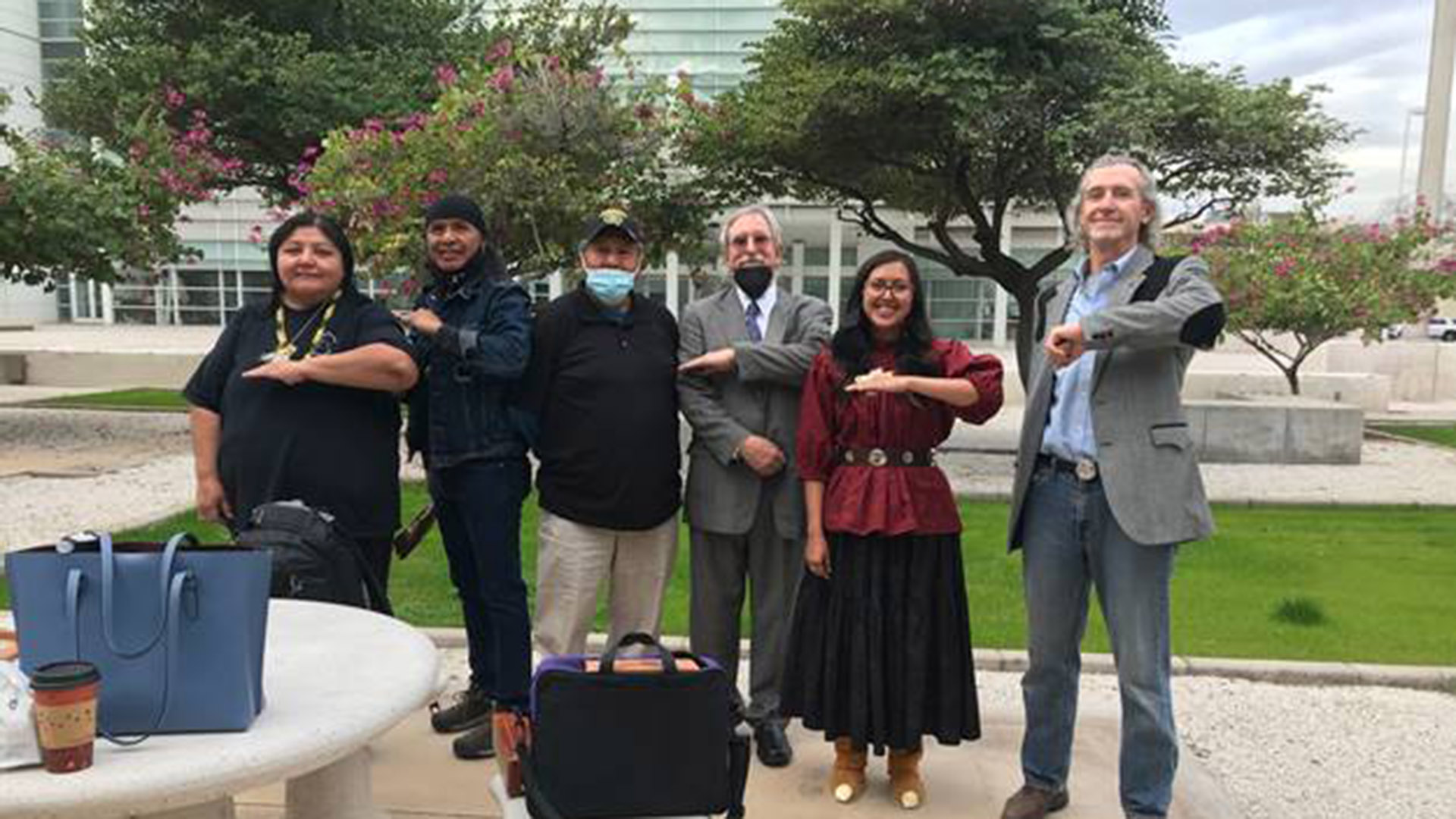 Members of Apache Stronghold, its legal team, and witness' in the case pose before the hearing for the preliminary injunction in Apache Stronghold v. United States of America Feb. 3, 2020.
Courtesy of Apache Stronghold
Apache Stronghold, a nonprofit advocating for the protection of Oak Flat, argued in a federal court Wednesday for a preliminary injunction to try and stop a proposed copper mine at the Apache religious site.
Wendsler Nosie Sr., the founder of the nonprofit and a former chairman of the San Carlos Apache Tribe, testified at the hearing. He shared the religious and cultural importance of the site with Judge Steven Logan.
"It just felt like our religion was in a trial. Mother Earth was being tried. For what reason? A human error." Nosie said. "If they would have just followed their own laws, we wouldn't be here."
Nosie said the the federal government did not follow the National Environmental Policy Act that includes multiple analyses and steps before a final decision is made on a proposed action that impact the environment.
Judge Logan said he will decide whether or not to issue a preliminary injunction, temporarily stopping any progress on the mine, by Feb.12.

Oak Flat, Chi'chil Bildagoteel, is near Superior and it's one of the largest undeveloped copper deposits in the world. It is currently a part of the Tonto National Forest, but former President Barack Obama approved a land swap between the U.S. Forest Service and Resolution Copper in 2014 to mine the ore. Legal actions taken by Apache Stronghold and other concerned groups are currently stalling the land transfer and what could one day be a mining crater about 1,000 feet deep and almost two miles wide.
Naelyn Pike, a member of the group and Nosie's granddaughter also testified at the hearing. She mainly discussed the importance of the Sunrise Ceremony, a girl's coming of age celebration for her first menstrual cycle. She told the judget how how this ceremony connects with the Apache creation story and the "spirit" of Oak Flat.
"It saddens me to the fact that I had to go and get questioned about my religion — about my way of life — and how it is to pray and what it means and to try and convey that message to the judge so that he can make the right decision," said Pike.
Apache Stronghold also claims the land was to remain in Apache ownership according to a treaty signed in 1852.
The defense argued that the mine and the loss of Oak Flat would not produce a substantial burden for the Apache peoples.