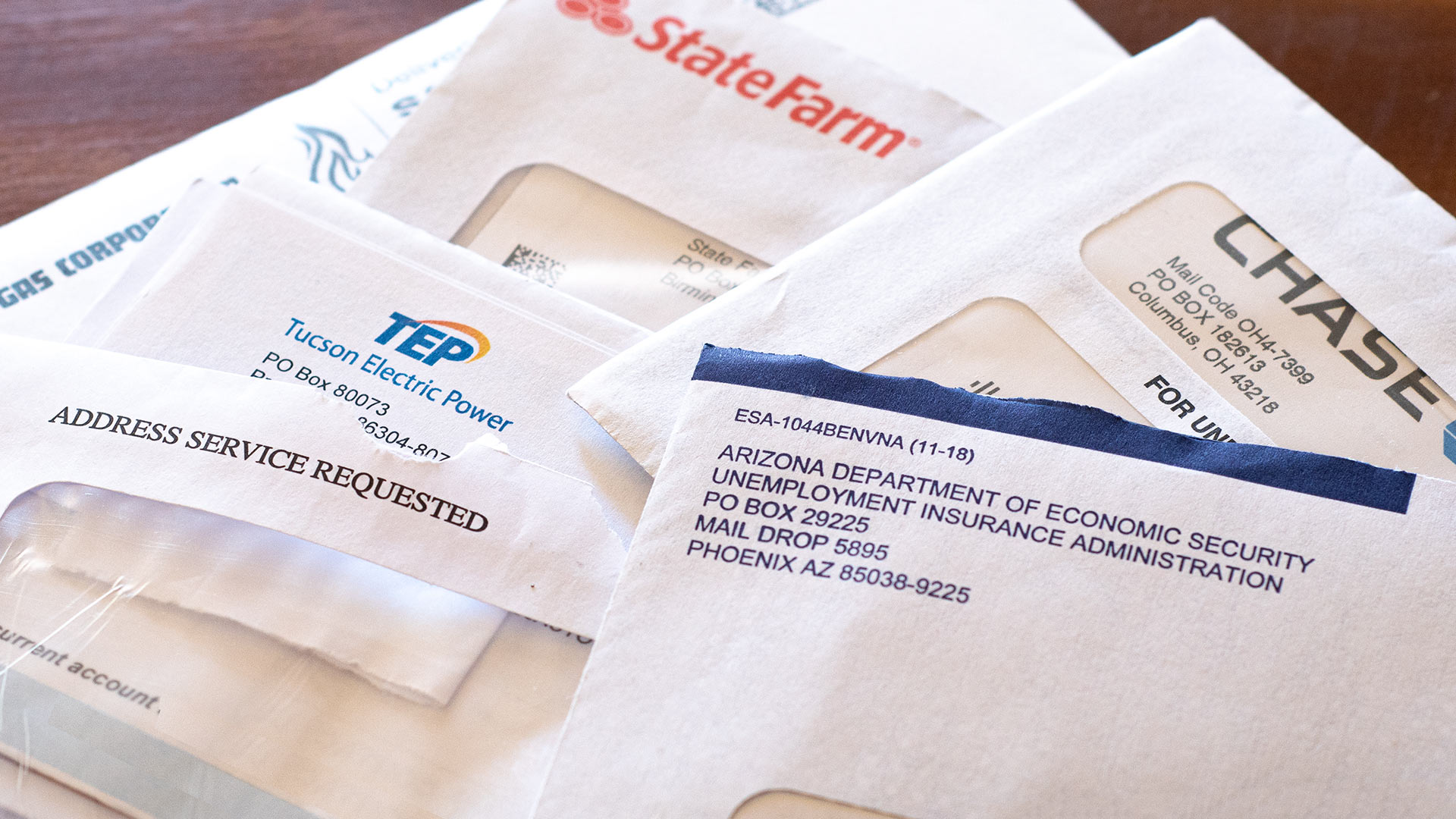 Colleen Greer/AZPM
The pandemic has brought huge economic pain to many Americans. A year into the crisis, millions remain unemployed. In Arizona last week more than 251,000 people received some sort of unemployment assistance. That's a 2,000% increase from a year ago.

Many of those struggling to find work are on the verge of losing their homes and still struggling to put food on the table.
Pres. Joe Biden has proposed a $1.9 trillion stimulus package that includes various kinds of relief.
The city of Tucson received nearly $96 million in the first federal stimulus act in 2020. Tucson Mayor Regina Romero said she and the city council made a strategic plan to spend that money with a priority on investing in people.
The money went toward families, small businesses, food banks, rental assistance and improving Wi-Fi, among other areas. However, Romero said the requests for assistance far exceeded available funds.
"Was it enough? Maybe not. But did it help? Absolutely," Romero said. "We've served thousands of families and individuals and small businesses."
In addition to the city's assistance programs, local utilities have programs available.
---
The economic hardships caused by COVID-19 exacerbated housing and eviction issues that already existed.
Constable Kristen Randall said before the pandemic, the Pima County courts handled between 1,200 and 1,500 eviction filings a month. She said pandemic-related eviction moratoriums lowered those numbers for a while, but now they're climbing again. Evictions due to criminal activity or breach of contract still continue.
Randall said people need to understand an eviction moratorium for non-payment still means work on the part of the tenant, like filling out forms, seeking rental assistance and working with landlords.
Pima County and the city of Tucson will receive $31 million in federal rental assistance aid in the coming weeks. Randall said local government is set up to get the aid out to people who need it quickly. She said the money will also allow the constables to work directly with the city.
Randall said when it comes to evictions, she arrives weeks in advance of the eviction date to help people find a housing solution. The moratoriums and federal aid during pandemic have helped with that and let the constables prioritize the help that's available to those facing imminent evictions.
"Sometimes it does have to end in eviction, but now we have time to be able to figure out does this person need new housing, can we get them into a different program, can we work with their case worker?" Randall said.
The Pima County Board of Supervisors recently put an extension on an eviction moratorium in place, but two members of the legislature filed an official complaint with the Arizona attorney general claiming the county's action oversteps its legal authority.
The moratorium expires in March, but the attorney general could fine the county if his investigation agrees with the two state lawmakers.
Evictions hit the most vulnerable members of the community harder. Mackenzie Pish is the Innovation for Justice program manager at the University of Arizona's College of Law.
She says people of color have been particularly at risk of eviction, due in part to the fact that they are more likely to be renters and more likely to suffer pandemic-related job losses.
Pish said moratoriums are temporary solutions and do not stop the accumulation of back rent, which eventually needs to be paid. That might not be possible for people who have been out of work for months.
"Not only is keeping people housed the humane thing to do during a pandemic, it's also a lot less expensive than the downstream costs that will ripple through all of our social systems," Pish said.
---
This week, Gov. Doug Ducey announced a new emergency rent and utility assistance program for residents of 12 counties around the state, including Cochise and Santa Cruz. Larger counties, like Pima, are receiving funding directly from the federal government to set up their own programs.
On Monday, President Biden and Vice President Kamala Harris paid a virtual visit to the mass vaccination site at State Farm Stadium in Glendale.

Arizona officials, including members of Congress, have asked the federal government for more vaccine supply for the state. So far, those requests have not been fulfilled.
"What we really need from Washington today is more supply," Ducey told The Buzz.
Ducey said that the fight against COVID-19 remains the state's top priority. Mitigation efforts like mask wearing, hand washing and socially distancing remain critical as the vaccination effort continues.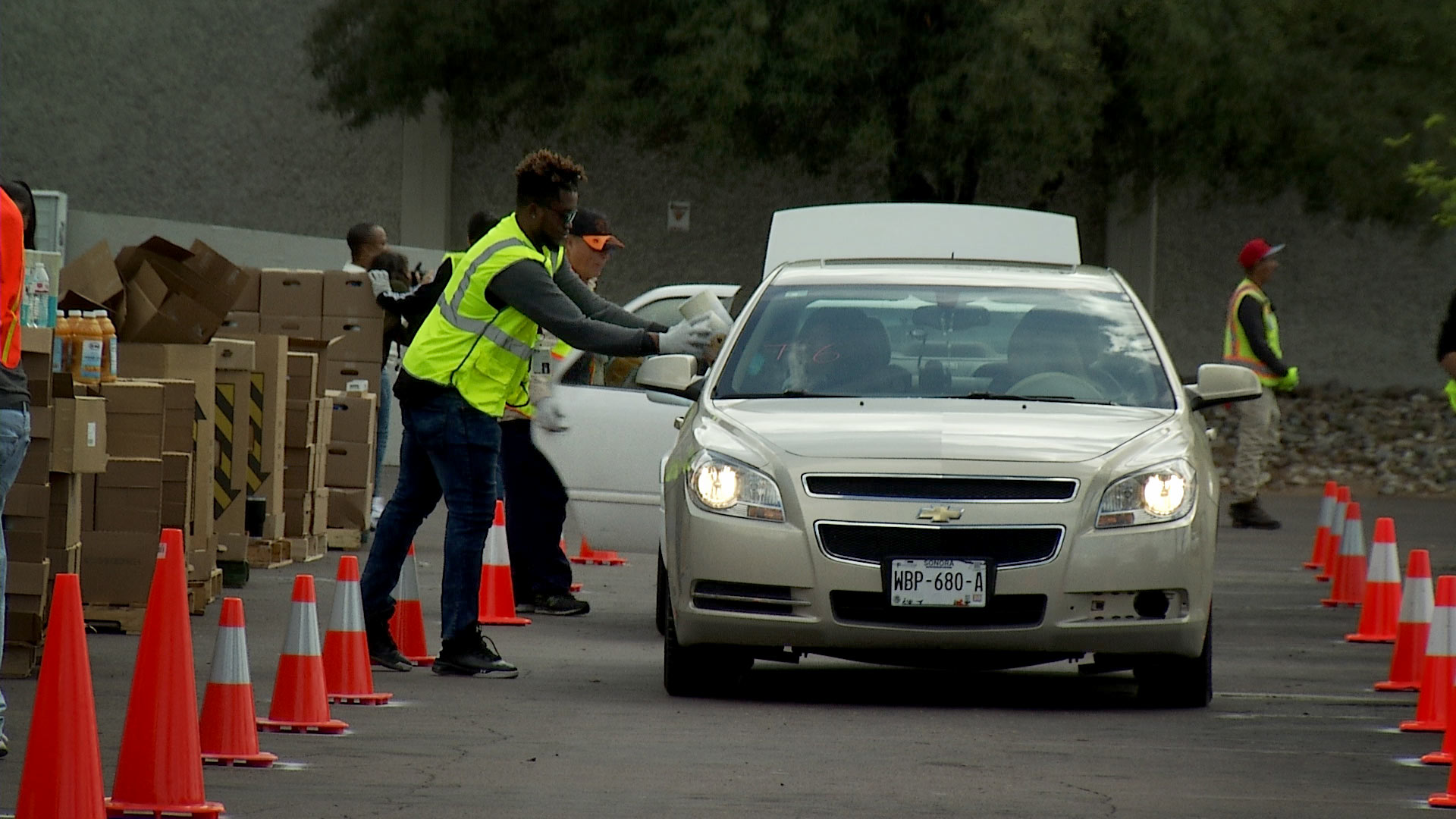 Volunteers with the Community Food Bank of Southern Arizona hand out goods in a drive-thru set up by the food bank in a move designed to limit person-to-person contact amid COVID-19 concerns.
Robert Lindberg/AZPM Staff
Michael McDonald is the CEO of the Southern Arizona Community Food Bank. He said even before the pandemic, insufficient wages contributed to people needing food assistance.
"We already had a tenuous economy for our lowest income workers and families and neighbors across southern Arizona," McDonald said. "The pandemic has amplified that because so many people got displaced from their jobs."
According to McDonald, the food bank has seen a 30% increase in demand for services since the start of 2021, compared to this time last year. And while volunteers have largely risen to the challenge, McDonald said better public policies are necessary in order to improve the issue long term.

The Buzz
airs Fridays at 8:30 a.m. and 6 p.m. and Saturdays at 3:30 p.m. on NPR 89.1. You can subscribe to our podcast on
iTunes
and NPR One. See more from
The Buzz
.