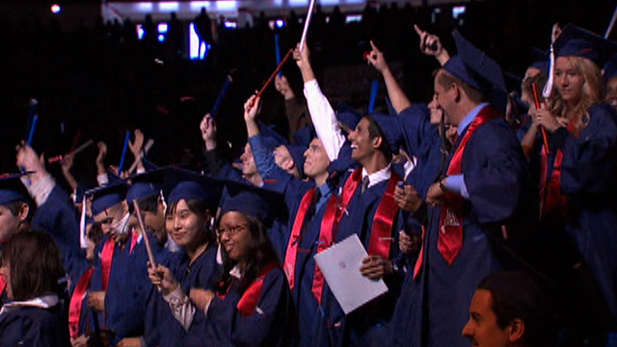 Students celebrate their achievements at a University of Arizona graduation ceremony.

AZPM
The University of Arizona is moving forward with plans to hold in-person graduation ceremonies in May.
The graduation ceremonies will take place at Arizona Stadium between May 11-18 and include about 1,000 students at each event.
"They will be able to walk in their regalia, in their caps and gowns and be recognized individually on the Jumbotron with their picture and then once they're recognized they won't walk back to their seat they keep walking out of the stadium," sai d University of Arizona President Dr. Robert Robbins.
Guests will not be allowed at the events, but all of the graduation ceremonies will be live-streamed.
Robbins said individual academic programs or other affinity groups will also hold small, in-person ceremonies.
The ceremonies are still in the planning stage and could be adjusted based on the public health numbers. Officials set up a website for people to get the latest information.
Last year, the university was forced to cancel graduation ceremonies due to the COVID-19 pandemic.