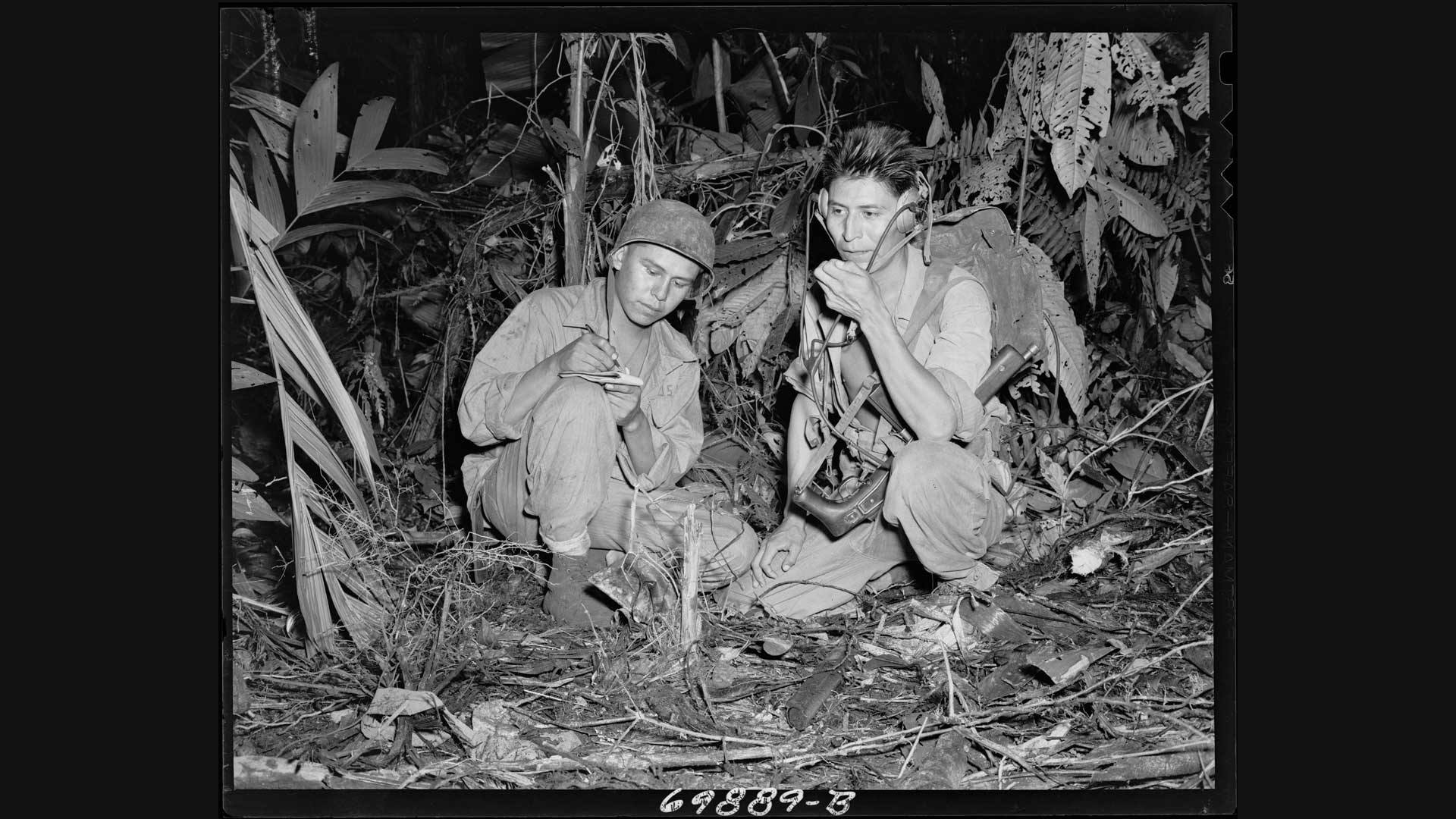 Photograph of Navajo Indian Code Talkers Henry Bake and George Kirk, 1943.
National Archives (no. 593415)
Gov. Doug Ducey signed a bill Monday declaring August 14 an annual state holiday in honor of Navajo Code Talkers — National Navajo Code Talkers Day.
A group of Navajo or Diné members of the U.S. Marines during World War II used the Navajo language to defy the Axis Powers and help win the war for the Allies. According to a press release from the governor's office, there were more than 400 men in the Code Talkers during the war.
"It's really a story about love. It's a story about what it means to be patriotic," State Sen. Jamescita Peshlakai, who sponsored the new law. "What does it mean to be loyal? What is worth sacrificing it all for?"
The project was declassified in 1968, and she said now there are only four Code Talkers alive: John Kinsel Sr., Samuel D. Sandoval, Thomas H. Begay and Peter MacDonald.
As a veteran herself, Peshlakai said she thinks it's important to teach people about history on a local and global level.
"It is particularly sad that a small group of men who pretty much saved democracy across our planet cannot get a proper museum funded, and it is now in a Burger King lobby in Kayenta," Peshlakai said.

Richard Mike, a Navajo businessman, and his family created the display, but Peshlakai said she wishes a museum could be supported by the state, military and tribe.
She said the holiday is for these men but also for their descendants. It's a time for recognition, education and thanks. Most of the men in the Code Talkers died while the project was still secret, Peshlakai said, and it wasn't until 2001 that Code Talkers were given Congressional Gold Medals, according to the National WWII Museum.

She also does not want the sacrifices of other Indigenous people to be forgotten and hopes that this day helps recognize their work and sacrifices.
"The word that the Code Talkers used for the United States was 'shimá', my mother, but in all the stories of our warriors who have made the ultimate sacrifice, many have died with the words shimá on their lips," Peshlakai said.
She said sometimes they were referring to the U.S., but other times it was more their mother —the circle of life.
The code was never broken. Ducey's office said that during the battle at Iwo Jima they successfully transmitted over 800 messages without a mistake.