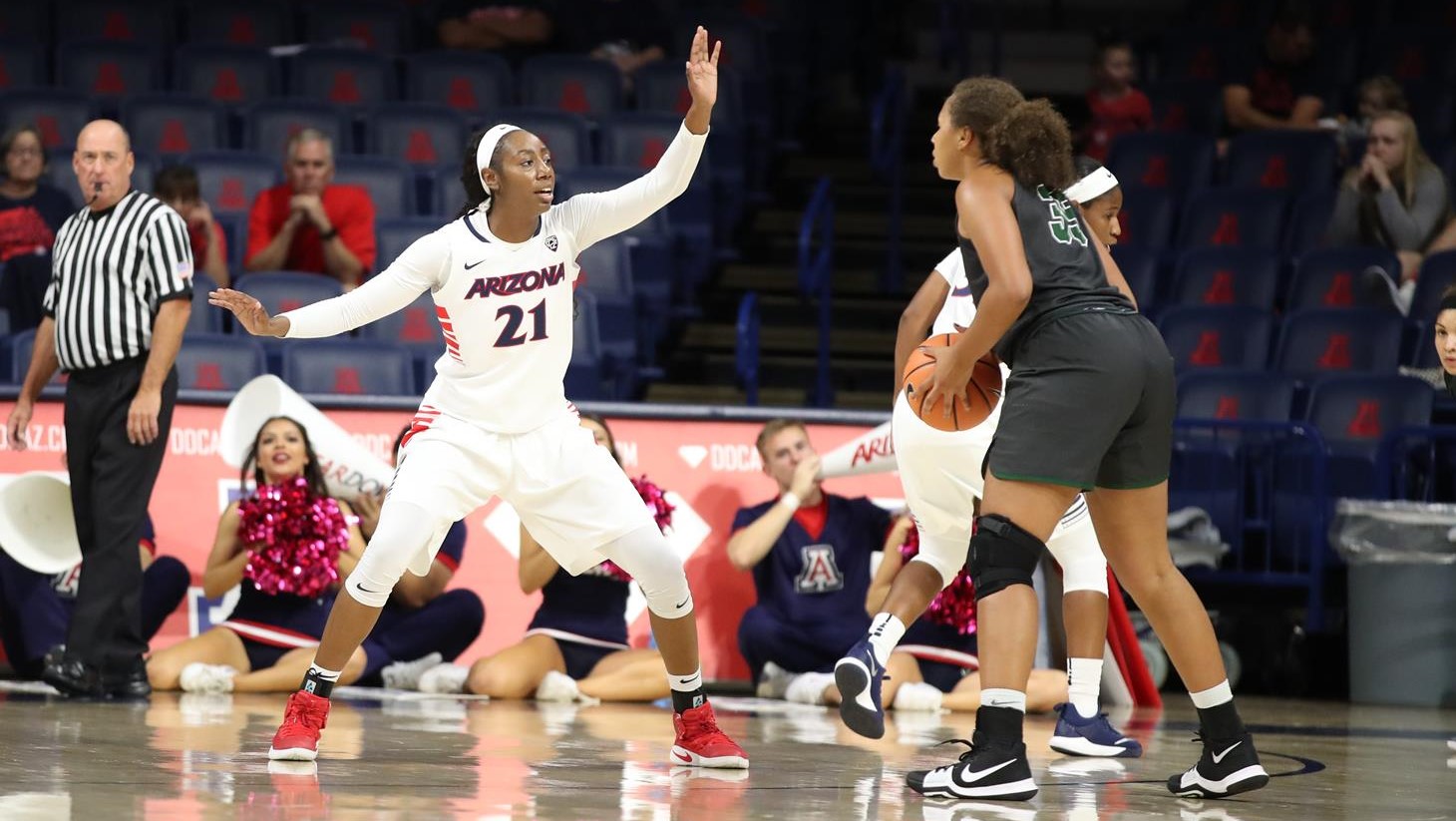 University of Arizona
Senior guard Aari McDonald led the charge with 26 points, 7 rebounds and 2 steals and played a key role on defense as the Wildcats beat UConn 69-59 Friday night to advance to the women's NCAA Tournament championship game for the first time in school history.
Arizona's relentless defense suffocated UConn, holding the Huskies' vaunted offense to less than 36 percent shooting and stifling freshman sensation Paige Bueckers, who earlier this week became the first freshman honored as The Associated Press player of the year, to 18 points on 5 of 13 shooting.
"It was that grit," McDonald said of the Wildcats' defense. "We didn't want to go home once again, and we're proving it. We're locking down and we're playing team defense. This is our identity, and we're best at defense. Defense wins games and we did that tonight."
The Wildcats never trailed against the heavily favored Huskies, who had made the Final Four 13 consecutive times. UConn has was 11 national titles but has lost in the semifinals each of the last four tournaments. Before their loss to Arizona, UConn had lost only one game all season -- back in January to Arkansas.
"For UConn there was more pressure. For us, it's a lot easier to play loose when there isn't pressure. But I'm just happy," said Arizona Head Coach Adia Barnes. "We got hot at the right time during the tournament. If you look back at two or three weeks ago, we weren't playing our best basketball. We started to change some things and got better -- just became more united right before the tournament, just found ways."
It was Arizona's first win against an AP-ranked No. 1 team and Barnes said the key was a full team effort.
"I'm just so proud everybody has stepped up in different ways. Everybody has done a little bit more. That's all I can ask for. They're playing their hearts out. They believe, I believe. We don't care if anybody else believes."
Barnes said it was important for the Wildcats not to let up until the final buzzer. Just a few days earlier, UConn had trailed Baylor by 10 points in the third quarter of the Elite Eight, only to rally with a 19-0 run and escape with the win, but Arizona refused to let the Huskies back in the game, "bearing down" to close out the win.
Christyn Williams led UConn with 20 points before fouling out. She said UConn might have taken Arizona too lightly.
"I think we came out with the wrong mentality. I thought we thought it was going to be easy, I guess, and we got flustered," Williams said. "They had great ball pressure, it wasn't like anything we've seen before this season. And we just couldn't get in a flow offensively."
Arizona had lost its only previous game against UConn — a Sweet 16 matchup in 1998, when coach Barnes was playing for the Wildcats.
Arizona's stunning win sets up an all Pac-12 final with the Stanford University Cardinals, who beat South Carolina in a nail-biter 66-65 earlier in the day.
The championship game is set for Sunday in San Antonio.
The Associated Press contributed to this report