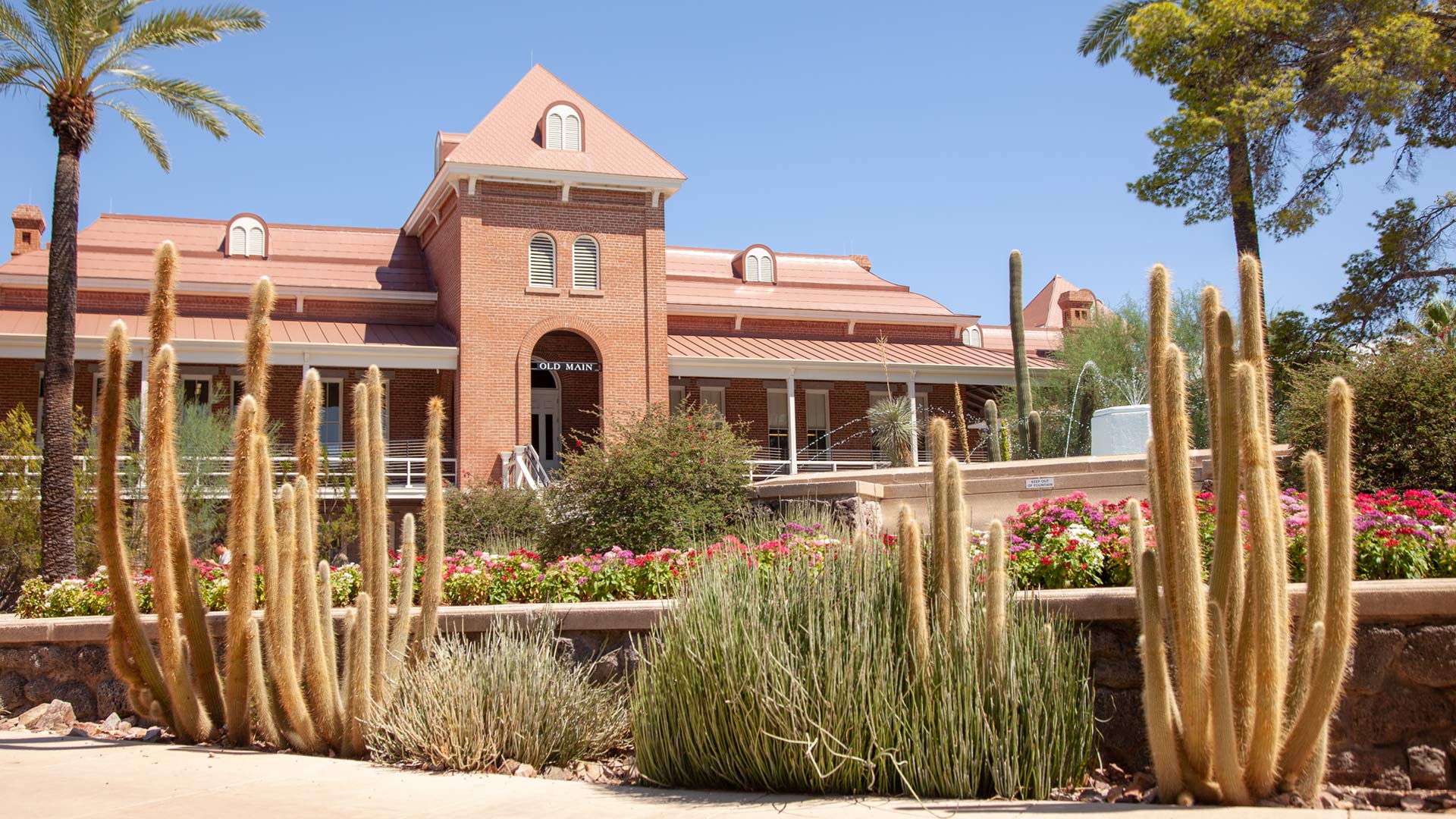 Old Main on the University of Arizona campus.
AC Swedbergh, AZPM
Within a week, the University of Arizona can say 100% of its purchased energy is from renewable sources.
May 1 marks start of an agreement with Tucson Electric Power to provide the UA with energy from a wind farm near Roswell, New Mexico and a solar-plus-storage system southeast of Tucson. Trevor Ledbetter, the director for the UA Office of Sustainability, said about 60% of the university's total energy will come from TEP.
"This agreement is the largest university-utility agreement in renewable energy in North America," Ledbetter said.
The university uses enough energy to power about 22,000 average American homes, and Ledbetter estimates the energy that will be procured from this agreement will similar to that need to power about 13,000 homes.
Ledbetter said the vast majority of the remaining 40% of energy used by the university comes from two co-generational turbines that produce energy from natural gas.

"Those still represent about a third of our carbon footprint," Ledbetter said. He said his office will soon look at ways to mitigate carbon emissions or "— the best case scenario — get them taken offline as soon as we can."
He said moving to all renewable purchased energy will cut out almost a third of the university's greenhouse gases. The university is currently aiming to be carbon neutral by 2040, according to the University Arizona Strategic Plan. This goal was set in part by the university's involvement in the American College & University Presidents' Climate Commitment, in which it originally hoped to be carbon neutral by 2050.
When it moved up the deadline it also decided to eliminate indirect emissions from purchased energy or scope 2 emissions by 2025. He said by mitigating those emissions, which represented about a third the university's emissions, it's like taking almost 14,000 passenger cars off the road for a year. The start of the TEP-UA agreement meets that goal four years ahead of schedule, and that's not the only timeline Ledbetter's hoping to accelerate.
He said the office of sustainability will be leading a sustainability and climate action planning process this summer, and he's hoping the university can be carbon neutral by 2030 or sooner.
Since the agreement locks in TEP at their current rate, Ledbetter estimated the agreement will save the university millions over the course of the 20-year agreement.
The Arizona Corporation Commission approved the TEP-UA agreement in December 2019.