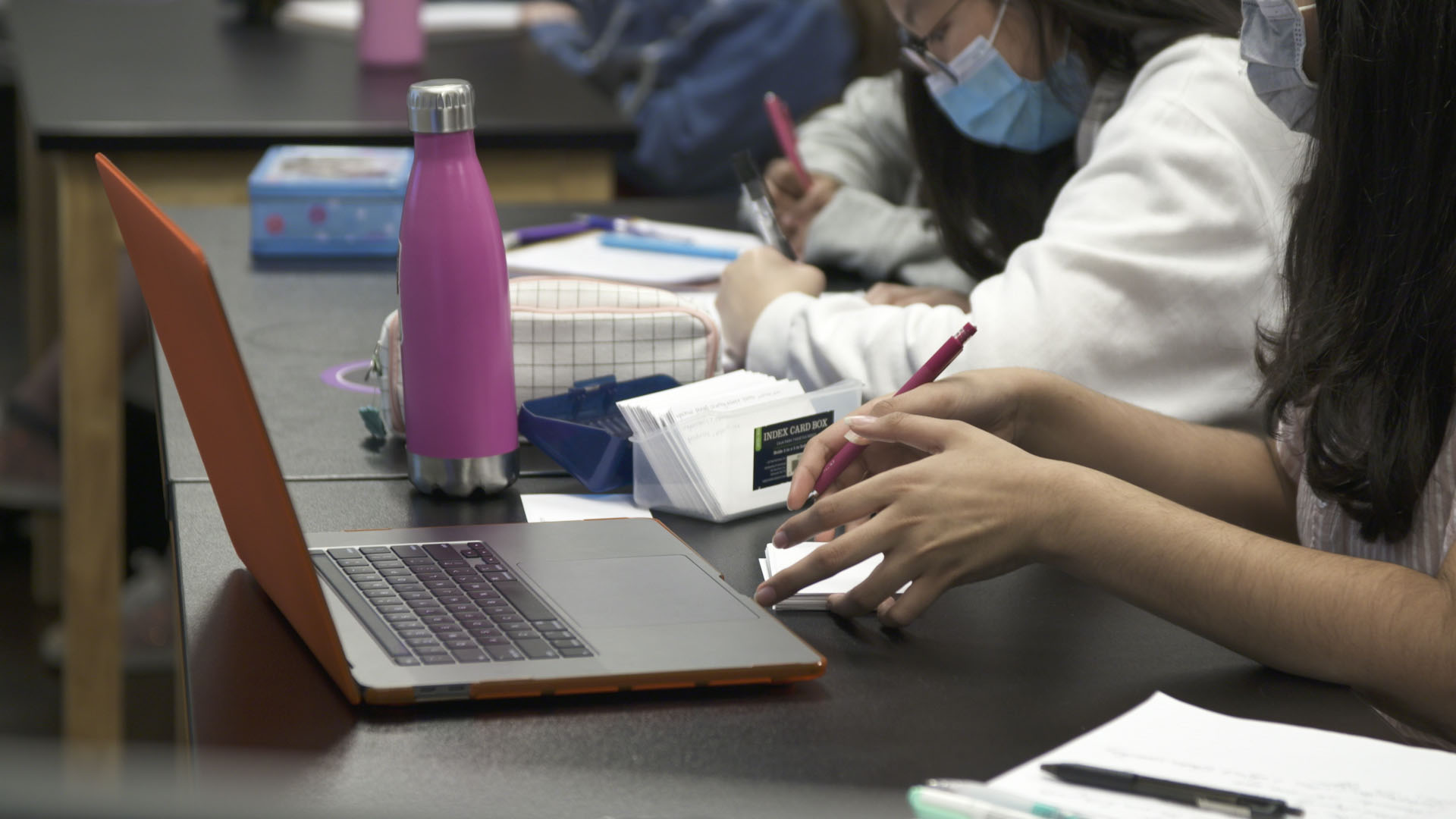 Children at school during the COVID-19 pandemic.
AZPM
As the school year approaches its end, a change in vaccine policy offers even more hope for a more normal-looking school year come August.
This week, teenagers as young as 12 years old began to receive the Pfizer COVID-19 vaccine at state-run sites, following recently updated guidance from the Centers for Disease Control and Prevention.
In neighboring California, the majority of older students chose not to return to in-person school even after it became available, the Los Angeles Times reports. With many districts in Arizona planning to return to full time, in-person instruction in the fall, the expansion of vaccine availability may make students feel more comfortable being in a group environment again.
Meanwhile at the University of Arizona, classes have wrapped up leaving only the stress of finals or the joy of graduation. The university held small, in-person graduation ceremonies this week, which were also streamed online. The ceremonies will continue into next week.
---
Arizona's state-run sites opens vaccinations to kids 12-15
AP
PHOENIX — Arizona's seven state-run vaccination sites have started offering the Pfizer COVID-19 shot to kids ages 12-15.
Thursday's move followed actions by federal health regulators to expand emergency authorizations for the vaccine. Arizona has nearly 400,000 youths ages 12-15 and they represent nearly 5.6% of the state's population.
The expanded availability applies only to the Pfizer vaccine, which until now has been only available to ages 16 and older. The Moderna and Johnson & Johnson vaccines are authorized for people 18 and older.
Arizona has four state-run vaccination sites in metro Phoenix and one each in Flagstaff, Tucson and Yuma.
---
Tucson teens prepare for high school graduation
Arizona Daily Star
High school seniors in Tucson are able to enjoy in-person graduations after a school year spent largely or fully online, the Arizona Daily Star reports.
Some seniors were able to attend in-person proms as well, though many chose not to go. Other schools planned alternative, socially-distanced activities for their seniors.
---
TUSD sees an enrollment bump of over a thousand kids
Arizona Daily Star
The Tucson Unified School District has gained over 1,300 new students since beginning in-person classes in mid-March, the Arizona Daily Star reports.
Such a large increase in enrollment is uncommon for the final part of the school year. Though the district also lost about 500 students, this still represents a net gain in the final quarter.
Some of the newly enrolled students have remained out of class since the pandemic began.
---
Vetoed Arizona sex education bill coming back with changes
AP
PHOENIX — A contentious sex education bill that was vetoed by Arizona Gov. Doug Ducey last month is being revived.
The sponsor says she's keeping increased parental notifications she calls "the heart" of the proposal. Stripped out are provisions that specifically targeted discussion of LGBTQ issues.
Republican Sen. Nancy Barto says she worked with Ducey's staff to identify and remove parts he considered problematic. Those include a provision preventing young students from being taught how to avoid or report sexual abuse.
The revised bill still bans sex education classes before 5th grade and requires schools to get parental permission before teaching about historic events that involve sexuality.
---
Former state superintendent and attorney general seeks his old education position
Arizona Republic
Tom Horne, former state superintendent of public instruction and Arizona attorney general, has expressed a desire to regain his former position of power as the state's top educator, the Arizona Republic reports.
Horne, a Republican, announced his entry into the race for state superintendent. He cited slipping academic standards and a concern that the work he did as superintendent was being undone.
---
Phoenix teacher accused of having sex with juvenile student
AP
PHOENIX — Federal authorities say a Phoenix school teacher has been arrested and accused of a long-term sexual relationship with one of his underage female students.
U.S. Marshals Service officials say 29-year-old Justin Walters was taken into custody Wednesday at a Chicago residence after he arrived earlier on a flight from Turkey.
An arrest warrant was issued May 6 for Walters, who is accused of 10 counts of sexual contact with a minor.
Walters teaches at the Desert Garden Montessori School, which, according to its website, serves students from 6 months old to age 18.
---
UA kicks off in-person grad ceremonies
AZPM
The University of Arizona begins nine days of graduation ceremonies starting Monday.
Instead of one massive ceremony, the UA will hold 18 scaled-back, in-person graduation events through May 18. Most of the Tucson ceremonies will happen at Arizona Stadium and the Cole and Jeannie Davis Sports Center on the campus.
Last year's Commencement was held in an all-virtual format due the COVID-19 pandemic. Officials say in-person ceremonies were allowed to resume this year due to low COVID-19 infection numbers on campus and the widespread availability of vaccines.
The university will also live-stream the ceremonies online.
---
Arizona voters to decide on in-state tuition for Dreamers next year
AZPM
A bill that will let voters decide whether to give undocumented high school graduates access to the same in-state college tuition as their peers has passed through the Arizona Legislature.
Around 2,000 undocumented people graduate from Arizona high schools every year, according to a poll by the Migration Policy Institute. But those students haven't been allowed in-state tuition for more than a decade thanks to Proposition 300, a voter-approved measure that barred non-citizens from receiving a host of publicly funded services.
Senate Concurrent Resolution 1044 seeks to repeal only the portion of the 2006 proposition that relates to tuition by putting the question back to voters next year.
---
ASU trying to determine cause of fire on roof of building
AP
TEMPE — Arizona State University officials say they're still trying to determine what caused construction materials on the roof of a new academic building to catch fire.
Dozens of firefighters from Tempe, Scottsdale, Mesa, Phoenix and Chandler fought the blaze Tuesday night, and ASU officials later said there was limited damage to the mid-rise building and no injuries.
The building will house classrooms, a conference center and research labs for biological sciences, engineering, life sciences and sustainability. The $194 million building is scheduled to open in the fall.
---
Vaccinations Begin For Educators In Sonora
Fronteras Desk
Vaccinations for educators in Sonora, Arizona's neighbor to the south, are now underway.
More than 70,000 of them will receive the single-dose CanSino vaccine over the next couple of days, according to a release from the Mexican Institute of Social Security.
Two of those doses went to Hermosillo teachers Erick Pasten and his girlfriend. The private school where both of them teach has been all online for more than a year, something that he says has been a challenge for him.