9 Queens, a nonprofit organization that uses chess as an educational tool, will celebrate its 5th anniversary on Saturday, May 5 by hosting the 5th annual Chess Fest.
The event will take place at the Hotel Congress from 2 p.m. to 5 p.m., where everyone from novice to expert players can join in on the fun. Chess Fest will also feature former women's world champion and chess Grandmaster Alexandra Kosteniuk.
"It is not your typical chess tournament or event," says Jean Hoffman, 9 Queens executive director. "A large portion of the event is designed for what I call 'closeted chess players,' people that maybe played a long time ago or people that have never played and may want to learn."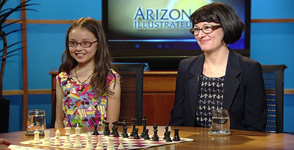 Varga Luna Michaud (left), an eight-year-old chess fan, and Jean Hoffman (right), executive director of 9 Queens, discuss 9 Queens' upcoming Chess Fest.
According to Hoffman in a recent Arizona Illustrated interview, studies have shown that playing chess can actually increase math and reading scores, as well as promote emotional intelligence while giving a healthy amount of competitiveness.
"There are a lot of stereotypes about chess players. People feel like that game may be nerdy, they may think that it's just for boys, so part of what we do at 9 Queens is we try and give chess a makeover and make it exciting and appealing to a broader population," says Hoffman.
For eight-year-old chess player Varga Luna Michaud, who started playing chess at the age of four, the game has offered a chance to learn about sportsmanship and the ability to focus.
"I play people at my school, because a lot of kids at my school play chess, and some of them are girls so that's good," says Michaud. "You have to focus on what they're doing and what you're doing."