The Brazilian cultural tradition of capoeira martial arts is alive and well in Tucson. Twenty-five years alive.
Ann Pollack, director Capoeira Mandinga Tucson, one of Tucson's first schools for the martial arts tradition that began in Brazil, says capoeira brings together elements of dance, song, and percussion.
Pollack, a cell biologist who was an accomplished modern jazz dancer before she set out on a journey as a capoeirista 25 years ago, says the Brazilian tradition originally was used by black slaves to disguise their training to fight for freedom.
Pollack has trained in Brazil with Mestre Lobão, who recently conducted a series of workshops celebrating Capoeira Mandinga's 25 years in Tucson.
"Capoeira songs tell the story of slavery," Lobão says. "Even if they don't tell the history, the students will learn because it is written in the songs."

Pollack, who was raised in a Jewish family, says that the inter-cultural connections that are being made through capoeira motivate her work, and she thinks people can benefit from the cultural tradition.
She sees "people from different cultures, and different ranks in life, and different levels of wealth, being able to get along. That really drives me," Pollack says. "It makes me want to find a way to bring these different communities together, and I've found that capoeira is wonderful mechanism for doing that."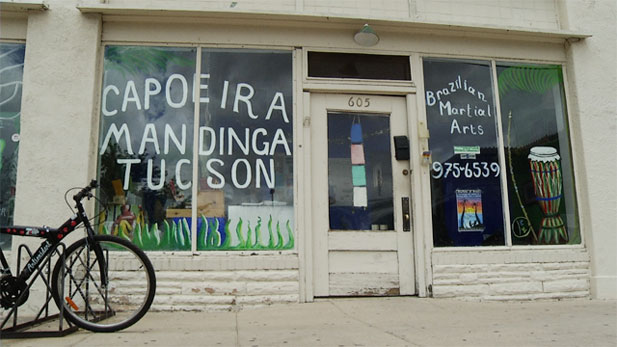 PHOTO: AZPM
Capoeira, an Afro-Brazilian martial art form that was started over 450 years ago in response to the oppression of Africans who were brought to Brazil as slaves, has gained in popularity here in Tucson. We visit Capoeira Mandinga Tucson, where masters from Brazil, and the US recently convened for a week-long event highlighting this unique cultural tradition.