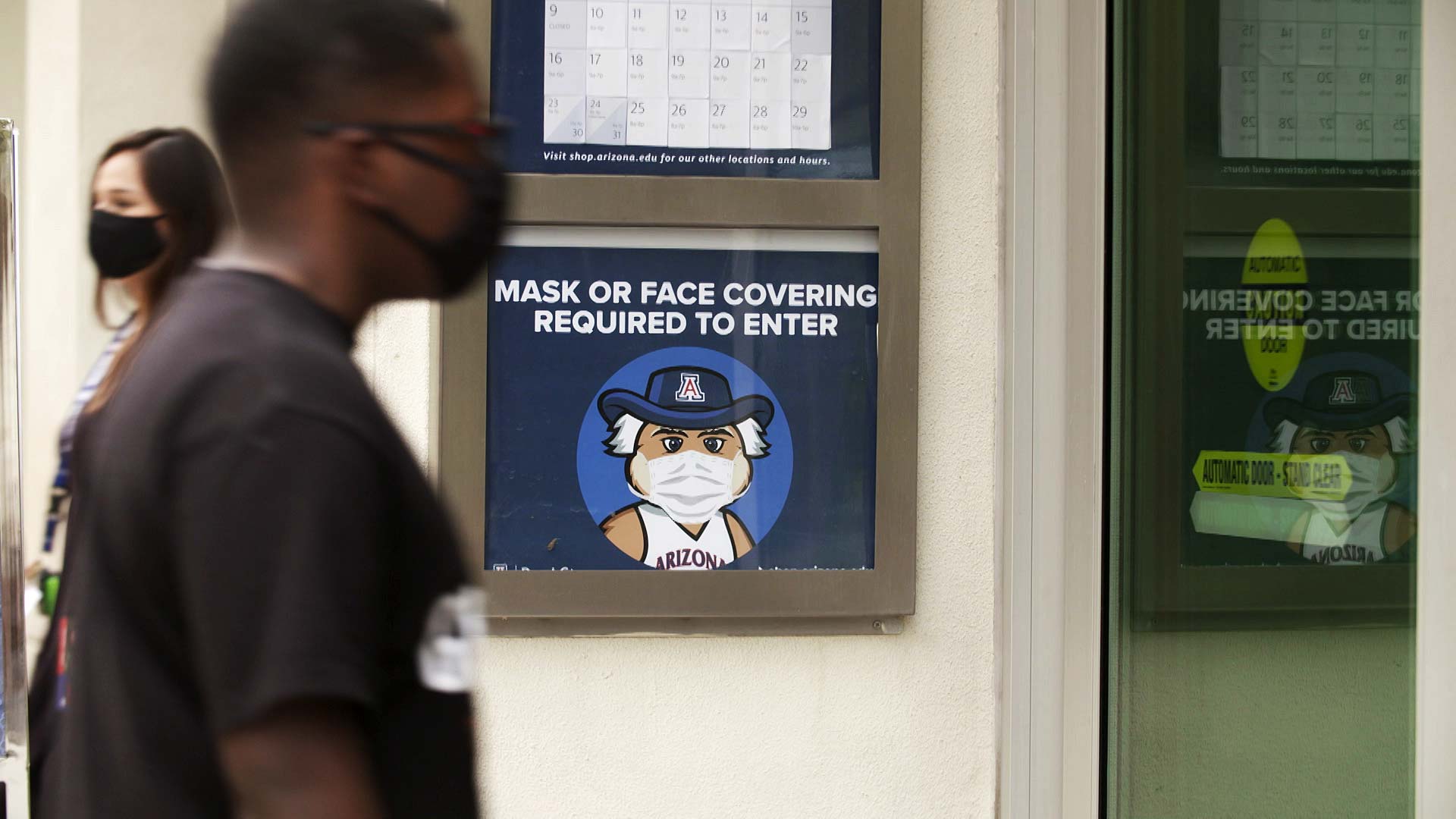 A sign outside of the University of Arizona bookstore reminds visitors that masks are required to enter.
AZPM Staff
The Centers for Disease Control and Prevention recommended Tuesday that vaccinated people return to wearing masks indoors in parts of the country where it has found high or substantial levels of COVID-19 transmission, which includes nearly every county in Arizona.
The daily number of new COVID-19 cases and current hospitalizations in Arizona continues to creep upward.
Arizona health officials on Tuesday reported 1,475 newly confirmed cases and 12 more deaths.
This brings the state's total numbers since the pandemic started to 920,084 cases and 18,183 deaths.
The number of people hospitalized for the virus also climbed to 919 after going down for three straight days.
Only about half of Arizonans have received one dose of a vaccine.
Since March, people who are not fully vaccinated made up 98% of deaths and 94% of hospitalizations.
And in announcing the new recommendations Tuesday, CDC Director Dr. Rochelle Walensky said information on the delta variant indicates there are rare occasions when vaccinated people infected after vaccination may be contagious and spread the virus to others.
The CDC recommended people, including those who are fully vaccinated, to wear masks indoors when in public in an area of the country with substantial or high transmission of COVID-19.
Most Arizona counties fall into those categories, including Pima County, where transmission is considered to be substantial.
The office of Tucson Mayor Regina Romero said Tuesday she encourages residents to follow the new CDC guidelines and wear a mask indoors, even if fully vaccinated.
A spokesman for the state Department of Health Services said the agency is changing its recommendations to the CDC's guidelines.
The CDC and state also recommended indoor masks for all teachers, staff, students and visitors to schools, regardless of vaccination status.
Gov. Doug Ducey and the state Legislature have barred public schools from requiring students wear masks.
But Superintendent of Public Instruction Kathy Hoffman called on the governor Tuesday to let schools set policies for safe in-person instruction.
"We know masks works and, with rising cases, they're a vital part of our effort to reduce everyone's COVID-19 risks," she said in a statement.
Ducey called the new CDC guidance unnecessary and unhelpful.
"Arizona does not allow mask mandates, vaccine mandates, vaccine passports or discrimination in schools based on who is or isn't vaccinated," Ducey said in a statement. "We've passed all of this into law, and it will not change."
The Associated Press contributed reporting
Arizona COVID-19 cases: 7 days
Map shows COVID-19 cases and case rates over the week preceding the last update.
Credit: Nick O'Gara/AZPM. Sources:
The New York Times
, based on reports from state and local health agencies, Census Bureau. Case reports do not correspond to day of test.