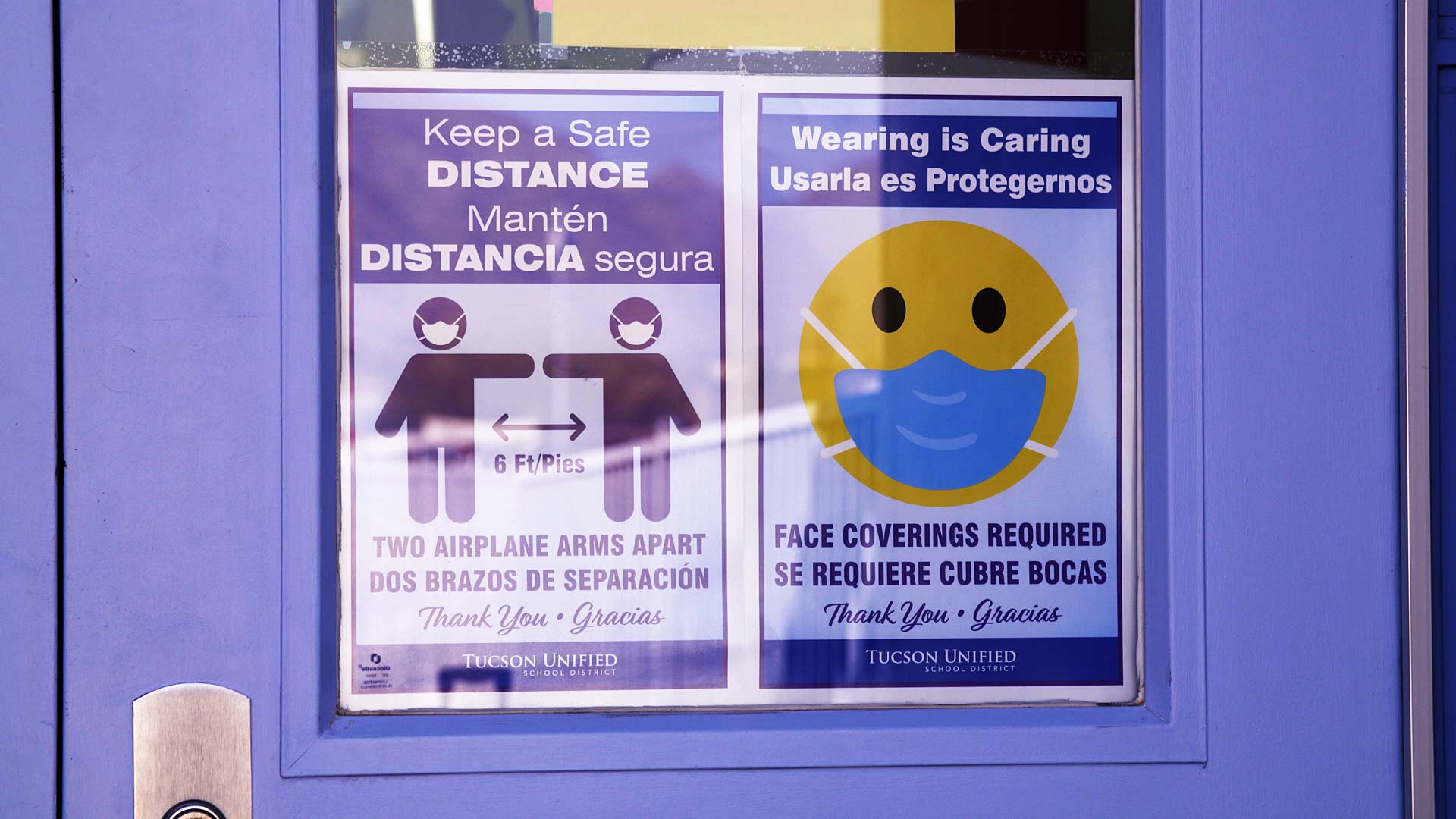 COVID-19 signage at Davidson Elementary. March 2021.
AZPM Staff
The board of Tucson Unified School District voted Wednesday to require everyone on its campuses wear masks as Arizona sees a rising number of COVID-19 cases.
The board approved the new policy during an emergency meeting the day before the district resumes classes. Board member Adelita Grijalva was the first member to voice support for the motion in the meeting.
"We can't do what we've been doing, and just say, 'put a mask on, please,'" Grijalva said. "We have probably over 30% of our district cannot be vaccinated because of age. We have to do everything we can in this district to ensure their safety."
TUSD estimated that about 45% of their students are in preK to fifth grade, which roughly corresponds with students 11 years old or younger.
When board member Dr. Ravi Grivois-Shah supported the motion, he referenced a July 2021 report from the American Academy of Pediatrics that has 0.00-0.03% of child COVID-10 cases resulting in death, according to the data it collected from 43 states, New York City, Puerto Rico and Guam. When applied to TUSD's student body, 0.03% results in approximately a dozen possible deaths.
"We can't sit idle and watch COVID inevitably spread throughout our schools and devastate so many TUSD families," Grivois-Shah said after criticizing the state's ban on school mandating masks. "The science and public health recommendations are unequivocal. COVID is spreading. The delta variant is dangerous and very contagious. Masks help reduce the spread of COVID."
Four of the five-member board were present and voted in favor of the motion. Leila Counts was not at the meeting. Since the board voted before it heard from the audience, the meeting closed with messages from the public. A slight majority of the handful of letters read aloud were in support of a masking mandate.
Superintendent Gabriel Trujillo said now that masking is no longer optional, the district's guidance to ban most volunteers will be reevaluated. He shared with the board that the TUSD administration recommends the board meet virtually and requested governing board action. Present board members mostly agreed with him and passed the motion in a 3-1 vote. Member Sadie Shaw disagreed and said she would like to go with public board meetings.

---
As parents prepare to send their children back to school, Arizona 360 got guidance on how they can encourage their children to take steps to minimize their risk of contracting COVID-19 from Dr. Wassim Ballan, a pediatric infectious disease specialist at Phoenix Children's.
---
With the vote, the district joins a small but growing list of districts statewide confronting the state legislature's ban on schools requiring masks.
Phoenix Union High School District announced last week that it would require all students, staff and visitors to wear masks.
Several elementary school districts in the same area adopted similar policies this week.
A science teacher filed suit challenging Phoenix Union High School District's policy.
The Legislature voted this year to ban school districts from requiring masks on school property.
Opponents of that legislation have argued it does not take effect until late September.
Still, after the TUSD board's vote on Wednesday, a spokesman for Gov. Doug Ducey said the intent of the Legislature was clear and that districts should follow the law.
Pima County School Superintendent Dustin J. Williams said school districts should be able to exercise local control over such policies to ensure students can safely learn in the classroom.
"Governor Ducey made a politically motivated decision that puts our students and educators in danger. Schools need local control to keep our students safely learning in the classroom," he said in a statement.
The new policies come as Arizona sees a rising number of COVID-19 cases and hospitalizations.
State health officials reported 2,286 new cases around Arizona on Wednesday and 7 new deaths.
As of Tuesday, 1,252 people were hospitalized statewide -- the highest number since February.
Only about 47% of the state's had been fully vaccinated as of Tuesday and children under age 12 are not eligible for the vaccine.
Credit: Nick O'Gara/AZPM. Sources:
The New York Times
, based on reports from state and local health agencies, Census Bureau. Case reports do not correspond to day of test.