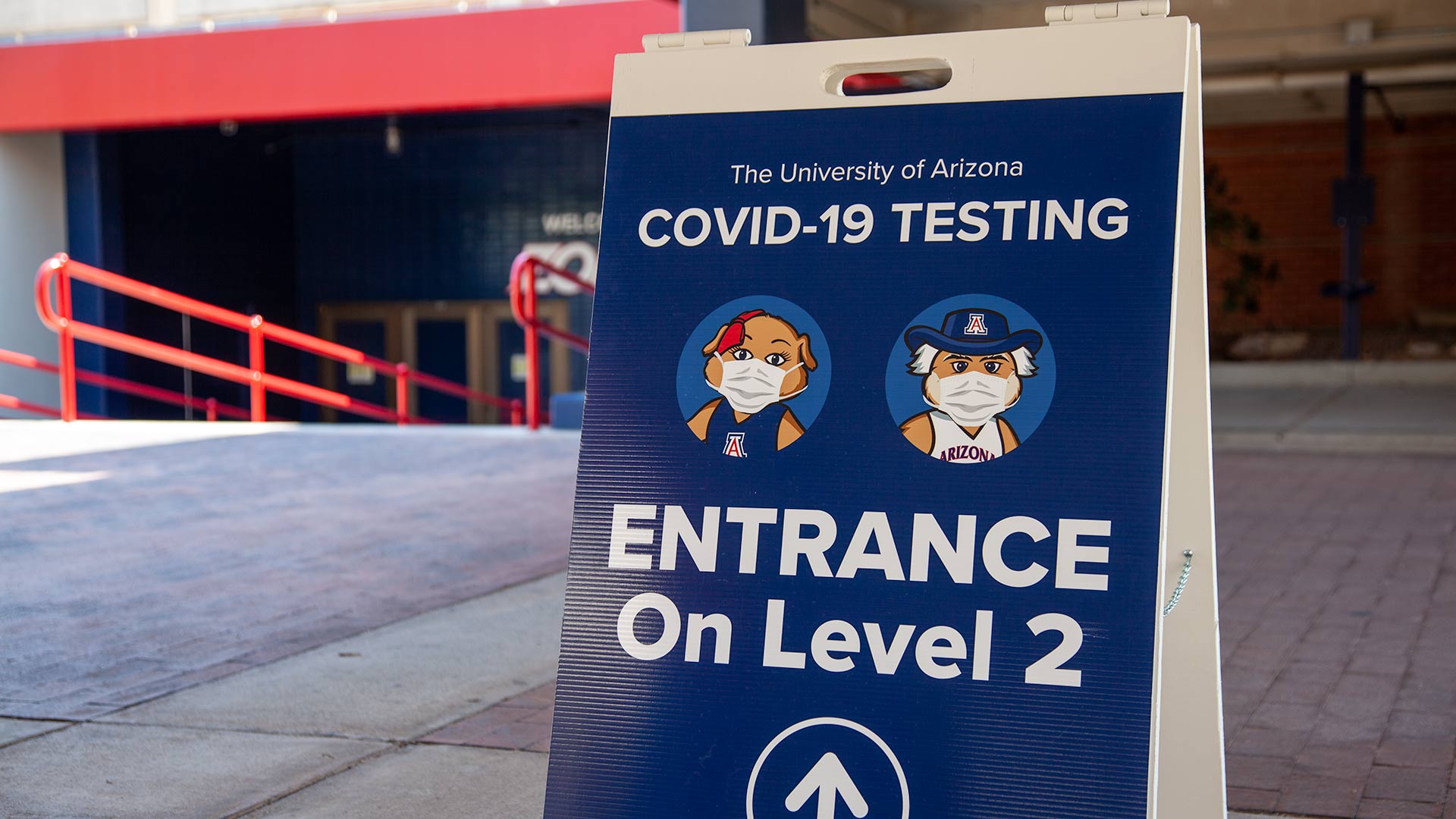 A sign on the campus of the University of Arizona directs visitors to a COVID-19 testing site, August 2020.
AC Swedbergh/AZPM
University of Arizona classes begin August 23 and despite rising COVID-19 numbers, students are expected in the classroom.
"The university will begin the semester with all campus-based courses delivered in person," said University of Arizona President Dr. Robert Robbins.
Robbins said, however, that could change if the COVID rate continues climbing.
University officials would like to require all students to wear masks and get vaccinated, but an Executive Order from Governor Doug Ducey prevent that mandate. Instead, Robbins is "strongly encouraging" everyone on campus to get vaccinated and wear a mask indoors.

"The ideal would be that we could require everyone to be vaccinated, we could require everyone to cover their face, we could require many things that other places are doing but we cannot do here because of state law," said Robbins.
The legislature passed a law mirroring Ducey's order. That law goes into effect on September 29.
Robbins, who is a medical doctor, said the state requirements frustrate him.
"It's removed some of the tools that would be effective at mitigating and fighting this virus, so we've got to work within the framework of the laws," he said.
Robbins said the university will not challenge those mandates in court but he is interested to see the outcome of challenges brought by a number of school districts across the state.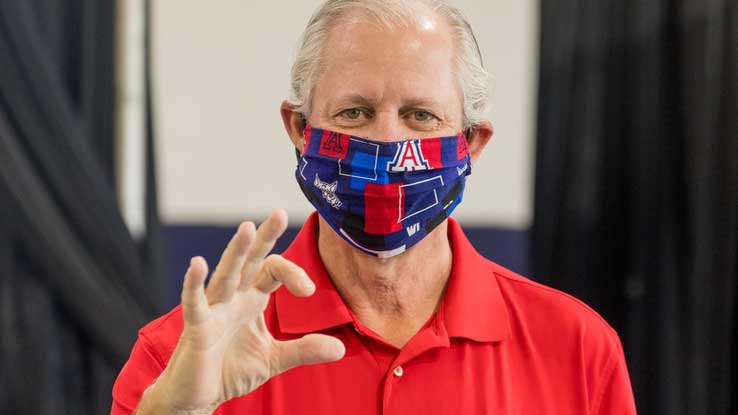 VIEW LARGER UA President Robert Robbins pictured April 30, 2020.

Chris Richards/UA
Having in-person classes is a balance with public health. Education experts have said that students do better when learning in a classroom versus online. It is for that reason, Robbins said, the university is starting classes in the more traditional model.
"I'm convinced that it's better for us to give it our best effort to open the university fully in person," Robbins explained.
The university's COVID-19 response continues to be spearheaded by Dr. Richard Carmona, the former U.S. Surgeon General. Like Robbins, he wants everyone on campus to wear a mask and get vaccinated.
"One of the most important things that we've learned is that we have the tools to be able to stop the transmissibility of this virus if we all act together cooperatively," Carmona said.
State universities cannot require students, faculty, or staff to disclose their vaccination status. The University of Arizona does have a HIPPA compliant online system that allows the campus community to upload vaccination status.
Officials said about 43% of students have uploaded their vaccination status and based on other information they infer that about 50% of the campus community is vaccinated against COVID-19.

---
August 9th, 2021 University of Arizona press conference
University of Arizona President Dr. Robert C. Robbins and 17th U.S. Surgeon General and Distinguished Professor of Public Health Dr. Richard Carmona held a press conference via video on Monday to discuss the university's preparations for the fall semester, which begins Aug. 23.