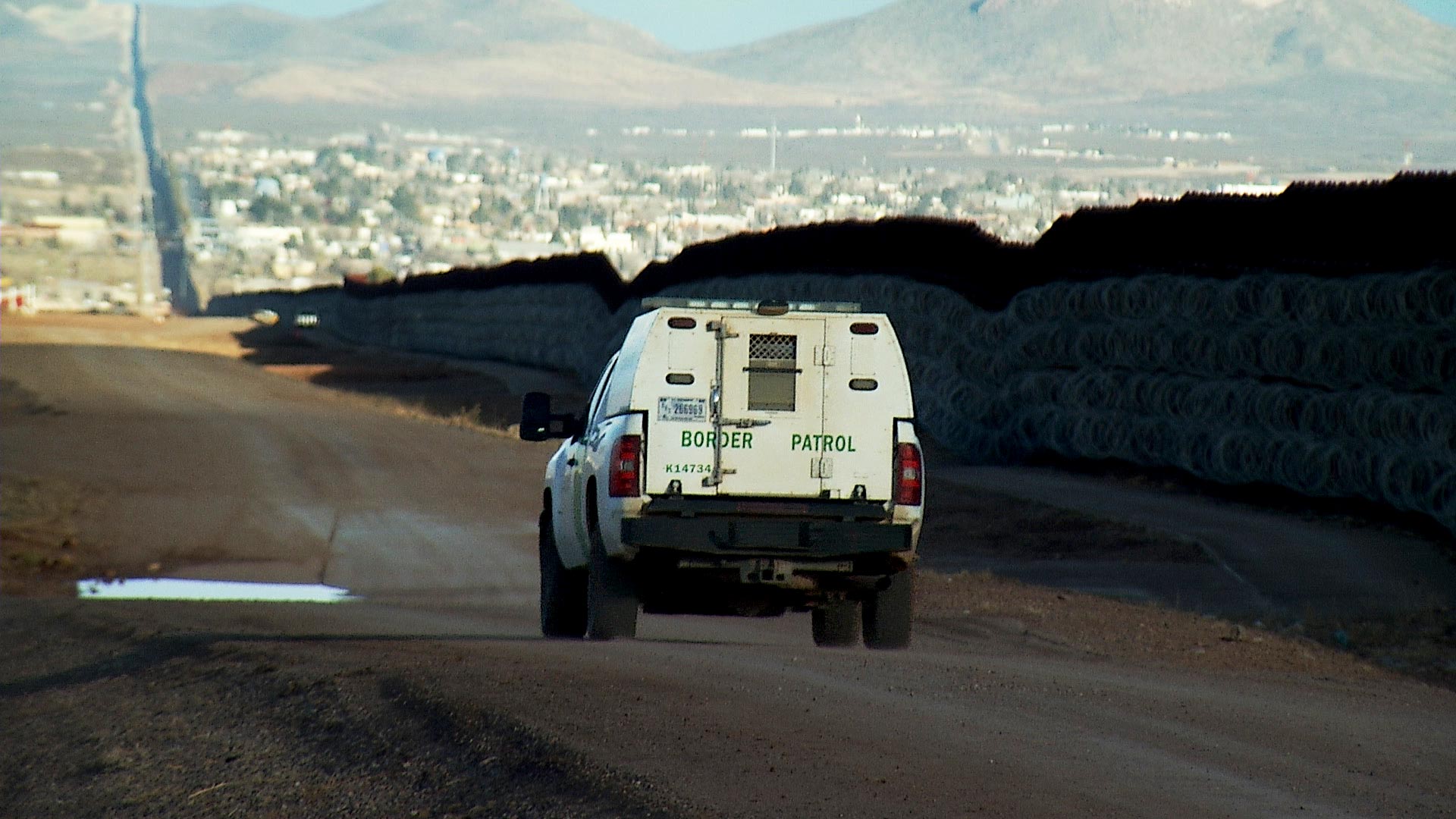 A border patrol vehicle drives along the border wall in Douglas, Ariz. January 2021.
Robert Lindberg/AZPM Staff
The new data released by Customs and Border Protection, or CBP, showing Border Patrol agents made almost 200,000 apprehensions across the southwest border in July, including almost 18,000 in the Tucson Sector — makes July the busiest month for migrant crossing in years.
For months, the majority of border apprehensions have ended in a so-called Title 42 expulsion, a process in which migrants are sent back across the border to Mexico almost immediately due to the pandemic.
But July was the first time in more than a year that more migrants were taken into U.S. custody than were expelled. Aaron Reichlin-Melnick with the American Immigration Council said that's in part due to a change in who was found crossing.
"Last month the number of families at the border went up, and was second only to May 2019," he said.
CBP data shows more that 76,000 families were encountered border-wide in July. Reichlin-Melnick said that increase comes as Mexico is refusing to receive many of the families U.S. officers are trying to expel.
"The reality is that in order to expel a family, you need to be able to send them to another country, either Mexico or their home country," he said. "Mexico has refused to take most families, and ICE, and Department of Homeland Security does not have enough planes, jails or detention centers to send all of these families back to their home countries."
Title 42 is down border-wide as a result, though it's not the case everywhere. Last month in the Tucson Sector, double the number of migrants were expelled than were taken into custody.
Still, as Reichlin-Melnick notes, even though less expulsions are occurring, it doesn't necessarily mean more people allowed to enter the U.S. Last month, just 30% of people who were not expelled were actually released at the border.
"The border is still closed," he said. "It is still the case that the vast majority of those encountered at the border are not simply released into the country, they are either deported, expelled or sent to an ICE detention center."
In a press release breaking down its July data, CBP said of more than 212,000 people encountered by Border Patrol agents or ports officers, a little more than 58,000 were on at least their second crossing in a year.
The number of people attempting to cross more than once has been on the rise since Title 42 took effect last March, analysts say that's in part because people who are apprehended under Title 42 are not subject to the same legal penalties for repeat crossings.
In what it says is an effort to curb repeat crossings, CBP's release also confirmed a plan to begin a "Repeat Offender Initiative," in which single adults who have previously been deported and are apprehended again will be "referred to prosecution." The order does not apply those who have been expelled multiple times under Title 42.
A CBP spokesperson said people who are arriving as part of a family unit will also not be included in the new order.