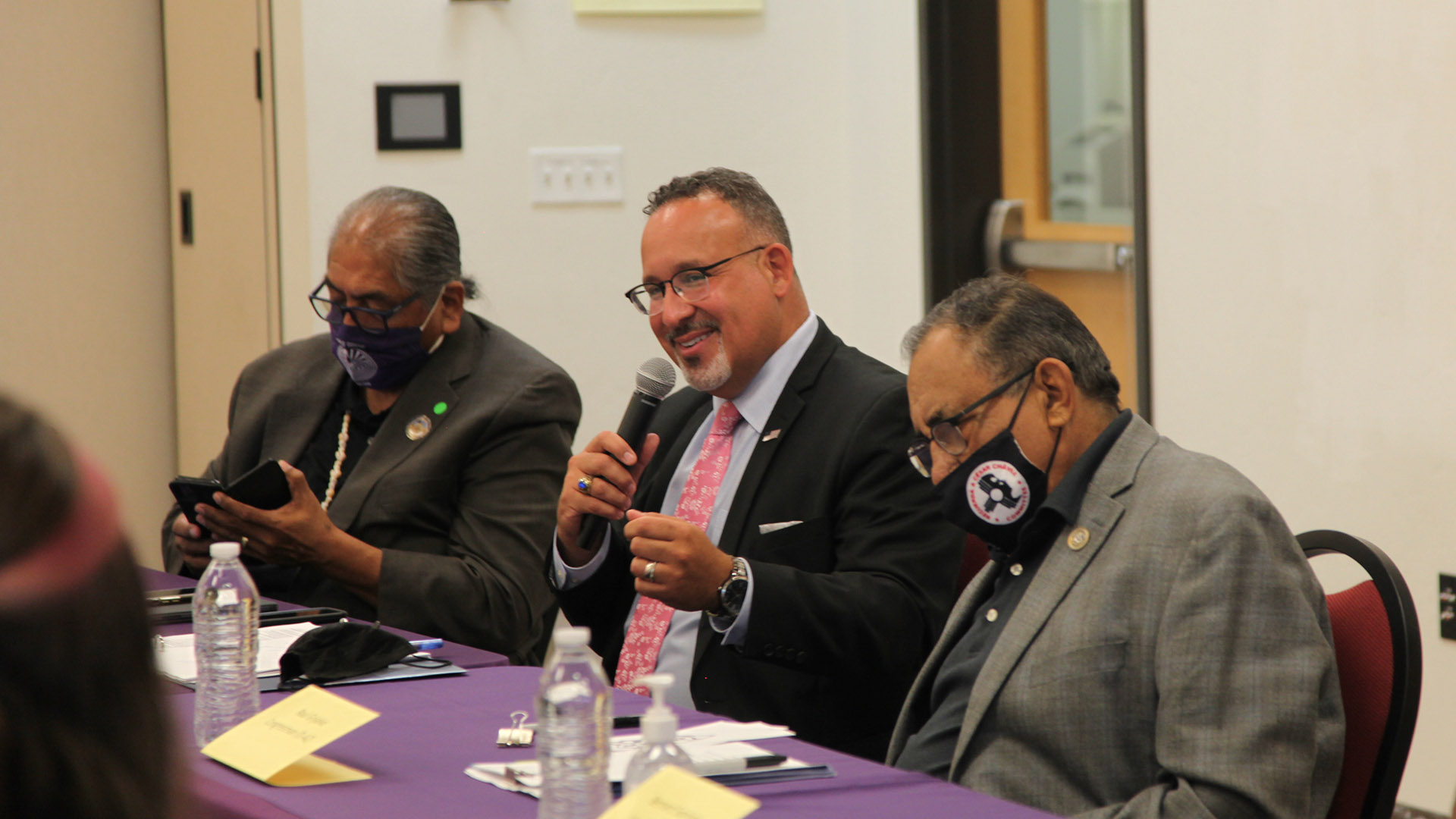 Tohono O'odham Community College hosted a listening session July 15, 2021, with U.S. Secretary of the Education Dr. Miguel Cardona.
Emma Gibson/AZPM
The Biden administration took aim Wednesday at Arizona's law that bans school districts from requiring students to wear masks.
Secretary of Education Miguel Cardona sent a letter to state officials warning that blocking school districts from adopting public health precautions may violate the terms of federal funding.
Congress approved money for the state's schools as part of the American Rescue Plan, a major COVID-19 relief bill.
But Cardona said the law requires school districts receiving that funding to develop plans for a safe return to in-person learning.
"Arizona's actions to block school districts from voluntarily adopting science-based strategies for preventing the spread of COVID-19 that are aligned with the guidance from the Centers for Disease Control and Prevention (CDC) puts these goals at risk and may infringe upon a school district's authority to adopt policies to protect students and educators as they develop their safe return to in-person instruction plans required by Federal law," Cardona wrote.
Letter from Education Secretary Carmona to Governor Ducey

View at Google Docs
|

Download File
Several school districts around the state, including several in Pima County, are requiring students to wear masks as COVID-19 cases continue to rise.
While the Legislature voted to ban such policies this year, a judge in Phoenix said Monday that law does not take effect until Sept. 29.
Cardona said his department stands with the districts that are requiring masks and will "continue to closely review and monitor" whether Arizona is meeting the requirements of federal funding.
In remarks Wednesday, President Joe Biden admonished governors trying to block COVID-19 mitigation measures in schools.
"if you aren't going to fight COVID-19, at least get out of the way of everyone else who is trying," he said, directing Cardona to use "all of his oversight authorities and legal actions."
Democratic U.S. Rep. Raúl Grijalva also asked the Department of Education on Wednesday to examine the legality of Governor Doug Ducey's plans to exclude schools with mask requirements from millions of dollars in federal funding.
"It's extortion -- making school board members choose between the health and safety of the children that they are responsible for versus the threat of not receiving the money that they are entitled to," Grijalva said Wednesday.
The governor cast the grants on Tuesday as merely supporting districts that are following state law.
"Safety recommendations are welcomed and encouraged — mandates that place more stress on students and families aren't," Ducey said in a statement. "These grants acknowledge efforts by schools and educators that are following state laws and keeping their classroom doors open for Arizona's students."
U.S. Rep. Greg Stanton asked the U.S. Treasury Department to review the governor's plans.
In response, the department said in a statement on Wednesday that supporting efforts to stop the spread of COVID-19 was a primary purpose of the federal funding the governor is using.
"No state should use federal funds to prevent or discourage schools from using evidence based approaches to stopping the spread of COVID-19," the department said.
The department added that it expects state and local governments that use "funds in violation of the eligible uses" to repay that money to the federal government.