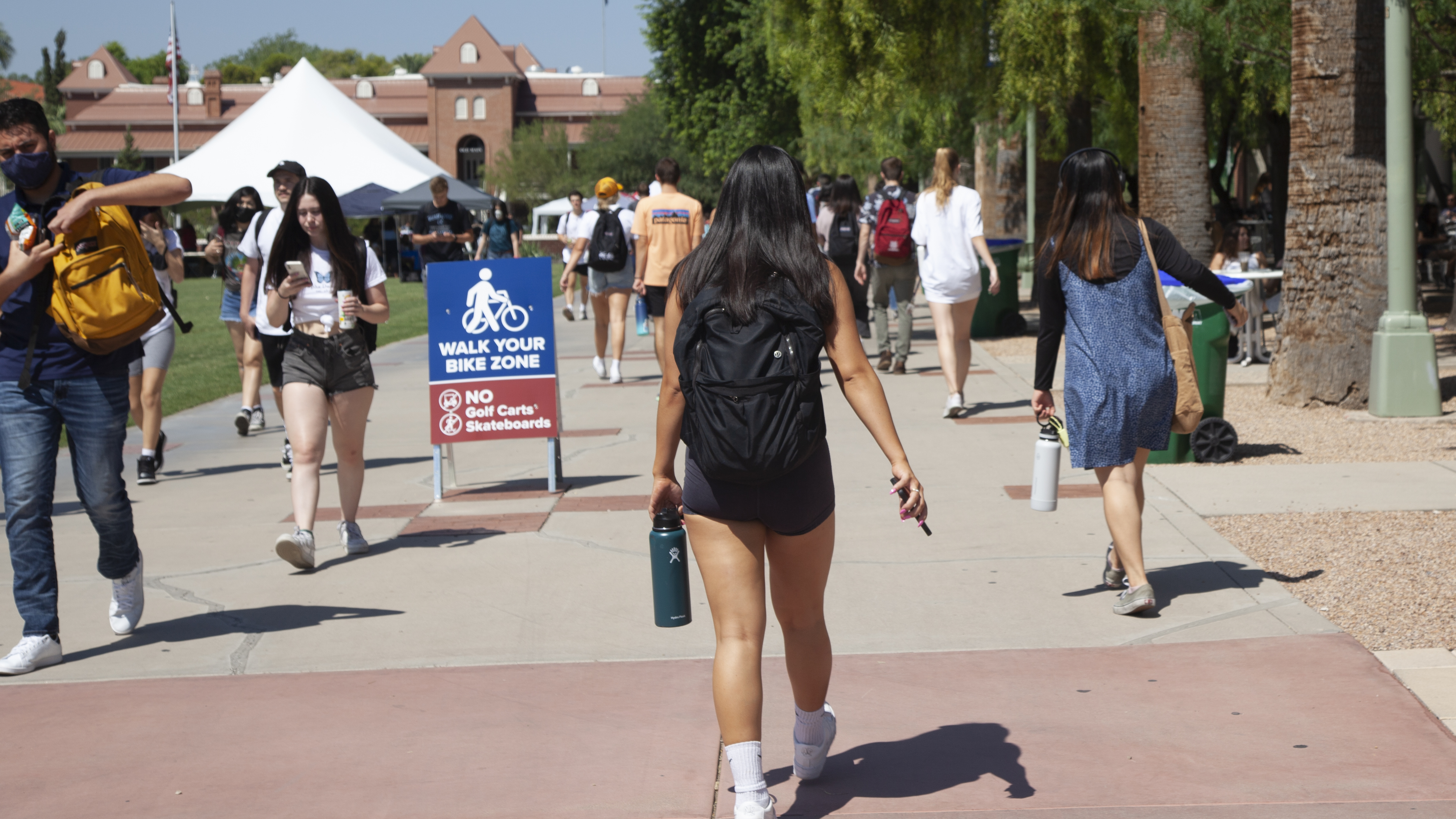 Students walking through campus on August 23, 2021 — the first day of school for the fall semester.
Emma Gibson/APZM
The University of Arizona campus is humming with students as they attend their first classes of the semester. Preliminary data suggests this incoming class, which has about 8,700 students, is already the largest the university has ever had.
Kasey Urquídez, dean of undergraduate admissions, said she thinks this year's first-year student class is so big because the UA's been trying to recruit them since they were freshman in high school, and the university has been trying to reach out to more students.
"But I also think that we had some students who decided not to go to college last year and get started just because of everything going on with the pandemic, and are now getting started," Urquídez said.
Urquídez said she expects the majority of these students to be taking in-person classes.
The number of first-year applicants hit a high, too, at almost 48,000 — about 5,000 more than last year.
"There's not necessarily more traditional-aged high school students graduating, ready to go to college, and so to know that our applications continue to increase and the number of students who want to come here continues to increase, is really significant," Urquídez said.
Urquídez said about a third of these first-year students are the first in their families to go to college, and almost half do not identify as white.
She said on-campus dorms have about 7,000 spaces available and those filled up in June.
This year's total enrollment will hit over 47,300 — another record for the university. She expects to have final enrollment numbers in mid-September.

"Even as we work through the challenges that the pandemic poses, we look forward to offering students opportunities to continue pursuing their education and career goals," UA President Robert Robbins.