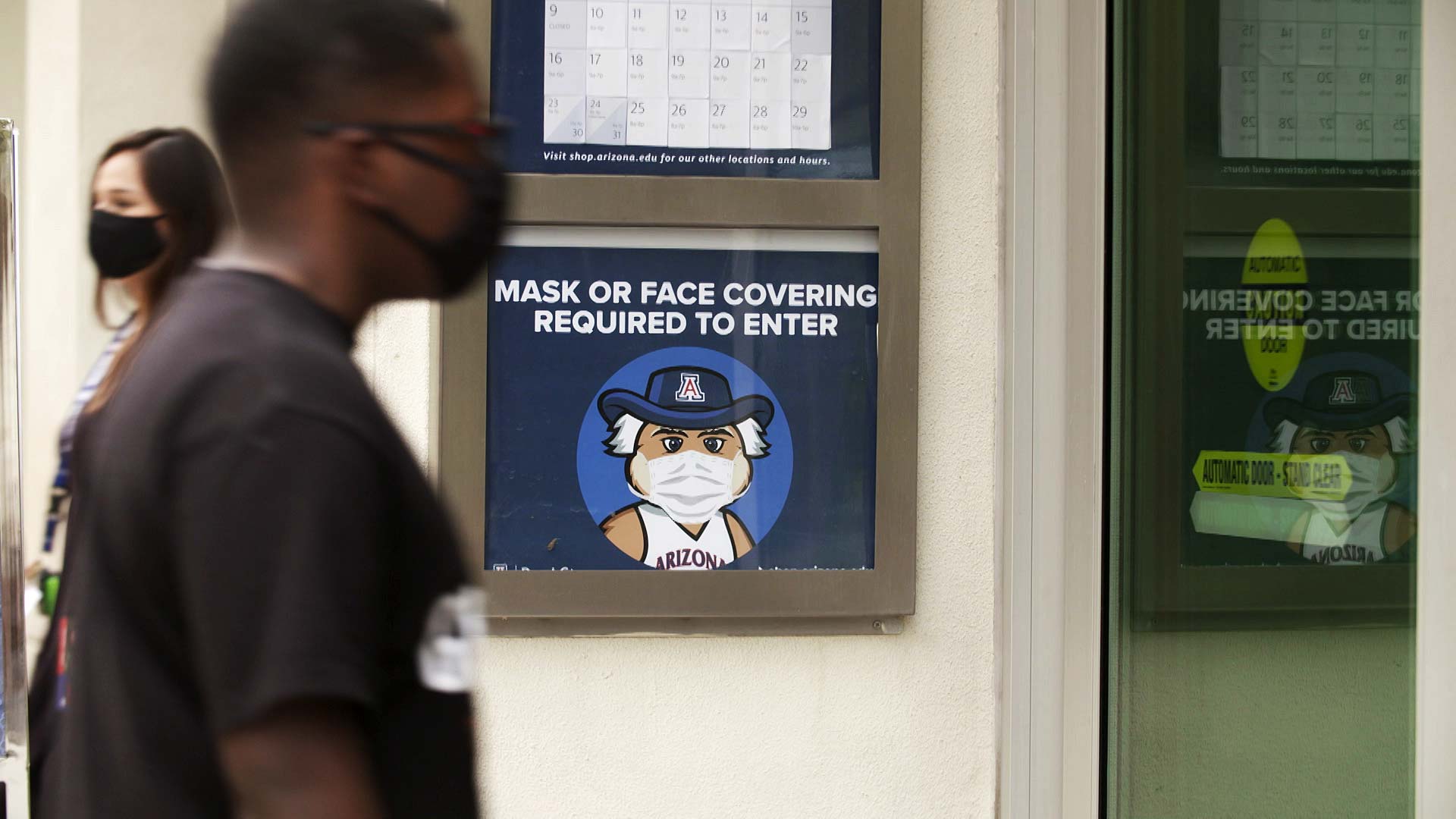 A sign outside of the University of Arizona bookstore reminds visitors that masks are required to enter.
AZPM Staff
President Robert Robbins shared a note of frustration in his campus update on the first day of fall classes Monday.
With COVID-19 cases rebounding, and many politicians dead set against masking mandates or lockdowns, the University of Arizona president admitted there's only so much he can do, and he's not happy about it. Robbins, who is also a medical doctor, noted how things have changed since COVID-19 first peaked last summer.
"Thinking back a year ago, you know we didn't have the vaccine. Now we're flush with vaccine but people won't take it," he said
To open the latest campus update, Robbins read a statement saying the governor's order against mandates was intended to bar discrimination based on vaccination status.
"The executive order prohibits public universities from mandating COVID-19 tests or mask usage based on student vaccination status or willingness to even disclose vaccination status. We're not differentiating between vaccinated and unvaccinated individuals," Robbins said.
Two weeks ago, after consulting with their attorneys and the state Board of Regents, the University of Arizona, Northern Arizona University and Arizona State University all announced they would require masks on campus when social distancing wasn't possible.

But Robbins says the U of A will not restart its vaccination pod, nor will it attempt to police student gatherings, since many of them occur off-campus, where the university has no direct power to enforce limits.

He says the university could return to remote learning if indicators show that in-person classes aren't being done safely, "... if our isolation dorms become overwhelmed, if the local hospitals, if there're just not any ICU beds. We're very very close to that," Robbins said.