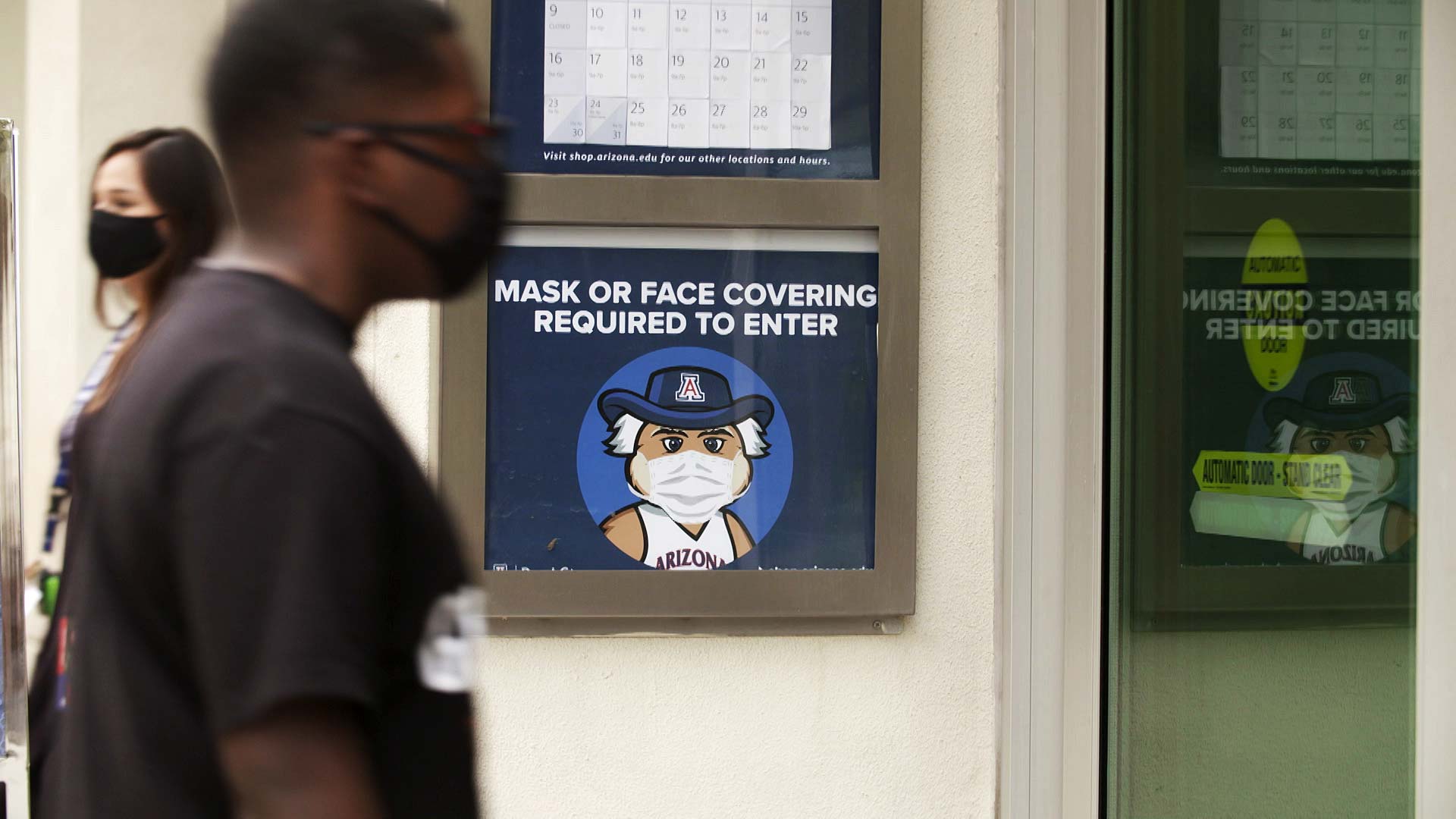 A sign outside of the University of Arizona bookstore reminds visitors that masks are required to enter.
AZPM Staff
State health officials reported 3,247 new cases of COVID-19 across Arizona on Monday.
The number of cases continues to rise at the same time students are returning to university campuses.
University of Arizona President Robert Robbins said Monday the school had not seen any large spikes in cases at its dormitories after the first week of classes.
But he is anticipating a bump in cases and the university aims to ramp up testing to identify outbreaks.
Dr. Richard Carmona, a distinguished professor of public health at the university and former United States Surgeon General, urged students as well as staff to get tested regularly.
"We've had questions where people say, 'I've been vaccinated so I don't need to be tested.' No, you need to get tested as much as you can because we know that even though you have been vaccinated and you may be protected from getting serious disease, you can be carrying the virus and spread it to other folks," he told reporters during a press conference on Monday.
Robbins said the school is also continuing to test wastewater to detect outbreaks in its dormitories.
Though the Arizona Legislature passed a law this year that mostly prohibits public universities from requiring COVID-19 testing, the law still allows schools to require testing if there is an outbreak in student housing. The Department of Health Services must first approve any such testing, however.
"When we get a really, really hot signal from wastewater-based epidemiology, we're going to plead our case vigorously to DHS that we will require everyone in that facility to be tested and then if there are positives, we will do a great job of contact tracing all of their contacts," Robbins said.
The university reports it conducted more than 7,000 COVID-19 tests in August. Of those, 112 of those tests were positive.
Credit: Nick O'Gara/AZPM. Sources:
The New York Times
, based on reports from state and local health agencies, Census Bureau. Case reports do not correspond to day of test.