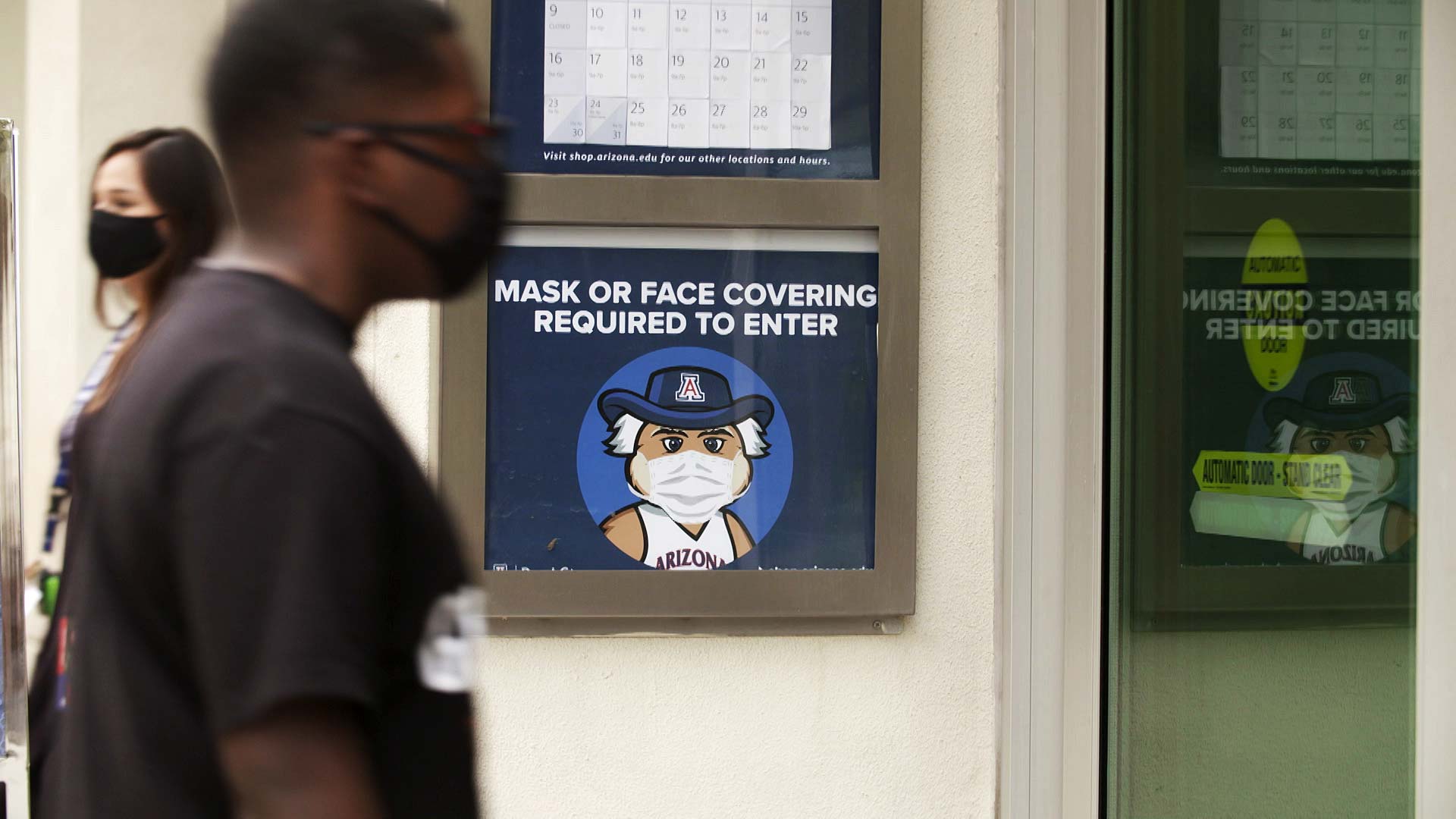 A sign outside of the University of Arizona bookstore reminds visitors that masks are required to enter.
AZPM Staff
State health officials reported 2,113 new cases of COVID-19 on Monday and no new deaths.
Hospitals around Arizona reported 1,761 inpatients with COVID-19 or suspected cases of the virus on Sunday, more than the previous day but lower than most of September.
About 53% of people in Arizona are fully vaccinated, according to data compiled by Johns Hopkins University.
University of Arizona President Dr. Robert Robbins said the school would not move to require COVID-19 vaccinations or testing after a judge struck down a new law that prohibited higher education institutions from implementing such requirements.
"For right now, my position would be let's just wait. Let all this play out because we're doing a great job right now," Robbins said.
The university president noted that Attorney General Mark Brnovich has filed an appeal. The state Supreme Court will hear the case next month.
The university has required masks in its facilities while also encouraging students and staff to voluntarily report their vaccination status. Robbins said about 60% of students had uploaded vaccination documents through the university's online health portal.
"The mandate issue just becomes divisive," said Dr. Richard Carmona, who has led the university's response to COVID-19 and is serving as an advisor to Gov. Doug Ducey.
Several state universities around the country are requiring students and staff to get vaccinated against COVID-19 as they return to campus for the fall semester.
United Campus Workers Arizona, which represents staff at the University of Arizona, has called for a similar requirement.
President Joe Biden's administration has also touted such policies.
"When you look at some of the universities that have required vaccines — when you look at Rutgers University, University of Vermont, University of Virginia and UC Berkeley — are all over 97% of their students vaccinated," White House Vaccinations Coordinator Dr. Bechara Choucair told Arizona Public Media last month. "That's the type of leadership that's important. And that's what's going to keep our students, our universities, our families and our communities safe."
Robbins suggested the school may be impacted in the near future by federal regulations the Biden administration is crafting to require vaccination at health care institutions, government contractors and many large employers.
"We are a large university who is very, very dependent on federal funding. And if the federal government tells us, 'if you take any of our money, you got to be vaccinated,' that may be a tipping point for us," Robbins said. "And then it gets into the policy people and the lawyers will have to tell all of us at the universities, well does the federal requirement supersede anything the government of the state does. I think it gets into federalism and state's rights. For right now, I think we just hold tight."
Credit: Nick O'Gara/AZPM. Sources:
The New York Times
, based on reports from state and local health agencies, Census Bureau. Case reports do not correspond to day of test.