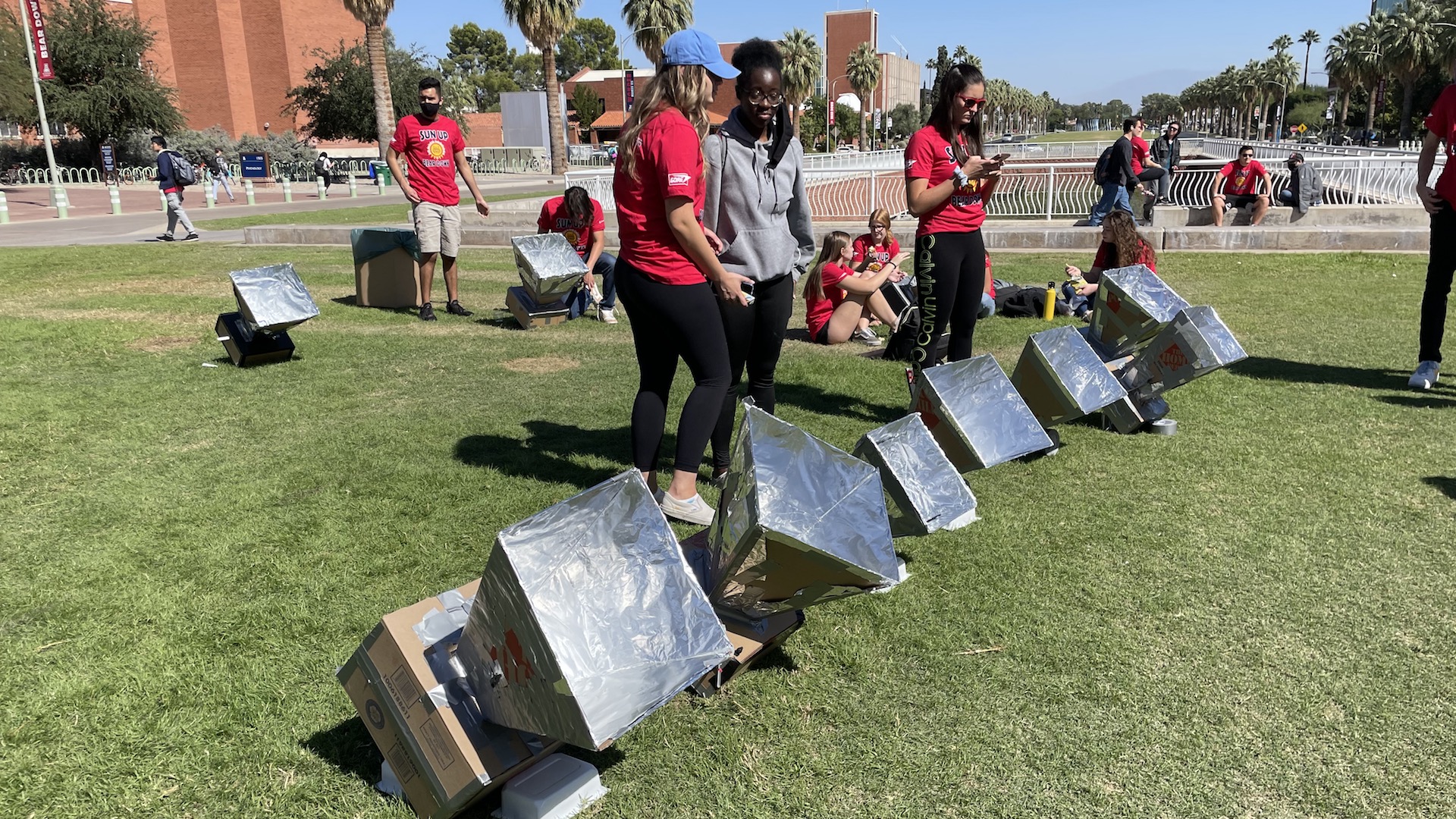 At the University of Arizona's annual "Solar Oven Throwdown" event on Wednesday, October 13, 2021 several solar ovens stood in a row as students monitored their progress in baking a biscuit.
If you had walked past the University of Arizona mall on Wednesday, you might have thought there was a party happening.
The University of Arizona's freshman engineering students demonstrated their cooking skills in the department's annual "throwdown" event. About 500 students attempted to bake a biscuit using solar ovens on the university mall.

Everyone wore identical red t-shirts, and there were boxes covered in tin foil scattered on the grass.
U of A freshman Eric Anthony Pineda stood behind one with three of his friends.
"We built this oven that's powered purely on the sun," he said. "It's just cardboard boxes. There's no wires, as you can see, nothing."
The boxes looked pretty similar, although some were decorated and others, like Pineda's, were all functional.
"It's pretty straightforward. If you imagine a cardboard box with, with like a trapezoid on top, that's basically what it is."
There were about 30 engineering instructors circulating the event. Graduate Teaching and Learning Assistant Umar Amjad ran the show this year for the first time.
"They model this oven, and then we provide them logistical support to build it," Amjad said. Amjad is so popular with the students that some asked for his autograph.
The students had to consider more than just the functionality of the oven in designing it; they were required to factor in presentation and cost as well. One team's purple and orange box stood out most across the lawn.
"It's a Halloween theme," student Yixel Quevado said about her team's box. "There's a mansion, haunted mansion, with ghosts around it."
Quevedo's team is named the Oven Coven, and she said they also added some papier-mâché flowers for the Day of the Dead.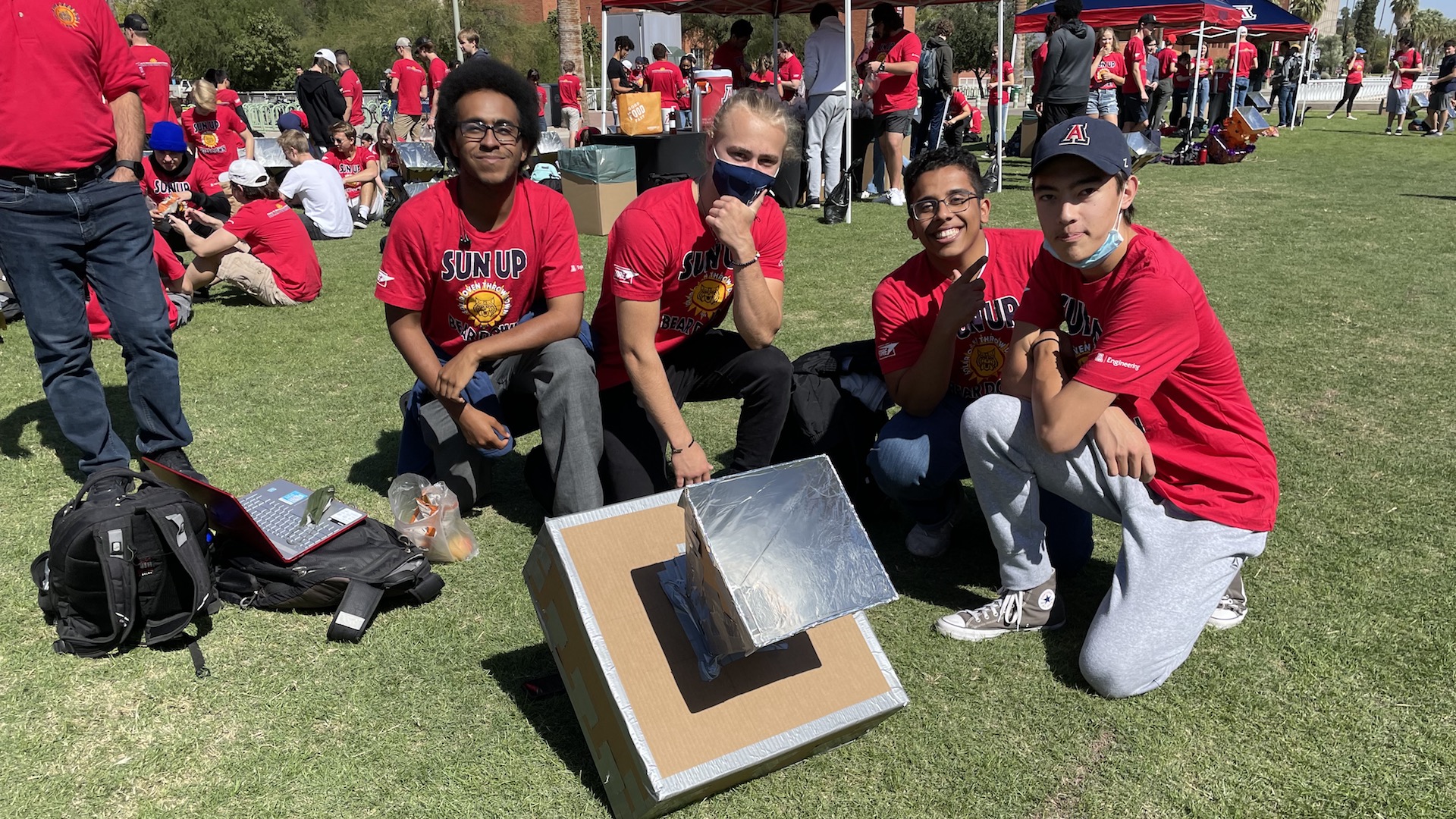 University of Arizona Engineering students Joseph White, Levi Mccluskey, Osamah Bahamid and Eric Anthony Pineda pose in front of their solar oven on Wednesday, October 13th, 2021, as part of the school's annual "Solar Oven Throwdown" event.
Isabel Barton teaches one of the sections, and she used her phone to evaluate one student team's box.
"So we have a thermal camera hooked onto the iPhone here, and we're taking a look at the temperature distribution on the oven," Barton said. "The inside is getting hot, the reflectors are a cool spot, that looks good, and looking for a few areas of heat loss, but there really aren't many, so nice oven, gentlemen."
Quinlan Reed was one of the constructors of that oven and he'd been keeping an eye on the progress of the biscuit.
"I'd say it's gone from the very lightish, tan color to a slightly darker tan, slightly orangish, certainly not brown yet, like you'd hope, but it's moving in that direction," he said.
He said he had no plans to eat the biscuit with anything.
"Drinks with biscuits are for people who can't take the biscuit," Reed said.
Back at the Oven Coven, Assistant Professor Hannah Budinoff handed out raw biscuits to her students.
"Oh, you guys get a cheddar biscuit. Oh, fancy," Budinoff told her students.

They slid open the door on the back, and popped the biscuit in. Then, things got messy.
"Ok, here it goes," one student said. "Burn my hand real quick."
"Ohhh, our glue...our glue melted," another noted. "Now our, one of our sides isn't black. Aye!"
Budinoff created a March Madness-style bracket for her class. The Oven Coven didn't make it out of its first round, but Budinoff said it's still first in style.