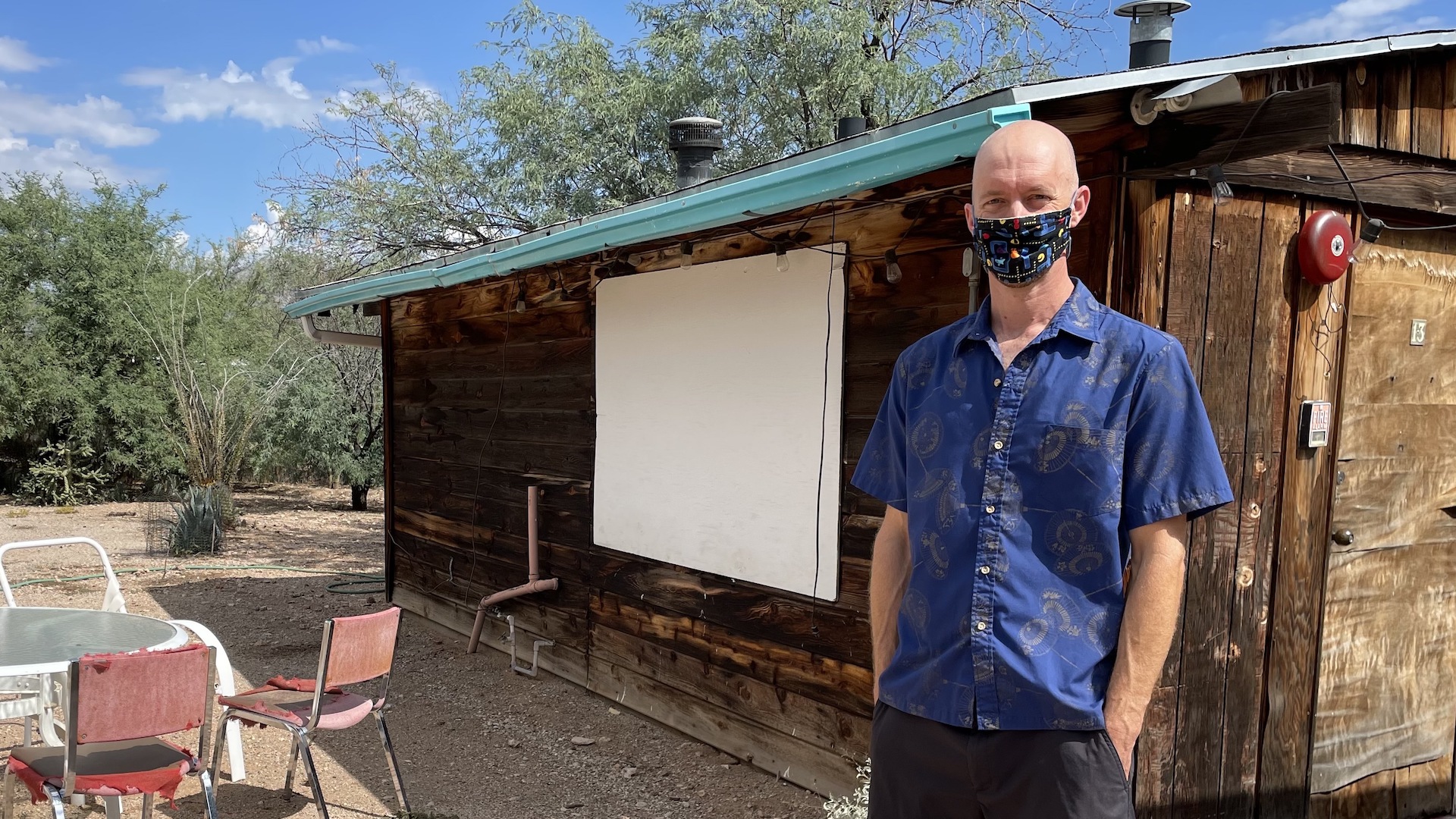 Dan Millis is a homeowner in the Blenman-Elm neighborhood of Tucson. He stands in front of a guest house in his backyard on October 5th, 2021 that he hopes to replace with a casita.
Megan Myscofski/AZPM
Whether you call them casitas, granny flats or carriage houses, you might be seeing more of them soon around Tucson. City officials are working on a plan to give more homeowners the option to build one and are taking public comments on Tuesday, October 19th.
Dan Millis and his wife bought a house about seven years ago in the Blenman-Elm neighborhood of Tucson.
"We have a really long, sort of skinny yard. It's about .4 acres, and our house sits kind of here towards the street," Millis said. "And then if we go in the backyard, there's a ton of room back there."
The property has two outbuildings in back with termite damage and a decaying bar set-up the previous owners put in. They'd like to replace them with a casita and potentially rent it out.

"We have friends who are looking for places to rent, and just not having any luck," Millis said.
It's not a project they can actually put into motion, at least not yet. The lots in their neighborhood aren't zoned for casitas, but that might change soon.
The City of Tucson is considering a proposal from its planning commission to make it legal to build a casita, or accessory dwelling unit, on any lot that meets requirements. The current law allows homeowners across the city to build guest houses, which are smaller than casitas and don't include a full kitchen, as long as they meet certain requirements. Casitas are only allowed on lots specifically zoned for them.
City of Tucson Principal Planner Daniel Bursuck said more casitas could help ease the tight rental market and give homeowners a way to make some extra money.
"This is kind of one tool in a suite of tools that we need to utilize for affordable housing," Bursuck said.
The City of Tucson and the University of Arizona collaborated on a study that found the stock of accessible housing for low-income earners is especially thin, and those renters often require the help of vouchers to find housing.
Homeowners would still need to meet certain size and building requirements. For example, the homeowners would be required to include one parking space, but could get a waiver if the building is close to public transit or bike routes.
Guest houses in the back Dan Millis and his wife hope to replace them with a casita.
Megan Myscofski/AZPM
Bursuck said the units could help make the city more energy efficient by requiring cool roofs and putting homes where infrastructure already exists.
"We know that there are benefits with density, things like reduction of greenhouse gases, water consumption, infrastructure, and service cost has decreased as we increase density," Bursuck said.
Department of Housing and Community Development Deputy Director Ann Chanecka presented a plan with her team to the mayor and city council in August, and got the go-ahead to develop a more fleshed-out strategy before the end of the year.
"Allowing people to use their property that they already have been given [for] an additional unit, whether it's to serve as a place where their family can stay, or if they're using it to rent out and provide additional units that are needed in our community. It's a way to get in more housing," Chanecka said.
She said they are looking into ways this could also bring housing to the major transit corridors in the city and incentivize casita owners to take on low-income renters.
Chanecka expects that as the city's general and sustainability plan is up for renewal in the coming years, the city will discuss other measures to promote density, like limiting single-family zoning.
The mayor and city council will hold a public hearing on accessory dwelling units on October 19th.