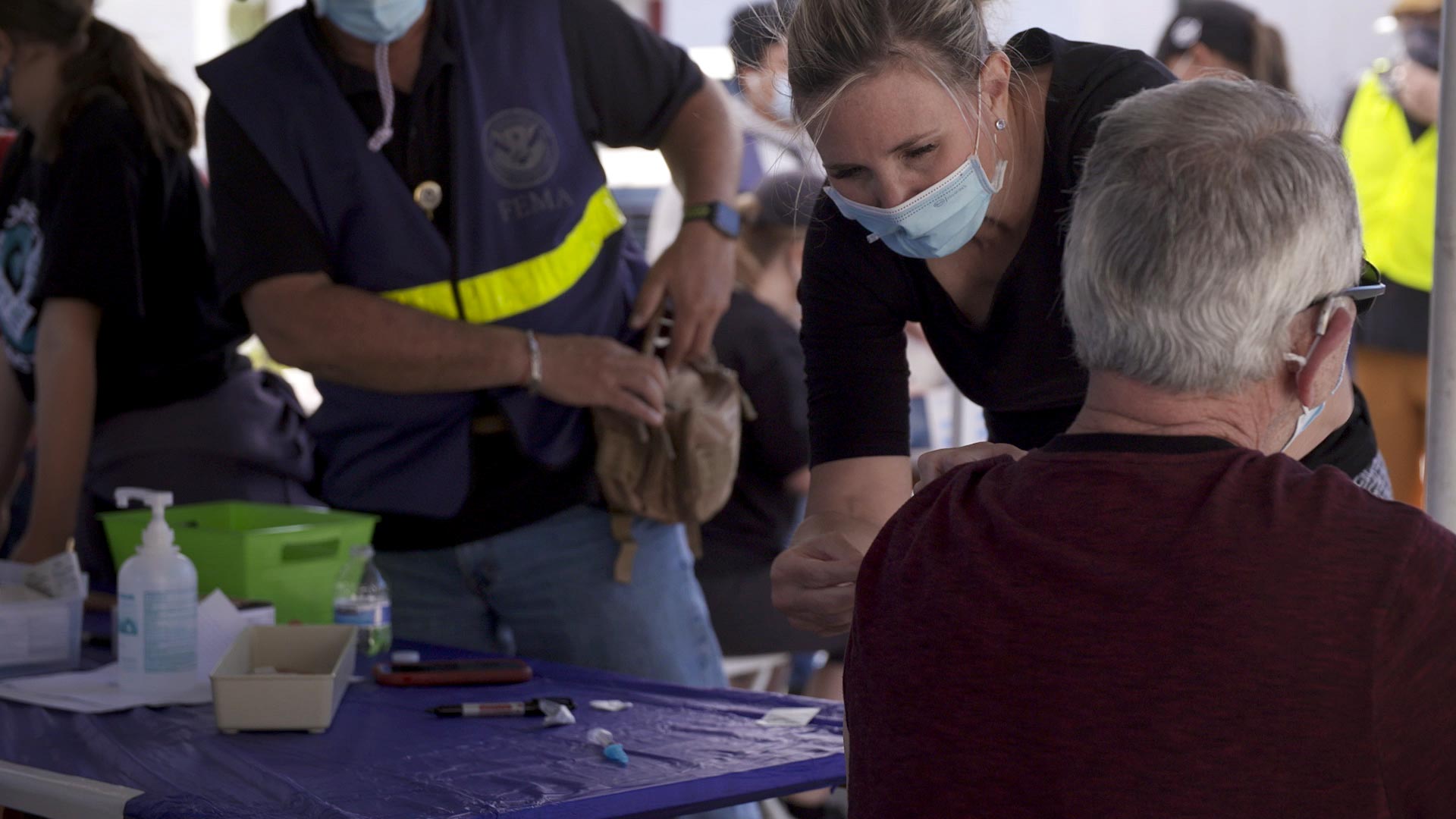 A health care worker administers a COVID-19 vaccine on a man at St. John the Evangelist Catholic Church in Tucson. March 2021.
Nate Huffman/AZPM Staff
Nearly a year after Arizona first received COVID-19 vaccines, only about 53% of the state's total population is fully vaccinated.
While Arizona gained national attention for some of its early efforts to roll out the vaccine, using an NFL stadium as a vaccine clinic the number of vaccinations issued every day has slowed.
This week, The Buzz revisits the rollout of vaccinations in Arizona, boosters and the barriers that stand between the state's residents and getting the shot — or the second and third.
The U.S. Centers for Disease Control and Prevention endorsed booster doses of the Moderna and Johnson & Johnson vaccine Thursday after this episode of The Buzz was produced. The CDC director also endorsed a mix-or-match approach to COVID-19 boosters.
Maiya Block is with the University of Arizona's Alliance for Vaccine Literacy. She's a part of a research group looking into the intention people have concerning the flu and COVID-19 vaccinations. She's seen some similarities in reasoning, but one specific to the COVID-19 vaccines is the pace at which the vaccines were developed.
And men were less likely to be concerned about catching COVID-19.
Block said surveys underscore the public's lack of understanding when it comes to the rollout of the scientific process in real time, as well as the process for developing vaccines.
Pima County Health Director Dr. Theresa Cullen said that while there is no reason to be hesitant about getting vaccinated, there are a myriad of reasons why people would not get vaccinated.
"It's important that we not be pejorative," she said. "Part of public health is to really take people where they are, try to increase and gain an understanding of why they are making this decision and try to mitigate whatever their concerns are."
Dr. Daniel Derksen, director at the Arizona Center for Rural Health at the University of Arizona, said some of the successful efforts at promoting vaccination have involved taking vaccination sites closer to recipients with pop-up clinics. And he said some successful efforts in border counties have involved local leaders working closely with the Mexican consulate.
"We have to be much more creative and engage the community much more closely and with the leaders people listen to," Derksen said.
With the federal government close to making its final decision on whether to approve the COVID-19 vaccine for children as young as five years old, parents are also navigating vaccine information with young kids.
Dr. Nathan Price, a pediatrician at Banner-University Medical Center, said there's just one important thing to remember when it comes to the vaccine:
"The real risk is in the disease itself," he said.

The Buzz
airs Fridays at 8:30 a.m. and 6 p.m. and Saturdays at 3:30 p.m. on NPR 89.1. You can subscribe to our podcast on
iTunes
and NPR One. See more from
The Buzz
.