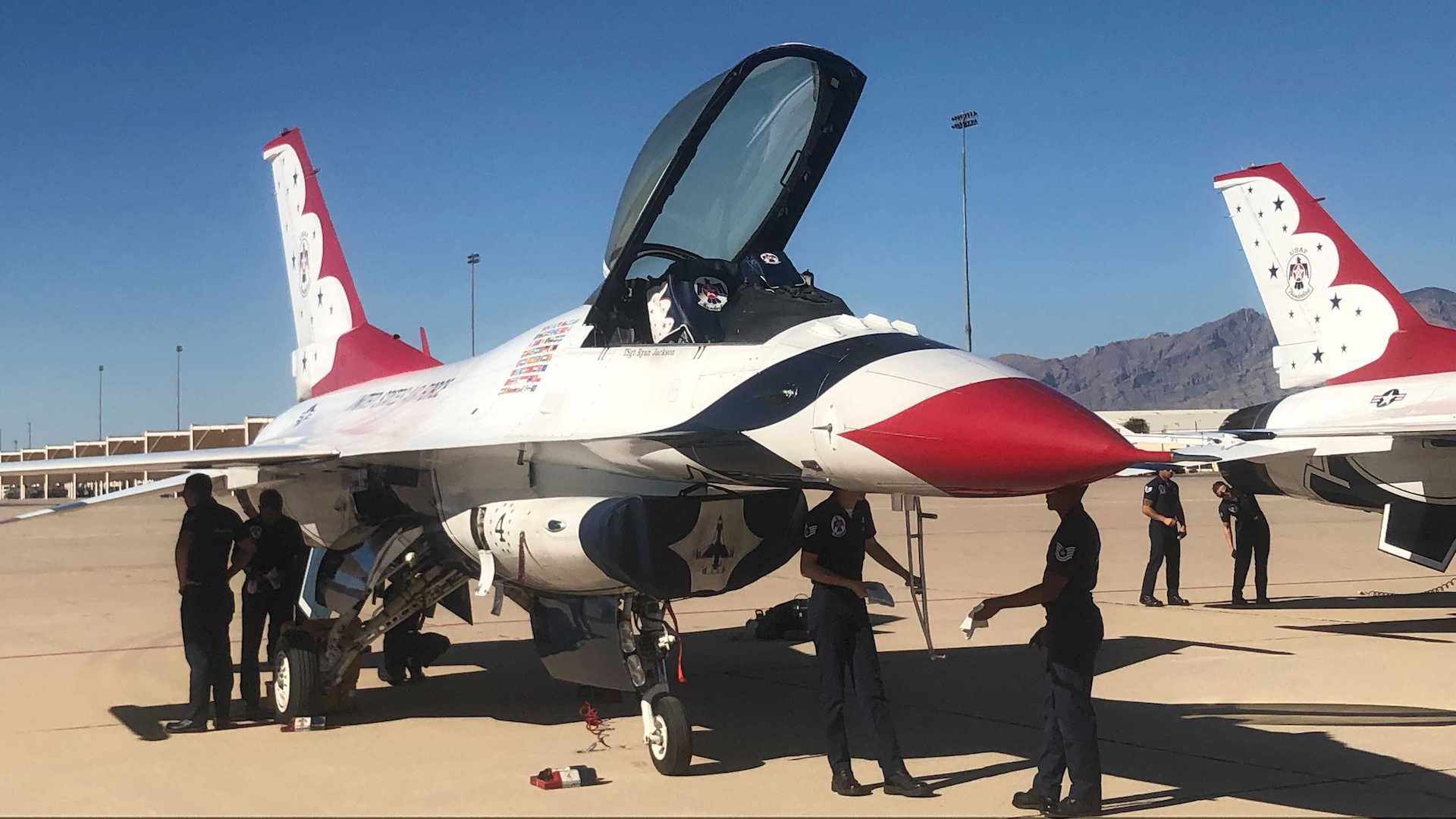 Major Michael Brewer's F-16 at Davis-Monthan Air Force Base ahead of an air show in November 2021.
Duncan Moon/AZPM
The air show is returning to Tucson this weekend. It was originally scheduled for April but was rescheduled because of the pandemic. As always, the aerial gymnastics of the Air Force Demonstration Squadron, aka The Thunderbirds, will be at the center of the show
The air show is a popular event in Tucson, drawing large crowds to the base.
For the rest of the year, access to the base is restricted, so the show provides an opportunity for both the community and the Air Force.
"It's an opportunity for us to open the gates and bring everybody on and say, 'hey guys, this is what we're about, this is our mission, this is our story," said Lt. Alvin Nelson of the base communications team.

The Thunderbirds are some of the Air Force's top pilots — all having flown in combat.
Pilot Michael Brewer says the team loves flying over the desert in Southern Arizona.

"We enjoy flying in Tucson and Arizona in general — the sky is just bigger out here, you know," he said. "It's great. You have blue skies and the jets with the white smoke and the contrast of the jets with the sky is really a sight to see, so we really enjoy the Arizona sky."

Major Brewer says he looks forward the exceptional visibility Tucson provides, but this year there's something more.
"This is my last show on the Thunderbirds," he said. "It's bittersweet. My very first show was right here in Tucson and my very last show is right here in Tucson, so it's a full circle. It's been a wild ride and I've loved every minute of it."
Those wanting to witness that last wild ride can find more information on the Davis-Monthan Air Force Base website.