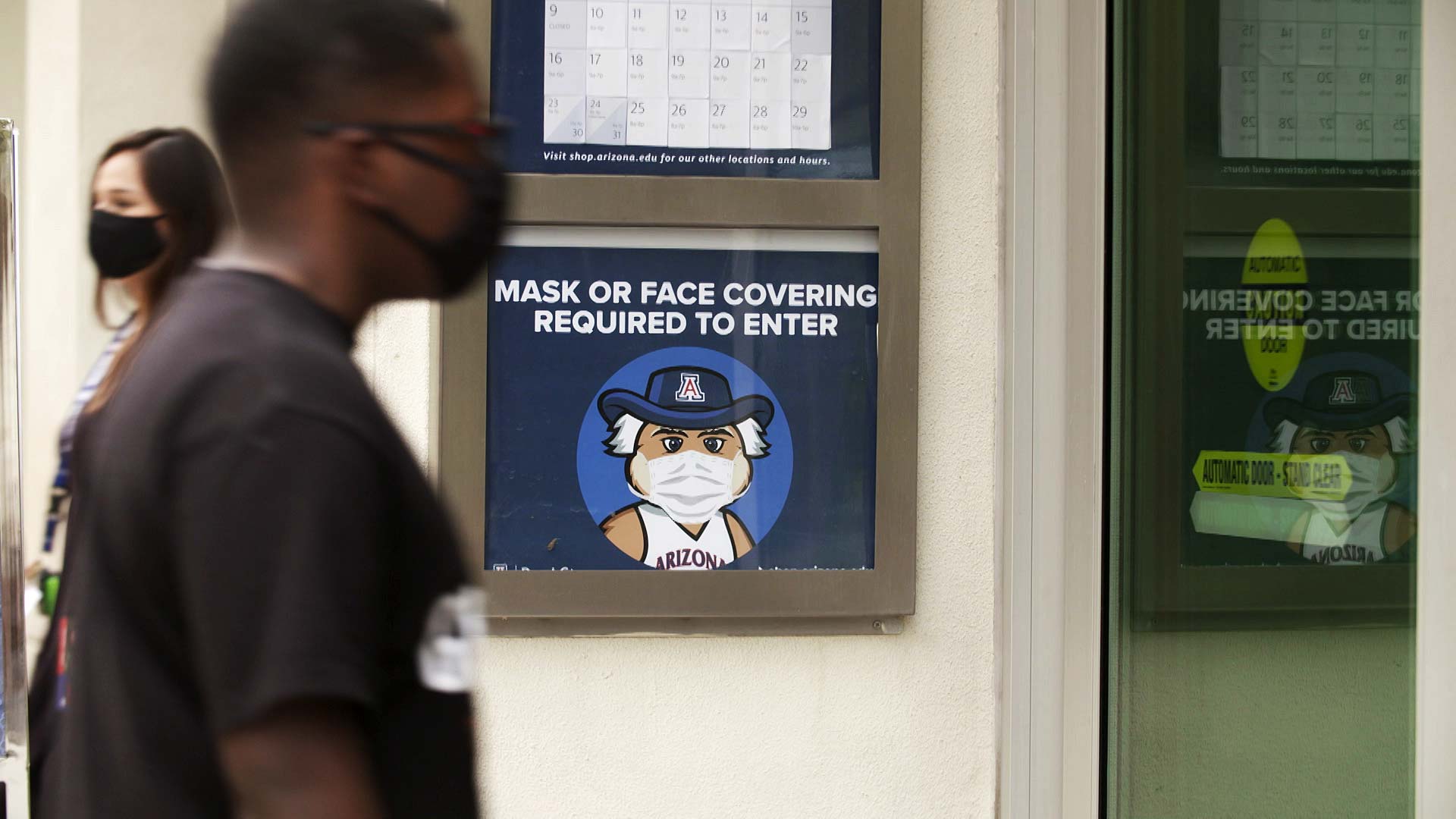 A sign outside of the University of Arizona bookstore reminds visitors that masks are required to enter.
AZPM Staff
The University of Arizona says about 75% of its employees are fully vaccinated against COVID-19.
Arizona's public universities announced in mid-October that every employee must be vaccinated or get an exemption under rules for federal contractors.
About 51% of university employees were fully vaccinated at the time that policy was announced.
University President Dr. Robert Robbins said he expects that percentage will continue to grow.
"I think we'll get it up to nearly full compliance," he said.
The federal government has pushed the deadline for vaccination back from December to January 18.
Meanwhile, university officials raised concern about an increase in the seven-day average of new COVID-19 cases.
"We are still very concerned that we can't let our guard down, that the numbers are telling us not only in cases but in staffing, nurse availability — registry nurses are getting tired out so we can't bring in the reserves to help us — that we're still not out of this and we have to bear down," said Dr. Richard Carmona, a former U.S. Surgeon General and distinguished professor of public health at the University of Arizona.
State health officials reported 2,774 new COVID-19 cases on Monday.
About 2,200 COVID-19 patients were in hospitals across the state as of Sunday and less than 10% of the state's hospital beds were vacant.
Meanwhile, university officials said the COVID-19 transmission rate in the ZIP code including the University of Arizona is higher than the rest of the state.
Asked if the school might return to virtual instruction if the trend continues, Robbins said "all options are on the table."
"We will start back — are planning to start back — in face-to-face mode in January but we'll keep an eye on things and if things don't go the right way early in the next semester, we'll always have the option to go back to a more virtual delivery. None of us wants that," he said.
Credit: Nick O'Gara/AZPM. Sources:
The New York Times
, based on reports from state and local health agencies, Census Bureau. Case reports do not correspond to day of test.